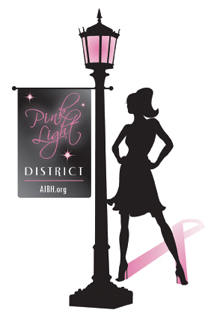 Starting today, members of the Arizona community and beyond are invited to sponsor a pink light in honor or in memory of a loved one touched by cancer as part of the annual Pink Light District to benefit the Arizona Institute for Breast Health (AIBH), a non-profit organization whose mission is to provide women throughout Arizona who have been diagnosed with breast cancer a second opinion on treatment options completely free of charge. Anyone can sponsor a pink light for $25 by visiting www.PinkLightDistrict.org.

"The lights, available for sponsorship now through October 31, will glow over the Marshall Way Bridge in downtown Scottsdale starting October 4 and throughout the entire month, which is Breast Cancer Awareness Month in the United States," said Christine Fenwick, executive director of AIBH.

Pink Honor Lights may be given to anyone touched by breast cancer in any way around the world, which is all of us:
• In honor of a brave survivor
• In memory of a loved one
• To recognize that special person in your doctor's office

In addition to the light, each honoree who is gifted a light will receive a Pink Light Tribute Card, and their name will be placed in the 2012 Pink Light Honor Album on the AIBH website. There is no limit to the number of lights one can buy to recognize and honor those in their lives. Sponsorships of multiple lights and other donation opportunities are also available.

"This year, we are extremely honored to have Dr. William Leighton as our 2012 Pink Light District Premier Sponsor," said Fenwick, who is also a 17-year breast cancer survivor.

In addition to Dr. Leighton, other valuable corporate sponsors include Yeager North, Iron Medical Systems, Olive & Ivy, Anasazi Internal Medicine, HMA Public Relations, Sapporo Scottsdale, Leighton & Abdo Attorneys at Law, Fiesta Furnishings and Arizona Breast Cancer Specialists, which is led by AIBH co-founder Dr. Coral Quiet. She also serves as the organizations volunteer medical director.

"Since our inception in 1998, we've sought to provide education, resources and support to newly diagnosed patients with the help of our volunteer team of physicians and medical professionals whose specialties include breast radiology, breast surgery, medical oncology, radiation oncology, reconstructive surgery, and breast pathology," said Dr. Quiet, whose team was recently named a 2012 Arizona Big Media Health Care Leader honoree and a 2012 Phoenix Business Journal Health Care Hero finalist, respectively, for the critical service she/it provides to the community.

For more information, or to donate Pink Lights, please visit www.PinkLightDistrict.org.

"In an effort to support this cause, AIBH is also working with several local businesses and amazing community partners such as Sapporo Scottsdale, Remedy Pilates, Olive & Ivy and many more on unique fundraising events in September and October," said Fenwick, who notes that other interested potential partners are welcome to visit www.AIBH.org and contact her team to arrange a fundraising event.