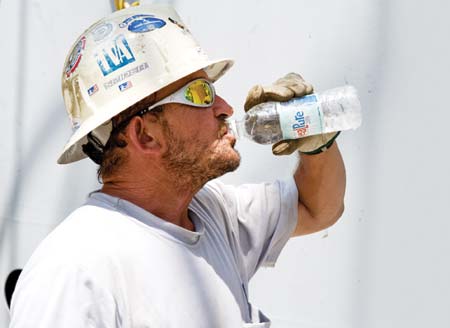 With Wednesday's record high of 116 degrees, the summer of 2012 is wrapping up to be one of Phoenix's most memorable seasons yet. Between haboobs, gustnados and prolonged heat advisories, Arizona has more than its fair share of extreme weather conditions.

And while you may know that the temperatures are among -- if not the – highest in the country, did you know the average of heat-related deaths annually is more than the average number of deaths caused each year by tornadoes, hurricanes, floods and lightening combined?

Unfortunately, for many individuals, the mercury rising doesn't mean less time outside. Hundreds of thousands of people's careers require being outdoors – construction workers, police officers and agricultural workers, to name a few – and keeping cool can sometimes take a backseat to getting a job done.

The Arizona Division of Occupational Safety and Health (ADOSH) strives to keep all workplaces throughout the state safe, in order to avoid injuries, illnesses and fatalities. For this reason, and due to the extreme heat in Arizona, ADOSH has been proactive in reminding people how to keep safe from the heat and what symptoms to look out for when you or someone on your team may be affected.

Knowing the symptoms, however, is not the beginning. Safety begins with preventing the actual illness. ADOSH offers the following tips:


1. Water, rest and shade are the three most important factors in prevention. It is recommended workers drink at least eight ounces of water every 15 minutes when working in the sun. Take breaks out of the direct sunlight for at least five minutes at a time.

2. Avoid alcohol, caffeine, soft drinks or heavy meals.

3. Wear loose, light colored clothing, wide-brimmed hat or cap and a bandana.

4. Know the symptoms of heat related illnesses:
• Headaches
• Dizziness
• Weakness
• Upset stomach
• High pulse rate
• Dry, hot skin
• Slurred Speech
• Chills

5. Notify your supervisor the moment a worker begins experiencing these symptoms. Call 9-1-1 and immediately start to cool the person down by getting them into a cool, shaded area and providing lots of water for drinking and sponging off.

Following this advice could mean the difference between life and death for Arizona's outdoor workers. Make sure to familiarize yourself and your fellow employees with these procedures.

For more info on heat safety, prevention and treatment, please visit http://www.osha.gov/SLTC/heatillness/index.html.