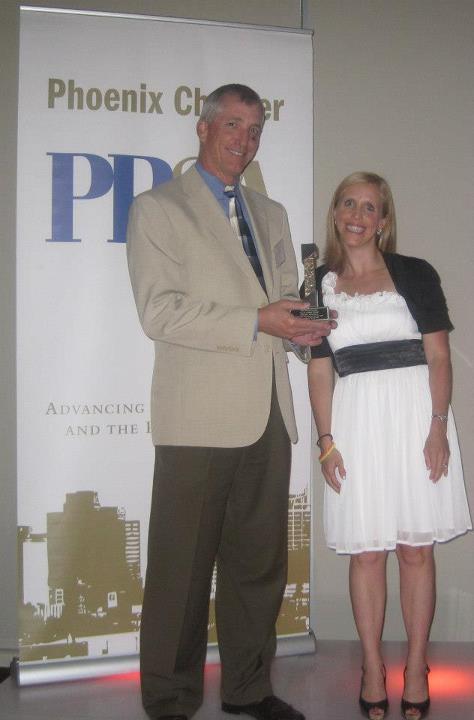 HMA Public Relations, recognized regionally as a leader in public relations and marketing communications, is pleased to announce it was honored during the 2012 Public Relations Society of America's Phoenix Chapter Copper Anvil Award Ceremony, which took place on August 23 at the Hotel Palomar in downtown Phoenix. The firm took home one of only 10 Copper Anvil Awards presented for its work with the Boys & Girls Clubs of Greater Scottsdale. In addition, the firm received two Copper Anvil Awards of Merit for its work with the Hopi Tribe and Arizona Cancer Specialists, respectively.

"We are thrilled that our work on behalf of clients was recognized and honored by our peers in this way. The Copper Anvil, our chapter's highest honor, recognizes outstanding public relations tactics and campaigns that reflect the highest standards of performance in our industry, "said HMA Public Relations President Scott Hanson, APR, Fellow PRSA.

Hanson was honored earlier this year by PRSA Phoenix with the prestigious Percy Award, which is given to a public relations professional who has demonstrated excellence in public relations and has made positive contributions to the community.

During the event, themed "Ideas Come to Light", the Chapter presented two scholarships; Arizona State University student Emily Pomilio and Northern Arizona University student Sara Martin, each received $1,500 .

Christie Silverstein, APR, president of PRSA Phoenix also announced that earlier this year, the chapter committed to a gift of $15,000 to support the development of the PR Lab at the Cronkite School at ASU. "Our membership strongly believes in supporting the university system and our gift to the Cronkite School is a demonstration of that belief. We know our chapter will benefit immensely from supporting this program that allows students to obtain real-world experience by working on public relations campaigns for actual clients in the Valley."

The event was sponsored by AAA Arizona, Allstate, American Traffic Solutions, Anamorphics, Inc., APS, Gordon C. James Public Relations, kool. Party Rentals, Olson Communications and R&R Partners.