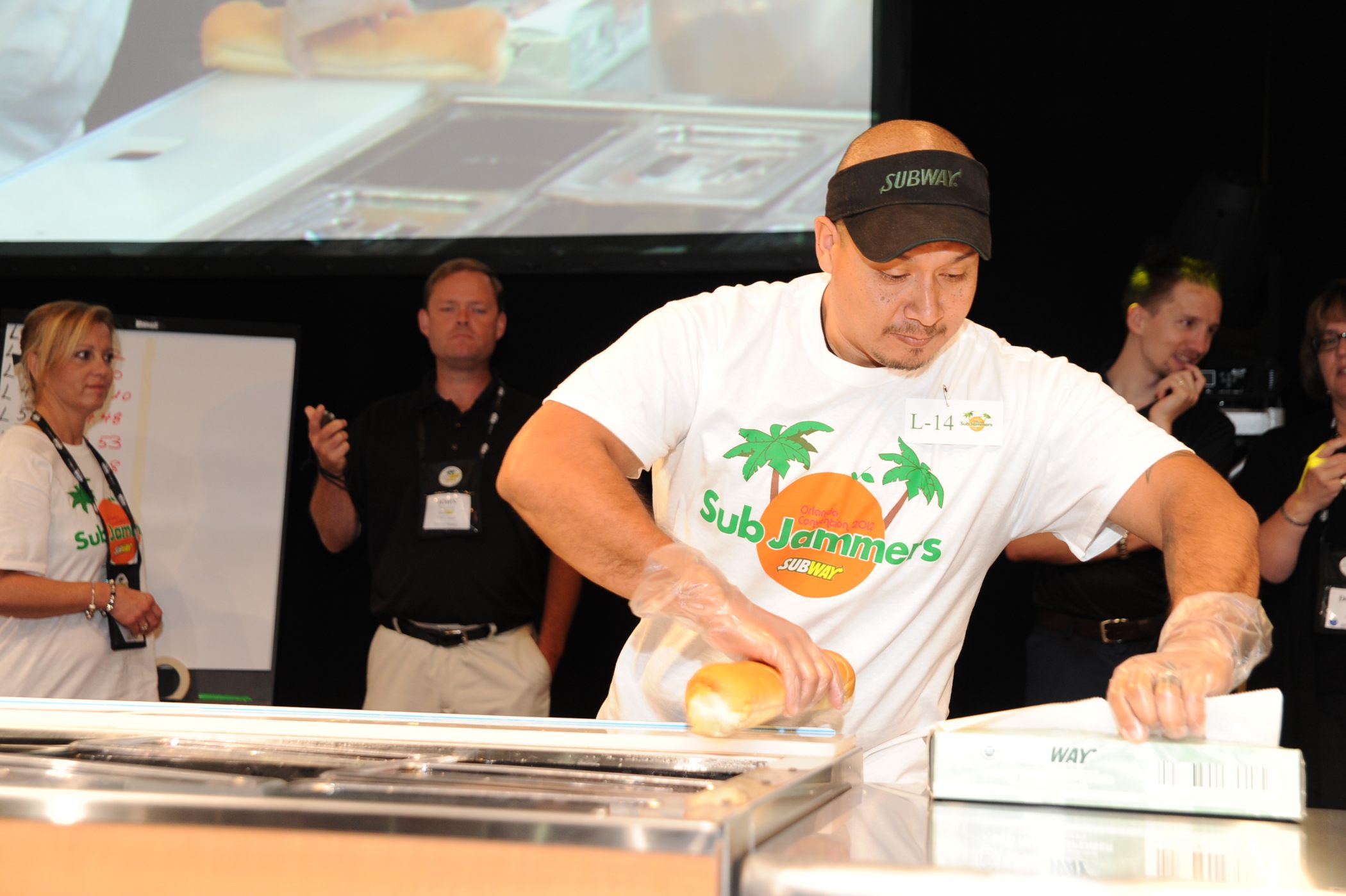 (Florence, Ariz) – Florence Sandwich Artist® Sal Rodriguez has captured first place at the annual international Subway Subjammers competition and with it, a winner's check of $3,000.

In becoming the fastest Sandwich Artist® in the world, Rodriguez traveled to Orlando, Fla. to face 160 competitors from across the globe, including participants from Germany, France, Japan and China.

The goal is to build the perfect Subway Footlong™ sandwich in the least amount of time while using the exact amount of ingredients in the precise order. Rodriguez finished with a time of 51.1 seconds.

"I was actually pretty confident going into the competition," said Rodriguez, who won the regional title in 2009 but did not place at the international competition. "The hardest part is not psyching myself out."

Jeff Trendler, Subway franchisee and owner of the Florence location, said that Rodriguez' focus has always been on how quickly and efficiently he can move his customers through the line.

"Not only is his speed of service extraordinary, but he also ensures each sandwich is properly made and picture perfect," Trendler said.

Rodriquez started working at Subway Restaurants of Arizona when he was 16 years old. During that time, he saw his older sister participate in Subjammers and he knew one day he wanted to be a Subjammer. Thirteen years later, his dream came true.

"The experience has been very humbling," Rodriguez said. "It's amazing to think that I can be number one in something I do every day, to be able to reach a goal like that."

Now back at home, Rodriguez has achieved celebrity status. His regular customers are the most excited, he said.

The Florence Chamber of Commerce and the Holiday Inn Express & Suites will honor Rodriguez with a victory celebration on Aug. 8 at 4 p.m. at the hotel, located on 240 West Highway 287. The entire Town of Florence is welcome. RSVP by calling (520) 868-9900.

About Subway
Subway Restaurants is the world's largest sandwich franchise, with more than 37,119 locations in 100 countries and was launched in Arizona in 1984. Headquartered in Milford, Conn., Subway Restaurants was co-founded by Fred DeLuca and Dr. Peter Buck in 1965. That partnership marked the beginning of a remarkable journey-one that made it possible for thousands of individuals to build and succeed in their own business. For more information about the Subway restaurant chain, visit www.subway.com. Subway is a registered trademark of Doctor's Associates Inc.