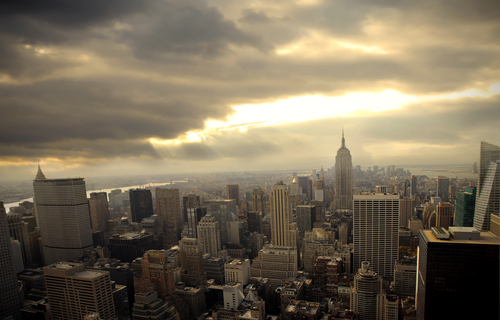 By IBISWorld Analyst Antonio Danova
In the final week of October, Superstorm Sandy charged through the entire Mid- Atlantic region, ravishing the area and leaving major US cities devastated. According to the New York Times, the total cost of destruction caused by the storm is estimated to eclipse $50.0 billion in economic losses, accounting for physical damage and lost business activity. A majority of these losses will be felt throughout New York State: Modeling company Eqecat estimates New York to be the state hit the hardest, enduring 34.0% of the total economic losses. In particular, closures of the New York Stock Exchange (NYSE) and major transit rails with the New York MTA have been detrimental to the local and national economy and felt throughout many industries.
The Mid-Atlantic region, with New York as its centerpiece, plays an important role in driving the nation's economy. According to IBISWorld data, the region is home to an estimated 23.2% of all company establishments in the United States, with New York representing 8.2% of these locations. Given the cluster of businesses throughout the state and its bustling industry activity, what are the economic implications of a natural disaster like Sandy?
Transportation stopped in its tracks
The transportation sector throughout the Mid-Atlantic region took a massive hit from Superstorm Sandy. This was highlighted by the closure of most subway lines of the New York Metropolitan Transportation Authority (MTA), the largest transit agency in the United States, due to severe flooding. The MTA falls within the US Public Transportation industry (IBISWorld report 48511), which is expected to generate roughly $37.9 billion in nationwide revenue in 2012. Currently, New York accounts for 9.3% of the Mid-Atlantic's transit infrastructure alone. The region's dense population and heavily urbanized, metropolitan cities, such as New York City, contribute to heavy demand for public transportation. Its inhabitants have long preferred using public transit to get to work, school or around the city over owning a vehicle.
When Sandy struck, shutting down much of New York City's subway and commuter train network and limiting service from other methods of public transportation, the MTA suffered greatly. According to Bloomberg Businessweek, a 2011 New York State study estimated the cost to fix the subway infrastructure in the event of a disaster would surpass $10 billion. The estimated cost accounts not only for rebuilding or restructuring many subway stations and other structures, but also for the lost fare revenue as a result of temporarily halted public transportation services. Similarly, IBISWorld estimates that one week of closed and limited New York City transit methods would cost the US Public Transportation industry about $48.3 million.
Historical financial market closure
On October 29, 2012, the New York Stock Exchange (NYSE) canceled stock trading for the second consecutive day due to the harsh weather conditions, something that has not happened since 1888. As a result of this closure, many offices shut down operations in New York. Two industries heavily tied to the NYSE that were severely impacted by the closure include Investment Banking and Securities Dealing (52311) and Stock and Commodity Exchanges (52321). These industries' share of establishments within New York State total 17.5% and 7.7%, respectively, according to IBISWorld data. These two industries are massive, global business drivers that dictate the pace of stocks and other business activity. Firms in the Investment Banking and Securities Dealing industry engage in debt and equity underwriting, financial advisory services, corporate lending and principal trading, while firms operating in the Stock and Commodity Exchanges industry focus primarily on arranging trades in securities, commodities and related contracts.
According to 2012 IBISWorld estimates, the Investment Banking and Securities Dealing industry is expected to generate $150.4 billion in revenue and Stock and Commodity Exchanges industry revenue is estimated to total about $12.8 billion. Given the size and scope of these industries, even a short stoppage in business activity in this region for these industries could prove detrimental. IBISWorld estimates that these two industries would lose roughly $149.6 million in two days of NYSE closures in an event like that of Superstorm Sandy. The Investment Banking and Securities Dealing industry would lose about $144.2 million, while the Stock and Commodity Exchanges industry would be out about $5.4 million.
Tip of the iceberg
In total, NY-based firms in the aforementioned industries are estimated to incur roughly $227.7 million in costs as a result of the MTA's weeklong disruption and the two-day closure at the NYSE. Though a only small portion of revenue in the grand schemes of these industries, it is a significant loss to incur in such a short period. And the devastation of the storm will permeate throughout the entire region and extend beyond the transportation and financial sectors. The insurance sector, for example, is also poised to take a big hit: Bloomberg Businessweek estimates that insured losses from Sandy will reach nearly $20.0 billion.
Additionally, the other states in the Mid-Atlantic region, including New Jersey, Delaware, Maryland, Pennsylvania, Washington DC, Virginia and West Virginia, contribute significantly to transportation and financial industries and will endure substantial economic pressure as a result of the storm's destruction. Though a concrete figure for total economic loss throughout the entire Mid-Atlantic region may not surface in the immediate term, the work stoppages and closures throughout New York State serve as a microcosm of the swift damage, both structurally and financially, a natural disaster can cause to an economic powerhouse of a city.
To download full research reports for the industries discussed in this article, click on the report titles below.
Public Transportation, Investment Banking and Securities Dealing, Stock and Commodity Exchanges