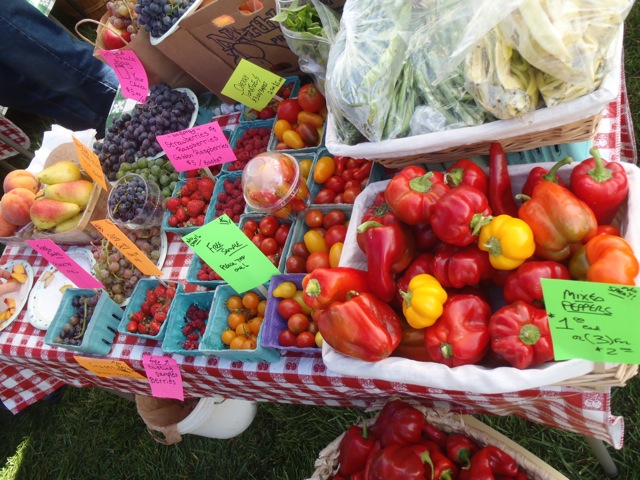 September 27, 2012 (Boise, ID)
- Celebrate the fall season during the Third Annual Fall Harvest Festival, Saturday, October 6 and Sunday, October 7, 2012, at the Idaho Botanical Garden. This family-friendly celebration features activities for people of all ages including local brewers, antique farm equipment, children's crafts and games, live music, creative Scarecrow displays, and farmer's market.
Fall Harvest Festival, Idaho Botanical Garden, 2355 Old Penitentiary Road
Noon to 6:00 pm each day
Saturday, October 6, featuring music by Jr. Jammers, Tyler Clayton, and Grand Falconer
Sunday, October 7, featuring music by Possum Livin' and High Desert Band
$3 for Members and youth ages 5-12, $6 for general admission, children 4 and younger are free
This year's Festival features Gretchen Anderson, author of "The Backyard Chicken Fight." On Saturday and Sunday, Gretchen will be answering questions about chickens and also signing her book from 1 to 4 pm. Also featured is a running "G scale" garden railroad and train will be on display courtesy of the southern Idaho Garden Railway Society.
The Farmer's Market will provide local produce and locally made gift items. The Garden's own pumpkin patch offers children a chance to pick their own pumpkin, along with paint them. Children's activities include hayrides, mini-straw maze, leaf rubbing, beanbag toss, and tattoos. Local brewers Payette and Crooked Fence will be offering seasonal specials, along with Indian Creek Winery and Spit Rain Winery. Food vendors include Willow Creek Grill, Boise Fry Company, and Dippin' Donuts.
During the Festival, the Garden will also be hosting the annual Scarecrow Stroll. Guests are invited to vote on their favorite "Famous People from History" Scarecrow, which will be awarded the Community Choice Award at the end of October. Scarecrows have been created and built by community groups and organizations.
About Idaho Botanical Garden:
Idaho Botanical Garden is open daily from 9am-5pm, from 10 am – 6 pm on weekends and till dusk on Tuesday and Friday through October.
General admission is $5 for non-members, $3 for seniors, and youth between 5-12 years old are $3. General admission is free to members.
The Idaho Botanical Garden is dedicated to fostering a love of nature and developing intellectual curiosity in people of all ages though botanical collections, music and art events, educational programs and seasonal celebrations.
The Idaho Botanical Garden is located at 2355 Old Penitentiary Road, Boise, Idaho. For more information call 208-343-8649 or visit www.idahobotanicalgarden.org
# # #