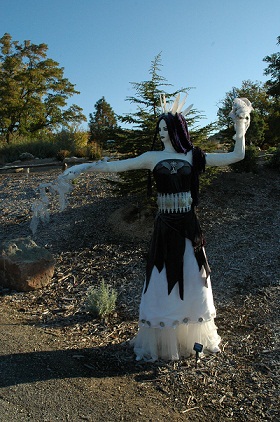 August 29, 2012 (Boise, ID) – The Idaho Botanical Garden is hosting the fifth annual Scarecrow Stroll. To prepare for the month long, family-friendly event held in October, the Garden is accepting scarecrow entries. Creating a scarecrow for the contest is an engaging and collaborative process for businesses, non-profits, childcare centers, schools, community organizations' and families. Scarecrows will be on display at the Idaho Botanical Garden October 1 through October 31, and the public will have the opportunity to cast their vote for the favorite.
"The very first time I walked through the Scarecrow Stroll I was amazed by the obvious creativity on display," says Executive Director Julia Rundberg. "Families, businesses and individuals bring each year's scarecrow theme to life in dynamic and often humorous ways. I can't wait to see history come alive with 'crows that represent famous people from history."
The theme for this year's contest is "Famous People in History." As a contest, there are two categories: Gardener's Choice – judged by a panel of community judges, and the People's Choice Award – based on popular vote of Garden guests.
"Building a scarecrow is a great way for our community-minded kindergarten's to start the school year," says Lila Afoa, director of Parkcenter Montessori and a past participant of Scarecrow Stroll. "The kids had fun interpreting materials they were already learning about and then seeing the outcome on display in the Garden was very rewarding for them."
Applications need to be submitted to the Garden by Friday, September 14. Entry fees are $5 for individuals and families; $10 for non-profits, community groups, and schools; and $20 for local businesses and corporations.
Scarecrows can be viewed weekdays from 9:00 am to 5:00 pm and weekend's 10:00 to 6:00 pm through the month of October. Admission is free for Members and $5 for non-members. Seniors and children five-12 years old are $3 (children 4 and younger are free).
To learn more or to find the contest rules and scarecrow entry form, call the Garden at 208-343-8649 or visit the website at idahobotanicalgarden.org.
# # #