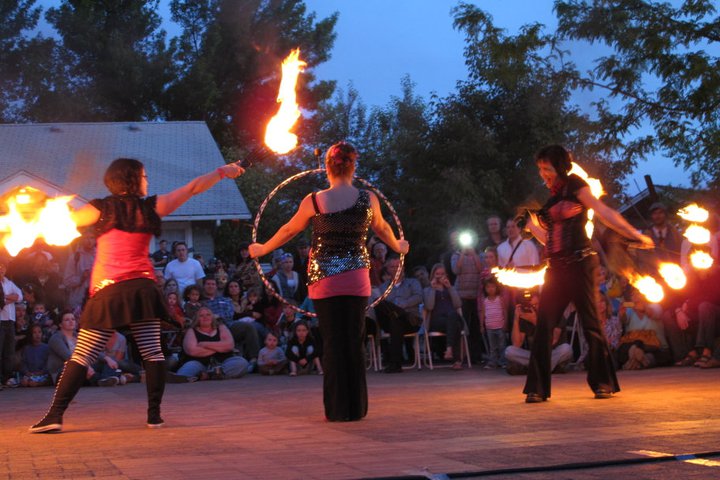 August 10, 2012 (Boise, ID) - The Idaho Botanical Garden is in full bloom and offers a variety of activities to educate, cultivate and celebrate. September features artistic creativity with Carnevale, one of the best movie comedies "Some Like it Hot", and a lecture on prehistoric tools and weapons. Below is the September 2012 schedule of programs:

Great Garden Escape Concerts
6:00 pm at the Idaho Botanical Garden
$10 non-member; $7 Members
Thursday, September 6 – The B3 Side, blues and jazz
Thursday, September 13 – The Mystics, classic rock
Thursday, September 20 (the season finale) – Blues Brothers Rock N'Soul Revue, vintage rhythm and blues
Summer evenings are cooler in the Garden where you can experience the best of Idaho with local music, food, beer, and wine. Enjoy food selections from Willowcreek Grill, Prepared Catering, or bring your own picnic. Don't forget a blanket or low-back chair. Concerts take place rain or shine.
Movies in the Garden
$5 non-member, $3 Members
Gate opens at 7:00 pm and movies being at dusk. Pack a picnic, bring a blanket, and enjoy movies on the giant outdoor big screen. Food and beverage vendors will provide snacks and summer treats.
Wednesday, September 5 – "Some Like it Hot" whirls through the flamboyant settings of Chicago and Miami Beach in 1929. Sugar Kane (Marilyn Monroe) is a ukulele-playing vocalist in an all-girl band. Two musicians (Tone Curtis and Jack Lemmon) on the run from the mob join Sugar's traveling troupe by hilariously donning make-up and dresses to hide their identity. Voted one of the best comedies of all time.
Wednesday, September 19 – "Napoleon Dynamite". From Preston, Idaho comes Napoleon Dynamite (Jon Heder), a new kind of hero complete with a tight red fro, some sweet moon boots, and skills that can't be topped. Napoleon lives with his Grandma and his 30-year-old, unemployed brother Kip, who spends his days looking for love in Internet chat rooms. When Grandma hits the road on her quad runner, Napoleon and Kip's meddling Uncle Rico comes to town to stay with them and ruin their lives.
Lecture Series: Prehistoric Tools and Weapons
Tuesday, September 11; 7:00 pm
Free to Members and Osher Lifelong Learning Institute Members; $5 non member, $3 Seniors
James Woods uses demonstrations and numerous replicas to illustrate a variety of clever and unusual tools and weapons made and used by our prehistoric ancestors. Several vignettes of recent case studies of how archaeologists use replication analysis will show how they help modern scientists learn more about ancient technology. Supported by the Idaho Humanities Council, the state-based program for the National Endowment for the Humanities, and the Osher Lifelong Learning Institute.
Carnevale – Hosted by Refinerii
Friday, September 14; 6:00 – 10:00 pm
$10 non-member; $7 Members
Carnevale is a unique event that presents eclectic performing and visual arts. Refinerii, a metal arts studio by artist Amber Conger, co-hosts this outdoor, ticketed event with the Idaho Botanical Garden. In its second year, Carnevale celebrates artistic creativity within our local community.
The Garden Plate
Friday, September 21; 7:00 pm
Free to Members; $5 non member
The Idaho Botanical Garden is affiliated with the national Let's Move! initiative that is mobilizing cities around the country to reduce childhood obesity, make healthy food more accessible, provide healthy food in schools, and increase physical activity. The Garden Plate demonstration features chefs from the Boise Co-op and will provide inspiration for using healthy, seasonal vegetables as part of our daily diets.
Koi in the Garden
Saturday, September 22; 10:00 am – 4:00 pm
Free to the public
The Idaho Water Garden and Koi Society host their 19th Annual Koi and Goldfish show. Enjoy the koi exhibit and competition, Bonsai display by the Bonsai Club, the Kawa Taiko Japanese Drummers, and cultural items from the Idaho Japanese Association.
Uncorked in the Garden
Tuesday, September 25; 6:00 pm
6:00 pm at the Idaho Botanical Garden
$5 non-member; Free to Members
Take advantage of the evening serenity at the Idaho Botanical Garden with Uncorked. Stroll through the Garden while listening to Rebecca Scott and sampling wines from Fraser Vineyards.
Grow the Garden Party
Friday, September 28; 6:00 – 10:00 pm
$60 per ticket
Grow the Garden Party is a playful fundraiser in the Garden featuring local food and cocktails, silent and live auction, and music. Buffet of locally-sourced and Idaho-focused food provide by Bon Appétit.
About Idaho Botanical Garden:
Idaho Botanical Garden is open daily from 9am-5pm, from 10 am – 6 pm on weekends and till dusk on Tuesday and Fridays throughout summer. General admission will be closed to the public all day on September 1 and 7 for Outlaw Field Summer Concerts.
General admission is $5 for non-members, $3 for seniors, and children between 5-12 years old are $3. General admission is free to members.
The Idaho Botanical Garden is dedicated fostering a love of nature and developing intellectual curiosity in people of all ages though botanical collections, music and art events, educational programs and seasonal celebrations.
The Idaho Botanical Garden is located at 2355 Old Penitentiary Road, Boise, Idaho. For more information call 208-343-8649 or visit www.idahobotanicalgarden.org
# # #