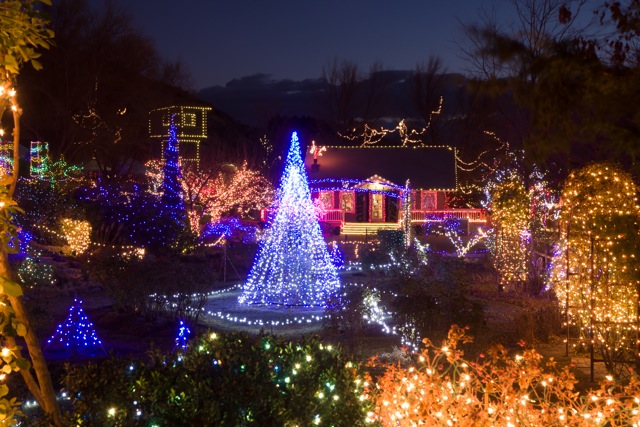 November 9, 2012 (Boise, ID)
- The lights are hung, the fires are stoked, and the hot chocolate and cookies are ready. The 16th season of Winter Garden aGlow at the Idaho Botanical Garden will open to the public on Thanksgiving Day, November 22, 2012 and will run for 51 nights.
"The Idaho Botanical Garden is honored to create and present Winter Garden aGlow, an event that after 16 years is a tradition for so many people across the region," says Executive Director Julia Rundberg. "I love to see families enjoying time together out of doors on a crisp, sparkling winter evening." Winter Garden aGlow features more than 270,000 lights and transforms 15 acres of the Idaho Botanical Garden into a sparkling wonderland. Last year, 56,000 people took part in this uniquely Idaho experience.
"The volunteers and staff have been working on creating new light displays for this year's presentation," says Renee White, Idaho Botanical Garden Event Director. "Guests will be able to walk under a rainbow near the Children's Adventure Garden, see glowing pumpkins, eggplant, and grapevines in the vegetable garden, and find Mount Fuji and Red Bridge in the Meditation Garden."
As family and friends stroll through the light display, they will also enjoy complimentary hot chocolate, cider and cookies. Hot donuts, kettle corn, and coffee will be available for purchase from local vendors.
Event Details:
"Winter Garden aGlow"
Idaho Botanical Garden, 2355 Old Penitentiary Road, Boise, Idaho
Open nightly 6:00 -9:00 pm, including clear, rain or snow
November 22 – November 25, 2012 including Thanksgiving Day
November 30, 2012 – January 6, 2013 including Christmas Eve, Christmas Day, New Year's Eve, and New Year's Day

General Admission is $8, Members and youth 5-12 years old are $4, and children 4 and younger are free.

Free first-come, first-serve parking. Carpool Monday's (except Christmas Eve) offers admission for up to six guests arriving in one vehicle for $20.
Winter Garden aGlow features a variety of activities throughout the holiday season.
- Live holiday music will be performed by junior high and high school choirs, and community choirs. Check www.idahobotanicalgarden.org for specific appearance dates and times.
- A miniature model train display will present the "Holiday Express," provided by the Southern Idaho Garden Railway Society starting Saturday, December 1 through Monday, December 31.
- Santa Claus and his reindeer helper Prancer will be greeting guests Friday through Sunday, December 7-9, December 14-16, and December 21-23.
- Open nightly, the Holiday Garden Gift store offers unique gifts and holiday decorations.
Winter Garden aGlow is made possible with generosity of many volunteers. More than 3,300 volunteer hours are given to the Garden to prepare for this community-loved event. Additionally, local businesses such as The Idaho Statesman, Journal Broadcast Group, and Idaho Power support Winter Garden aGlow through their corporate sponsorship. Thank you.
About the Idaho Botanical Garden:
The Idaho Botanical Garden is dedicated fostering a love of nature and developing intellectual curiosity in people of all ages though botanical collections, music & art events, educational programs and seasonal celebrations. www.idahobotanicalgarden.org
# # #