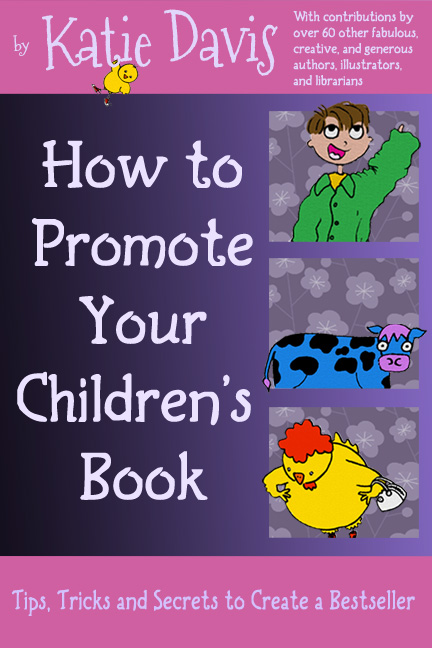 With this guide and her trademark sense of humor, author/illustrator Katie Davis coaches even the shyest and most promotion-reluctant writer with unique (and common) ways to sell more copies. Whether it's Chapter 29's Dos and Don'ts, Chapter 11's Fake Angry Letter About Facebook Fan Pages, or Chapter 7's Being Selfishly Unselfish, every chapter follows with homework to inspire action to get on the bestseller track. Davis's nine children's books have sold over 250,000 copies so she obviously has learned a thing or 82 in the process, and she shares it all in this, her first eBook.
The book carries out exactly what it promotes: reciprocity and a global outlook. When Davis started the project as a blog series, to give a broader perspective she invited her writer and illustrator friends to contribute their own experiences, resulting in a perfect storm of promotional reciprocity, with the reader as winner. A wide range of children's literature stars recommend, relate, and retell the stories of how they gained promotional traction, including bestselling heavyweights like Jane Yolen, Kate Messner, Charise Mericle Harper, Paul O. Zelinsky, Ed Emberley, Cynthia Leitich Smith, Brian Lies, Liz Garton Scanlon, and many more.
Davis says, "The beauty of an eBook like this is the triple-play reciprocity. First, I was able to enhance the appeal of the content by including many different examples of what various authors have done, whether school visit info, website creation, or book trailer production. Second, I linked every person who contributed so they get promotion from being included, and third, the reader reaps the benefit of the broad range of information and the immediate satisfaction of the links. And hopefully a fourth bonus will be if the authors included promote the eBook, which gets their names out even more, resulting in sales, thereby getting their names out more!"
Now available everywhere eBooks are sold, including a product page on Davis's own site, the early reviews are raves. Editor and publishing consultant Emma Dryden touts the book as a "rich new book" and a "great tool." Aspiring picture book author Sharon Stanley sent her fan mail when the eBook was only in advanced reader format, saying, "…this one publication is better than every other article I have read on promotion…EVERY other thing…such an in-depth, yet easy to understand book."
In between writing and illustrating, Katie Davis has been steadily building a "platform" through her passion for children's literature. She makes monthly appearances on the ABC affiliate show, "Good Morning, CT," recommending great books for kids; she hosts Brain Burps About Books, her weekly podcast about kidlit which has been downloaded in 43% of the world and is #1 in iTunes in Children's Publishing; she writes a blog and a monthly newsletter; she's volunteered in a maximum security prison teaching Writing for Children; and over the last dozen years she's presented at schools around the world, taught writing workshops, given presentations at educational conferences, and keynoted fundraising galas. Davis has twice been a Cybils judge and has also judged the Golden Kite, smartwriters.com, and Frontiers in Writing awards. She's on the Advisory Board for the Brooke Jackman Foundation, a literacy-based charity. Davis's book trailer for Kindergarten Rocks! as well as her book trailer for Little Chicken's Big Day were two of the four finalists competing for the School Library Journal Trailee award. The latter won. The Little Chicken's Big Day book trailer was also a finalist for a Moby award.