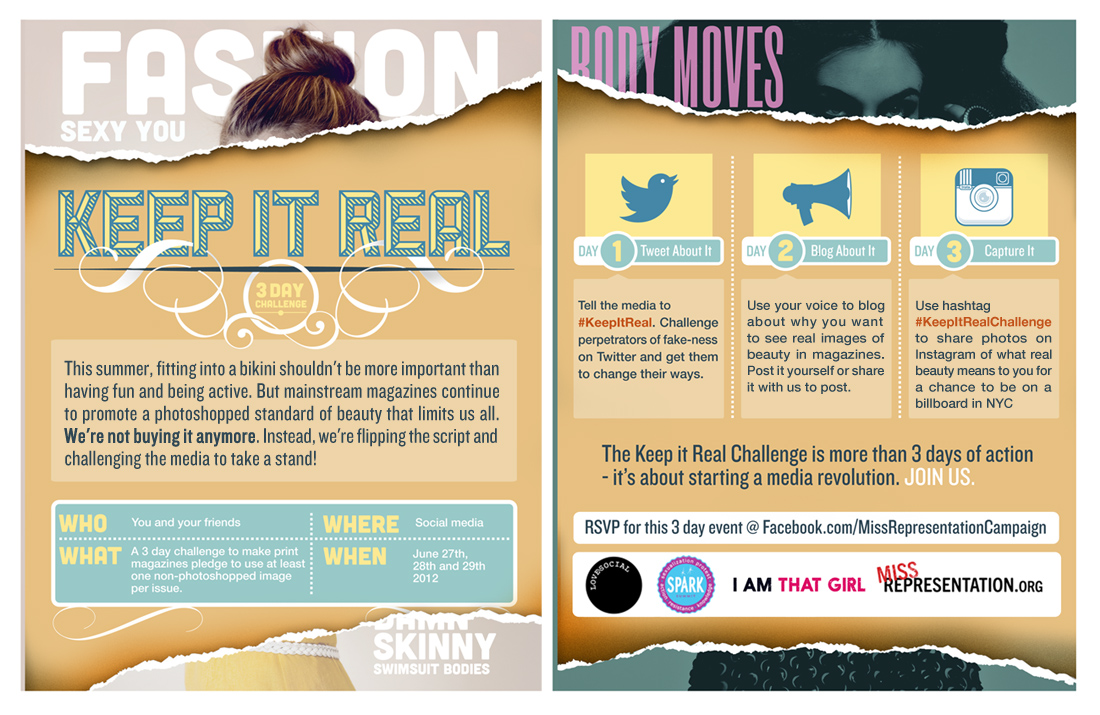 6/18/2012 (Vancouver, BC) –
SPARK Movement
,
MissRepresentation.org
,
Lovesocial.org
and
I Am That Girl
are joining forces to host a three-day social media campaign to urge print magazines to pledge to use at least one non-photoshopped image of their young female models per issue. The Keep It Real Challenge, which runs from June 27th through the 29th is designed to start a media revolution and help girls, women and their allies realize the power of their individual and collective voices to create positive change.
As summer begins and teenagers wrap up school, the "bikini body" pressure is on. Instead of young girls pushing themselves to fit into a swimsuit, this social media campaign will inspire them to challenge the media creators who propagate unrealistic images of young girls and women, and encourage them to enjoy their summer in other more positive ways. Studies show that after reading a teen or women's magazine, girls report feeling worse about their bodies and express a desire to lose weight. Eating disorders are the the leading cause of death for girls ages 15-24 (National Eating Disorder Organization 2012).
Inspired by 14 year old SPARK activist Julia Bluhm's
Change.org
petition (which has received more than 80,000 signatures) demanding that Seventeen Magazine print one non-photoshopped model spread per issue, the campaign will continue to focus on this simple request.
The campaign will launch as a Facebook event where supporters can RSVP, comment, and collaborate. Each day of the challenge will be centered on a different online action.
On day one (June 27th) Twitter users will use hashtag #KeepItReal, directly asking magazines to pledge to change their practices around photoshopping bodies.
During day two (June 28th) participants will create a blogging firestorm – personally reflecting on how unrealistic images of beauty have impacted them.
And on the final day (June 29th), via Instagram, users will post their own photos of "real beauty" to be entered in the #KeepitRealChallenge – with selected photos to be featured on a billboard in New York City later this year.
Taken collectively, the social media campaign will serve as a massive wake-up call for the entire media industry as ordinary citizens speak up about the harmful effects of photoshopping images of people.
Join us for this three-day event at
Facebook.com/MissRepresentationCampaign
and
Facebook.com/SPARKsummit
###
Media Contact:
Malania Dela Cruz
PR, Keep It Real Challenge
malania@delacruzpr.com
1-604-779-3405

SPARK
is a girl-fueled activist movement working collaboratively with girls, activists, scholars, parents and educators to challenge and end the sexualization of girls. The SPARK network is creating a cultural "tipping point" where the sexualization of girls is unacceptable, intolerable, unthinkable and unprofitable, while simultaneously building support for girls' healthy sexuality.
www.sparksummit.com
For further information
about SPARK, please contact Executive Director Dana Edell at 917-647-0326 or dana@SPARKsummit.com
MissRepresentation.org
is a cross generational movement organizing millions of small actions to awaken people's consciousness to recognize the true value of women; change the way women and girls are represented in the media; interrupt and stop patterns of sexism; level the playing field; and ensure a tipping point that will lead to gender parity in leadership throughout the United States and the world. Learn more about the campaign at
www.missrepresentation.org
For further information
about MissRepresentation.org, please contact Campaign Director Amy Zucchero at 415-386-1200.
Lovesocial
was founded in 2009 with a vision of creating authentic and creative communication strategies through the channels of social media. With a motto of, "keep it simple, find the value and communicate it well," Lovesocial quickly became what is now dubbed an "anti-agency". With a commitment of not further cluttering or saturating an already crowded online space, Lovesocial works to create clarity and value for their clients to help accomplish their goals. Lovesocial was founded by Azita Ardakani and is currently the youngest Canadian B Corporation certified company - a new kind of company which use the power of business to solve social and environmental problems.
www.lovesocial.org
For further information
about Lovesocial, please contact PR Representative Malania Dela Cruz at 604-779-3405 or malania@delacruzpr.com or Lovesocial CEO Azita Ardakani at azita@lovesocial.org
I AM THAT GIRL
aims to be the definitive voice on the intellectual, emotional, and social needs of millennial girls by building an online and offline community devoted to inspiring and empowering girls to discover their innate worth and purpose. This community provides girls with a safe space to have honest conversations, consume healthy content, and collaborate with other girls seeking to be confident in their own skin.
www.iamthatgirl.com
For further information
about I AM THAT GIRL, please contact Co-Founder/Executive Director Emily Greener at 310-963-9430