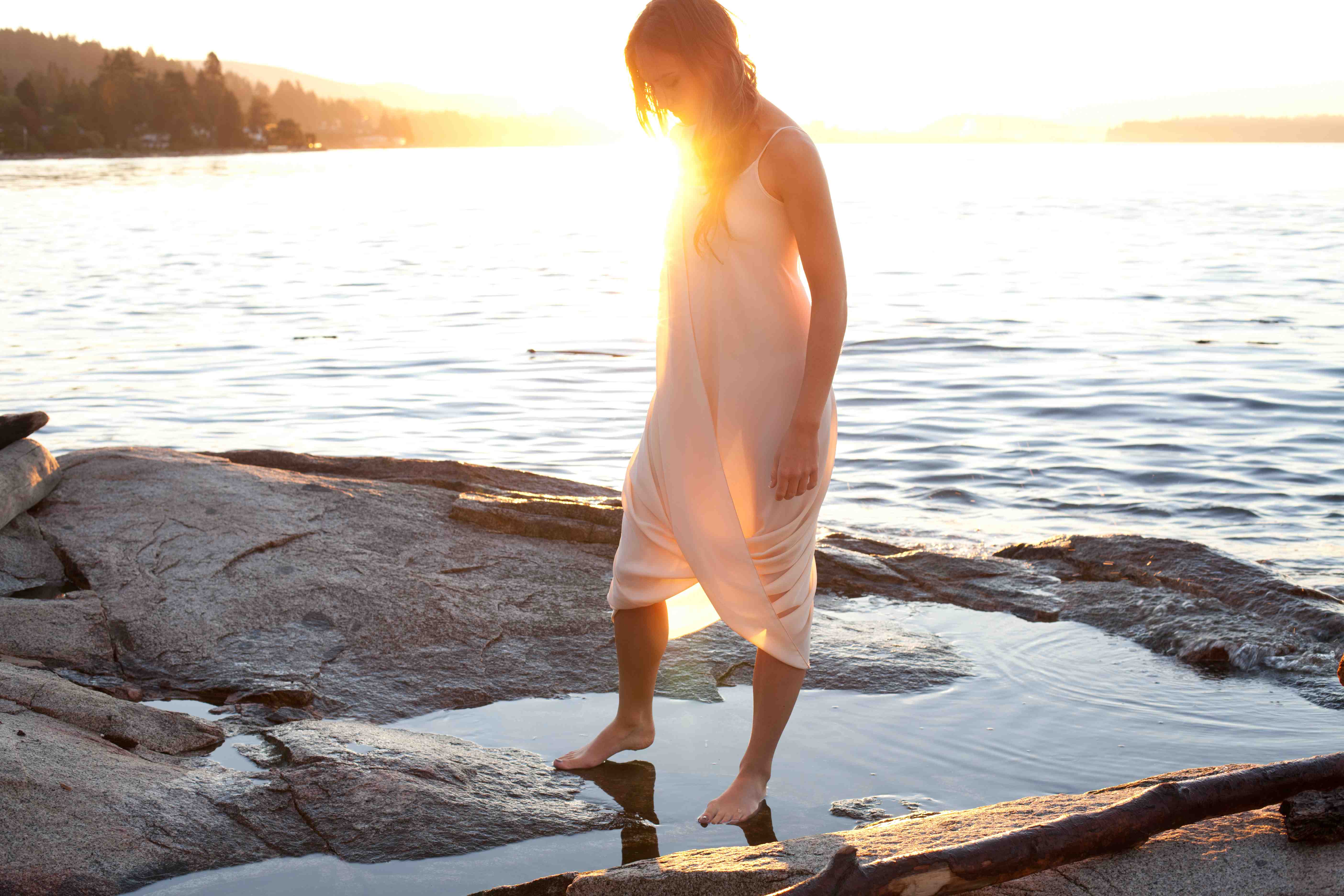 VANCOUVER, BRITISH COLUMBIA, April 19 – Spring is a time for regeneration. As we shed our winter shells, it's time to embrace the fresh styles that spring brings. Nicole Bridger has unveiled her new spring and summer collection titled "Allowing Grace" at her flagship store in Vancouver. The soft coloured line reflects Nicole's award-winning style known for its seamless designs, feminine silhouettes, breezy style and sophistication. It also holds true to her commitment to using natural and renewable fabrics in her designs, ethical manufacturing practices, and the promotion of positive change.
"Allowing Grace" is about having the desire for something in life, letting go, and allowing the universe to take control. Sustainable, luxurious fabrics sourced from around the world are used to make the wearer feel wrapped in softness, including linen jersey from Italy, Tencel from European eucalyptus plants, and silk crepe from India. The colours were inspired by the sun rising over the ocean, resulting in soft blue, orange, and purple tones. All pieces are all labeled with Bridger's iconic I AM LOVE tag as a reminder to the wearer to speak kindly to themselves and to others and help spread positivity throughout their day.
Some of what fashionistas can find in Nicole Bridger's new collection include:
'Compassion' dress - Made from silk crepe, the 'Compassion' dress is beautifully sheer and delicate. Uniquely gathered at the bottom, the dress falls beautifully with the trademark flowing movements that Nicole Bridger designs are known for. In its opal shade it is reminiscent of the oysters found beneath the waves that gave her the initial inspiration.
'Appreciation' pant – Crafted from Italian Tencel twill, the 'Appreciation' pant is the epitome of sporty sophistication. The refined slouching trouser with its high waist and indigo tones comes unhemmed so that each wearer can decide on their choice of length. Pair it with the "Grounded" jacket in light morning blue.
'Conviction' dress - A maxi length style, the 'Conviction' dress is simple yet sensual. Wrap a "Healing" cardi around your shoulders for those colder summer evenings spent in the park, by the lake, or on the beach.
2010 Fashion Takes Action Designer of the Year award-winner, Nicole Bridger, believes in couture with a conscious. Ninety percent of the line is manufactured in Vancouver, while the remaining pieces are produced in Fair Trade factories overseas. Every item makes an impression when worn alone, and when combined with other pieces, the result is a statement of modern, refined style. Tailored from the highest quality ethical materials, every item flatters the natural curves of a woman's body, making her feel graceful and elegant in any setting.
Located in Vancouver, British Columbia, Nicole Bridger Design is a fashion line for a new generation of women who want to look effortlessly chic while maintaining a commitment to the earth and its people. Each collection is composed of stand-out pieces which reflect one's individuality and femininity. For more information and to shop online, visit www.nicolebridger.com or visit the store at 2151 West 4th Avenue in Vancouver.
-30-