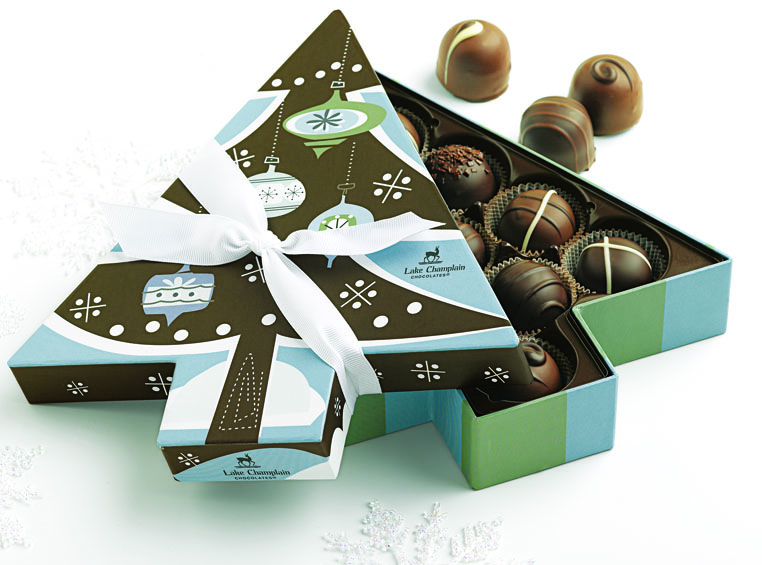 Burlington, VT - The next six weeks mark the time of year when businesses will be making holiday gift buying decisions to thank their customers and suppliers. A report released earlier this month by the National Association for the Specialty Food Trade (NASFT), a leading global trade association for the specialty food industry, offers a clue at what gifts businesses may consider this holiday season.
According to the NASFT report, in 2011 chocolate overtook coffee as the number one specialty food category purchase for the first time. Jim Lampman, owner and founder of Lake Champlain Chocolates (LCC), the well-known Vermont specialty confectioner, is not surprised by the results. "We expect this trend to continue through the holiday season and be reflected in corporate gifting choices. Over our 28 years of experience, we've come to understand the gifting needs of our corporate customers. Our product– how it is packaged, when it arrives, how it tastes– is a direct reflection of the sender. Chocolate is a universal favorite. It's a safe bet the recipient will like and appreciate it and their family and friends will enjoy the gift as well."
Food items always make popular business gifts and specialty chocolate could top this category in 2011. "Chocolate makes people feel happy, and opening a beautifully packaged box of gourmet chocolate is a welcome break from the holiday craziness," says Meghan Fitzpatrick, Marketing Specialist for LCC. She also notes that artisan chocolatiers often offer value-added services that appeal to gift givers, such as personalized greetings, volume discounts, easy one-step ordering and a large variety of size and flavor options.
According to market research, premium chocolate buyers are purchasing chocolate more often, spending more, and showing a high level of brand loyalty. These same buyers may be in a position to recommend or decide what their company is giving this year and may themselves be on the receiving end of a business gift. Considering this consumer behavior, chocolate may just be the perfect gift for everyone this year.