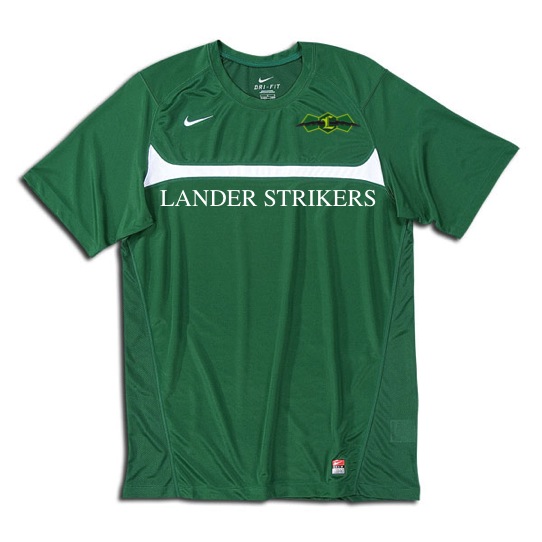 Lander Strikers soccer registration for Spring, 2011 is now underway. Interested in playing at a competitive level and willing to travel to play other Wyoming towns? This is the place to be!
- Learn what Lander Strikers is all about
- Register for the spring season
- Get information on the Spring Calendar of Events
- Meet the coaches
- Yes, we'll even lay some cookies out there :)

February 22, 2011 (Tuesday), 6:00 - 7:30 p.m.
Lander Valley High School Commons


To register at Strikers Night, please bring the following with you:
- Registration form completed (we will have some there)
- $120-U10; $140-U12; $150-U14 - registration fee
- (includes a Nike uniform..this season only!)
- Copy of birth certificate
- Small photo (school photos work great!)

If you are unable to make Strikers Night, but still interested in joining Strikers:
- Registration forms available:
- On our website at www.landerstrikers.com
- Calling Jessica Fehringer at 335-7198, or emailing her at jessica_fehringer@nols.edu
- They can be returned on or before March 4th:
- To Lander Strikers c/o Jessica Fehringer, 64 Coal Mine Rd, Lander, WY 82520, or;
- Dropped off at Lander Parks & Rec.

Other Information:
- Strikers is open to boys and girls ages 8-13 (as of Aug. 1, 2010)
- Roster sizes are determined by Wyoming Youth Soccer. If necessary, we will hold tryouts to comply with those roster numbers.
- Players generally practice 2-3 nights per week.
- There are also two tournaments scheduled at this time that all Strikers will attend: Snickers Big Horn Soccer Cup, May 7 & 8 in Sheridan and the Wyoming State Cup, May 28 - 30 in Sheridan. Make room reservations early!
- Strikers teams are dependent on parent/guardian involvement. The league is organized, maintained and coached by volunteers.