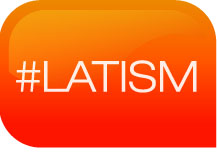 FOR IMMEDIATE RELEASE

CONTACT
Elianne Ramos
Vice-Chair of Marketing and PR
elianne@latism.org
@ergeekgoddess
646-932-7752


Washington, DC., June 6, 2012 – Latinos in Social Media today announced its "Call for Speakers" for the 2012 LATISM 2012 Conference, the premier event for Latinos engaged in social media, to be held on October 25th to 27th, 2012 in Houston, TX, at the Hyatt Regency Houston on 1200 Louisiana Street, Houston, TX 77002.

With the theme "Embracing Our Present, Deciding Our Future," this installment of the much-awaited annual event will feature four tracks centered around LATISM's mission: Business empowerment, Technology Leadership, Health Innovation and Transforming Education. The LATISM '12 conference program will feature the country's top authorities to address the latest trends, strategies and upcoming business opportunities for Latinos in a diversity of industries and topics based on the US Latino experience.

The Call for Speakers focuses on 100+ sessions targeting some of the hottest essential topics for Latinos today and in the future. These sessions, combined with tracks produced by our conference partners, will bring more than 200 speakers and conference sessions covering a diverse span of Latino-centered topics. Session speakers are chosen from the brilliant community surrounding LATISM to provide knowledge and valuable experience to those looking to improve their social media outreach skills. Speakers will receive a free pass to the show and excellent exposure for themselves and their companies.

Speaker proposals will be accepted through 5 p.m. EST, June 30th, 2012. A full list of tracks to be covered during the 2012 LATISM conference program is now available at http://conference.latism.org. Submissions will be evaluated based on their relevancy and potential. Those interested in becoming a speaker can begin the submission process by visiting http://conference.latism.org/call-for-speakers/.

More than 700 professionals from evey industry attend LATISM Conferences every year. Corporate buyers and retailers, media, analysts, venture capitalists and manufacturers also come to LATISM conferences to conduct global business, exchange ideas and techniques for maximizing social media for their personal and business objectives. For more information about the LATISM '12 National Conference and to register, visit http://conference.latism.org.

To learn more about the Latinos in Social Media (LATISM) organization, visit http://blog.latism.org

For real-time updates about the LATISM '12 conference and to connect with LATISM on our different social media properties, please scan the attached QR code.


ABOUT LATISM
Latinos in Social Media (LATISM) is a 501(c) 4 nonprofit, nonpartisan organization dedicated to advancing the social, civic and economic status of the Latino community. LATISM also helps to raise awareness among corporate brands, NGOs and government entities about using social media to reach Latinos. Our partnership initatives include research, event sponsorships, and leadership training. A pioneering social media organization with over 140,000 members in its network, LATISM has been hailed as the most influential online movement in the new multicultural Web. To learn more about the Latinos in Social Media (LATISM) organization, visit http://latism.org.