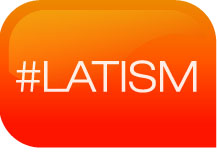 26 September 2012 ~ Southwest Airlines, the low cost carrier that provides a reliable product with exemplary customer service is now the exclusive airline sponsor of LATISM'12, the premier event for Latinos engaged in social media. The three-day event will be held from October 25th to the 27th, 2012 at the Hyatt Regency Houston, in Texas.
The LATISM conference will explore the use of technology innovation and social media to amplify initiatives in the areas of Latino Education, Business, Technology and Health. The conference's four parallel tracks will feature more than 50 breakout sessions, workshops and keynotes lead by top corporate and organization executives, researchers, academics and high-ranking officials as well as key Latino influencials in the social media arena.
Recently named one of the Best Companies for Diversity for the 5th year in a row by Hispanic Business Magazine, an annual list determined by more than 32 variables that measure the Company's commitment to Hispanic hiring, promotion, marketing, philanthropy, and supplier diversity, Southwest Airlines continues their engagement with the Latino community through their sponsorship at LATISM'12 hosting the Bienvenido welcome reception party on Thursday, October 25th, 2012.
Additionally, delegates of the LATISM conference will have an opportunity to experience an exclusive Southwest Airlines suite, and learn from Olga Romero, Southwest Airlines Corporate Spokesperson and Christine Ortega, Southwest Airlines Manager of Community Affairs and Grassroots. These distinguished, Latina leaders will present on panels at the LATISM National Conference. You can see the entire agenda here:
http://conference.latism.org/agenda/
For more information about the LATISM '12 National Conference and to register, visit
http://conference.latism.org
.
To learn more about the Latinos in Social Media (LATISM) organization, visit
http://blog.latism.org
ABOUT THE LATISM '12 CONFERENCE
From our inception in 2009, LATISM Conferences are considered an intensive educational forum for issues of importance to our community and a capstone experience for individuals and organizations interested in harnessing the power of social media in their outreach to the Latino population. The 2012 LATISM conference will bring together over 700 influential Latinos and Latinas from virtually every arena: public and private service careers, nonprofit professionals, business executives and civic leaders for three days focused on the use of social media to amplify Latino Health, Education, Economic Development and Civic initiatives.
ABOUT LATISM
Latinos in Social Media (LATISM) is a 501(c) 4 nonprofit, nonpartisan organization dedicated to advancing the social, civic and economic status of the Latino community through technology, innovation and social media. LATISM also helps to raise awareness among corporate brands, NGOs and government entities about using social media to reach Latinos. Our partnership initiatives include research, event sponsorships, and leadership training. A pioneering social media organization with over 150,000 members and 13 local chapters in its nationwide network, LATISM has been hailed as the most influential online movement in the new multicultural Web. To learn more about the Latinos in Social Media (LATISM) organization, visit
http://blog.latism.org
.
ABOUT SOUTHWEST AIRLINES CO.
In its 42nd year of service, Dallas-based Southwest Airlines (NYSE: LUV) continues to differentiate itself from other low-fare carriers by providing a reliable product with exemplary Customer Service. Including wholly owned subsidiary AirTran Airways, the Company now serves 97 destinations in 41 states, the District of Columbia, the Commonwealth of Puerto Rico, six near-International countries, and employs more than 46,000 People. Visit
southwest.com/citizenship
to read the Southwest Airlines One Report™ and see how Southwest is doing its part to be a good citizen while underscoring a commitment to the triple bottom line of Performance, People, and Planet.
Southwest Airlines
Southwest Airlines, one of the most honored airlines in the world, is the nation's largest carrier in terms of originating domestic passengers boarded. Southwest currently operates more than 3,200 flights a day and serves the communities around 76 airports in Southwest's network of domestic destinations. To book a flight, visit
southwest.com
.
AirTran Airways
AirTran Airways, a wholly owned subsidiary of Southwest Airlines Co., has been ranked the top airline in the Airline Quality Rating study three times in the past five years. AirTran offers coast-to-coast and near-International service with nearly 700 flights a day on North America's newest all-Boeing fleet. The airline's low-cost, high-quality product also includes assigned seating and Business Class. To book a flight, visit
airtran.com
.