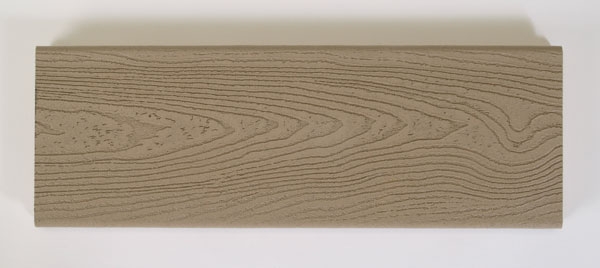 WINCHESTER, Va. - Trex Company is expanding its high-performance Trex Transcendr decking collection to include a new light taupe color called Rope Swing. This fresh shade of brown lends a cool and relaxed atmosphere to the home's exterior and is designed to complement both light and dark railing options. It features the superior durability, low-maintenance and eco-friendly qualities of the innovative Transcend collection.

"The introduction of Rope Swing is in direct response to feedback from both consumers and professional partners who have shown interest in a lighter color option within the Transcend line," said Ron Kaplan, chairman, president and CEO of Trex, the nation's largest manufacturer of wood-alternative decking and railing products. "Trex now offers an even more complete design spectrum of high-performance decking options for homeowners - especially those in hot weather markets like Florida and Texas, where lighter colors are often preferred. For our dealers and distributors, Rope Swing provides additional opportunities for sales and profitability and better positions them to compete against light-colored PVC products."

Extensive Range of Color Options

Rope Swing joins six other rich, saturated Transcend decking colors inspired by the great outdoors. The full range of aesthetic options also includes earthy classics with deep wood grains - Tree House (light brown), Vintage Lantern (deep-burnished bronze), Fire Pit (spicy red) and Gravel Path (pristine grey) - as well as two tropical colors that feature subtle shading, natural variations and distinctive hardwood-like striations - Spiced Rum (warm, earthy umber) and Lava Rock (rich, reddish-black hardwood streaking). All colors are engineered directly into the deck board to retain their lush look for decades.

Each decking color also is designed to coordinate seamlessly with Transcend railing options in six colors. With modular construction that provides superior design flexibility, contractors and consumers may mix and match balusters, posts, top rails and spindles to create a completely customized outdoor living space. Transcend Railing features a strong, sturdy look and feel coupled with quick and easy assembly.

Superior Performance and Aesthetics

The revolutionary Trex Transcend collection first debuted in spring 2010 and is designed to outperform wood, composite and PVC for decades. Each deck board features a proprietary nine-element surface formulation that produces a natural, wood-like grain pattern with a lustrous satin finish that feels comfortable underfoot. Engineered with an exclusive low-sheen, high-traffic formulation, Trex Transcend decking resists fading, staining, scratching and mold - and will not rot, warp, crack or splinter. Upkeep is hassle-free and requires no sanding, staining or painting. In fact, spills wash off easily with just soap and water. Like all Trex wood-alternative products, Transcend decking contains 95 percent recycled content - contributing to the LEED points of any residential or commercial structure - and is certified by the Verification of Attributes Report (VAR-1011) from the International Code Council Evaluation Servicer (ICC-ES).

Each Transcend deck board is available in two profile options - square and grooved. The grooved boards accommodate the Trex Hideawayr Hidden Fastening System, which allows for a smooth, unfettered finish, free of nails and other visible fasteners. The system's clips create a seamless look with no screws or screw holes to interrupt the smooth texture and comfortable feel of the decking.

The entire Transcend decking collection is backed by a 25-year Limited Fade and Stain Warranty that is unprecedented in the industry. The new Trex Transcend boards also meet the ASTIM E84 Class B fire-resistance rating, as required by the California State Fire Marshal.

For more information about Trex products, visit trex.com.

About Trex Company
Trex Company is the world's largest manufacturer of high performance wood-alternative decking and railing, with more than 20 years of product experience. Stocked in more than 5,500 retail locations worldwide, Trex outdoor living products offer a wide range of style options with fewer ongoing maintenance requirements than wood, as well as a truly environmentally responsible choice. For more information, visit trex.com. You also can follow Trex on Twitter (@Trex_Company), "like" Trex on Facebook, or view product and demonstration videos on the brand's YouTube channel (TheTrexCo.).