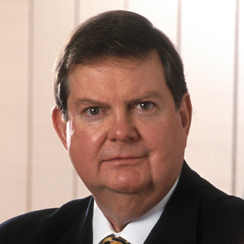 tvsdesign
Principal, Tom Porter, AIA, SCDP, was honored on May 21, with an International Council of Shopping Centers (ICSC) Trustee's Distinguished Service Award. The award was presented at ICSC's Believers and Achievers Dinner during RECon, ICSC's global retail real estate convention, held this year in Las Vegas, Nevada. Porter was among four shopping center professionals who won awards for having made special contributions to the industry and distinguished themselves as leaders within ICSC.
"This award is especially meaningful to me," says Porter. "To be the second architect to ever receive this distinction, the most prestigious honor awarded by ICSC, is definitely a highlight of my career."
With over 40 years of industry experience at tvsdesign, Porter is an advocate of high quality design and has worked on noteworthy projects such as the King of Prussia Mall in Philadelphia, Pennsylvania and Phipps Plaza in Atlanta, Georgia. His portfolio includes domestic projects, international retail and mixed-use centers globally. Porter has been a long standing member of ICSC, dedicating almost 35 years with the organization. Throughout his membership with ICSC, he has been actively involved with the organization having held the role of Chair for the CenterBuild Conference; has been published in Shopping Centers Today magazine; past winner of ICSC Design and Development Gold Awards; and has spoken at numerous ICSC conferences including CenterBuild, Open-Air Conference, and RECon.
"We're all very proud of Tom for being recognized with this distinguished award and we've been fortunate to have him as part of the tvsdesign family for the past 40 years," says Roger Neuenschwander, FAIA, tvsdesign president. "His commitment to the practice of architecture and special expertise in shopping center design is unparalleled in the industry and has afforded us the opportunity to work with some of the most renowned retail developers in the U.S. and around the globe."
Porter is a 1972 graduate of Georgia Institute of Technology, a member of a number of industry organizations including ICSC, The American Institute of Architects and Urban Land Institute. He is also a registered architect in over 20 states. In addition to serving as a principal of the Retail studio at tvsdesign, he is also an active member of firm leadership and intern development.
Founded in 1957, ICSC is the premier global trade association of the shopping center industry. Its more than 55,000 members in over 90 countries include shopping center owners, developers, managers, marketing specialists, investors, retailers and brokers, as well as academics and public officials. As the global industry trade association, ICSC links with more than 25 national and regional shopping center councils throughout the world.
About tvsdesign:
tvsdesign is a global design firm whose award-winning solutions reflect more than 40 years of experience in planning, architecture and interior design. With offices in Atlanta, Chicago, Dubai and Shanghai, the firm's passions for design excellence, sustainability and collaboration produce client-driven results. With projects around the globe, tvsdesign is recognized for its work in multiple market segments including convention and public assembly, cultural arts, retail and mixed-use, office, workplace and showroom, education, government and hospitality. The sustainable design experience of the tvsdesign studios encompasses 23 LEED Certified and 16 LEED registered projects. In 2002, tvsdesign was awarded the prestigious American Institute of Architects Firm Award.
www.tvsdesign.com
CONTACT:
Ellen Hartman (678) 399-3335 ehartman@hartmanpr.com
Sarah Busch (312) 777-7425 sbusch@tvsdesign.com
For High Res Images: Marc Hirsch (404) 946-6738 mhirsch@tvsdesign.com