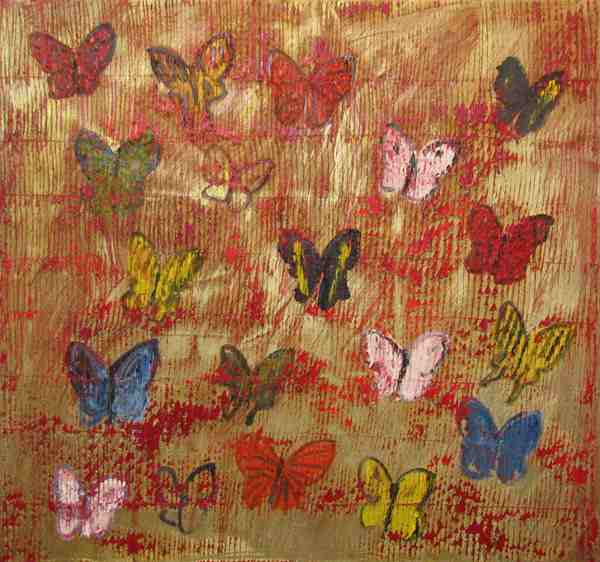 Boston, MA – The Lenox Hotel, the flagship location for Saunders Hotel Group, is pleased to showcase once again the artwork of world-renowned American artist Hunt Slonem. Now through Fall 2012, an impressive selection of Slonem's most recent works grace the hotel's Back Bay lobby, in a 'pop-up gallery' offering guests and residents the opportunity to enjoy them in a graceful and historic setting.

A native New Englander, now working in Manhattan, Hunt Slonem's prodigious output is fueled by his passion for the subjects he adores most: birds, butterflies and now, rabbits. Hunt cares for his own flock of tropical birds – all rescued, and treats them like the family they are to him. His most recent fascination with rabbits came about when he discovered he was born in the year of the Rabbit.

"We are thrilled to offer a brilliant selection of Hunt Slonem's most recent paintings, handpicked from the artist's studio," says Theresa Calabro, Director of Sales, DTR Modern Galleries, who is again curating the exhibition.

To date, Hunt counts more than 100 major museums that have his work in their permanent collection, including the Metropolitan Museum, the Guggenheim and The Whitney in New York, as well as Boston's Museum of Fine Arts. DTR Modern Galleries at 167 Newbury Street is proud to represent such an esteemed artist.

DTR has also installed an exhibition in City Table restaurant as well, accessible by the hotel's lobby and an entrance on Exeter Street. This exhibition showcases works by Robert Mars, Donald Sultan, Rainer Lagemann and is anchored by recent original works by Damien Hirst, certainly one of the most highly recognized talents in the art world today. DTR is the only gallery in New England offering Hirst's work so his pieces are being shown exclusively at the Lenox.

Equally exciting is Lagemann's "Diver," a dramatic, three dimensional sculpture suspended above the restaurant's Exeter Street entrance. The highly-abstracted figurative piece is fashioned from hundreds of cut metal squares that Lagemann has welded together to form the human shape that is 'swan-diving' into the restaurant space. Both lobby and restaurant exhibitions are open to the public for viewing, and all artwork is available for purchase. Visit the Lenox Hotel, located at 61 Exeter Street in Boston's Back Bay, for details.

Scott Grigelevich, Director of Sales and Brand Ambassador for The Lenox Hotel, says: "It's an honor to have Hunt Slonem and artists like Rainer Lagemann share their artwork with our guests. The Lenox has a long tradition of showcasing and promoting diverse talent, whether art, music, film or design. All of our current artists offer a broad spectrum of work that will appeal to both visitors and local residents alike."

MEDIA INQUIRES: Please contact Steve Pellegrino, sjpellegrino + co., 617-688-1040 or Scott Grigelevich, The Lenox Hotel, 617-417-9399 or Theresa Calabro, DTR Modern Galleries, 617-424-9700.