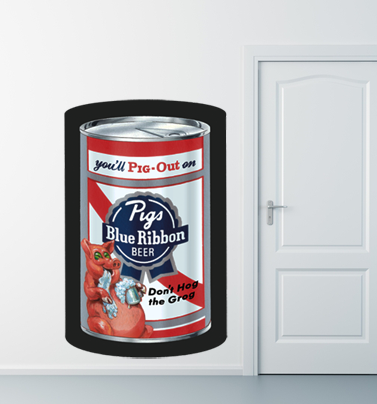 PHILADELPHIA, PA - LTL PRINTS, the premium wall graphics company, today launched an exclusive collection of Wacky Packages Wall Graphics, featuring original designs from the classic collectible trading cards produced by the Topps Company beginning in 1967. Wacky Packs Premium Wall Graphics from LTL PRINTS are available in a range of customer-selected sizes up to seven feet tall, will stick to almost anything (walls, windows, doors - even ceilings!), and can be removed and re-hung 100 times without leaving a mark or damaging walls.
http://www.LTLprints.com/WackyPacks
Wacky Packages - a series of collectible trading cards featuring parodies of consumer products and well-known brands and packaging, were first produced by the Topps company in 1967, then revived in 1973 for a highly successful run. For several years in the mid-1970s, Wacky Packages were the only Topps product to achieve higher sales than their flagship baseball cards. The series has been relaunched several times over the years, most recently to great success in 2007. Known affectionately among collectors as "Wacky Packs," the stickers were illustrated by such notable artists as Art Spiegelman, Kim Deitch, Bill Griffith, Jay Lynch, and Norm Saunders.
"As kids growing up in the 1970s, my friends and I were absolutely obsessed with Wacky Packs, and for many of us, it was our first exposure to a wonderfully subversive world of underground art," according to John Doffing, VP MARKETING at LTL PRINTS. "Some incredibly talented artists worked on Wacky Packages over the years, and today these delightfully offensive images are available as larger than life wall graphics from LTL PRINTS."
"We are extremely excited to be partnering with LTL PRINTS to create larger than life-size versions of these classic graphics,' according to Eric Liebler, Global Brand Licensing & Development at the Topps Company. "Wacky Packages look great when they are seven feet tall on your wall, and this time around, the stickers are no longer permanent - these big wall graphics are totally repositionable!"
"Wacky Packs represent one of greatest cult gems of 70's pop culture," according to Gregory Grant, one of the world's premier collectors of Wacky Packages, and the founder of WackyPackages.org. "And I am absolutely and completely blown away by these Wacky Packages premium wall graphics. Even blown up to giant wall-size, they literally look like they are painted on my walls and I can't wait to stick them everywhere - just like in 1973!"
LTL PRINTS today launched WACKY PACKAGES SERIES ONE (72 in all!) as premium self-adhesive wall graphics - now available via
http://www.LTLprints.com/WackyPacks
in customer-selected sizes from twelve inches to seven feet tall, with prices ranging from $14.95 to $149.95.
Additional sets of Wacky Packs Wall Graphics will be released monthly, beginning in February 2010. LTL PRINTS will also be launching additional collections of classic TOPPS designs, beginning next week with a series of iconic sports card premium wall graphics (Baseball, Football, Basketball, and Hockey), along with the first in a series of GARBAGE PAIL KIDS premium wall graphics.
PLEASE NOTE:
Like the original Wacky Packages collectible trading cards, Wacky Packs Wall Graphics and the advertisements referenced therein are neither authorized nor endorsed by any of the companies who are the subject of this parody. The products spoofed are all good ones, no kidding.
The Topps Company, Inc.
http://www.Topps.com
Founded in 1938, Topps is a leading creator and marketer of sports and related cards, entertainment products, and distinctive confectionery. Topps entertainment products include Major League Baseball, UFC and other trading cards, sticker album collections, and collectible games. The Company's confectionery brands include "Bazooka" bubble gum, "Ring Pop," "Push Pop," "Baby Bottle Pop" and "Juicy Drop Pop" lollipops.
LTL PRINTS
http://www.LTLprints.com
LTL PRINTS was founded by entrepreneurs Kendall Schoenrock and Carsten Petzold to bring exclusive custom and branded wall graphics to the world. "We set out to create a platform for creative expression that would bring larger-than-life repositionable wall graphics to empty walls everywhere," according to LTL PRINTS founder Kendall Schoenrock. "And we are working with the worlds' premier artists, designers, and brands to literally CREATE a revolutionary new medium."
LTLprints.com launched in December 2008, as a platform that enables anyone to create, buy, and sell large-format repositionable wall graphics. "We believe that state-of-the-art digital printing on cutting-edge new materials should be widely available to consumers globally," according to LTL PRINTS founder Carsten Petzold. "So we created a platform to bring gorgeous and affordable giant wall graphics to the world."
LTL PRINTS prints all of their products in the United States, and both user-generated and curated content is printed on demand. LTL PRINTS currently powers Premium Wall Graphic Storefronts for partners globally, and is launching additional branded wall graphic catalogs for new partners in the entertainment, sports, fashion, design, retail, and art worlds.
LTL PRINTS is headquartered in Philadelphia, and is privately funded.