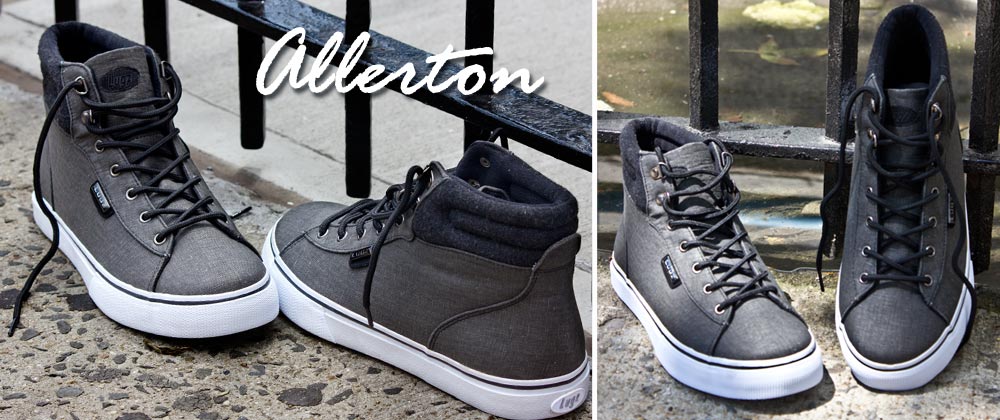 Iconic footwear brand Lugz is making big steps into the Fall with their latest offering of fashionable and rugged footwear that is built for whatever street you reside. The new line features designs that emphasize the Lugz dedication to long-lasting durability and cushioned comfort. They were designed with you in mind – taking you from day to night.
•
Allerton Sneaker -
$49.99
•
Swagger Boot
- $64.99
STYLISH, DEPENDABLE and PRICED RIGHT
Lugz footwear is both stylish and dependable, at a price that won't break the bank. Each shoe is built to last, using quality materials and sturdy craftsmanship. The Swagger features the Slip Resistant lug sole – ASTM Mark II approved – for superior grip; and the Allerton high top sneaker features a Canvas Upper with a rubber outsole. Best of all, each shoe has a cushioned insole and padded leather tongue, ensuring comfort throughout a long day or night.
SHOP LUGZ
Lugz footwear can be purchased at Footlocker, Footaction, Finish Line, Journey's, Famous Footwear, Shoe Carnival and many other retailers across the country. You can also visit
lugz.com t
o see and purchase the full line for 2012.
SOCIAL MEDIA
'Like' the Lugz Facebook page
https://www.facebook.com/LugzNYC
and 'follow' the brand on Twitter
@LugzLifestyle
to keep up with the latest news surrounding the brand, as well as contests to win product, trips and more.