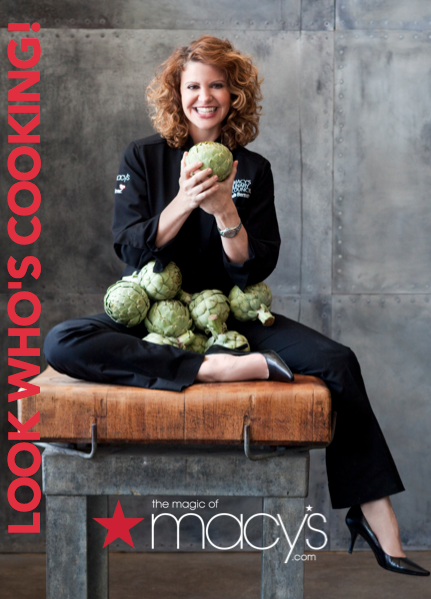 "Macy's Great American Chefs Tour" has set off on a cross-country road trip, pairing the celebrity chefs of Macy's Culinary Council with live cooking demonstrations, food tastings and a celebration of local culinary talent. Macy's Culinary Council chef Michelle Bernstein joins the tour in Miami at Macy's Dadeland on Saturday, June 23.
In Miami, Macy's Culinary Council chef Michelle Bernstein will be joined by local culinary talent including chefs Sean Brasel (Meat Market), Angelo Elia (Casa D'Angelo Ristorante) and Douglas Rodriguez (D Rodriguez) and tour host Devin Alexander (celebrity chef and The New York Times best-selling author) as she leads live cooking demonstrations teaching the audience how to pick, prepare and serve signature dishes. Audience members will not only receive great tips about sourcing and preparing fresh, local ingredients, but a chance to sample the delicious dishes being prepared.
When:
Saturday, June 23, 2012
1:00PM & 3:00PM
Where:
Macy's Dadeland, Home Department, 2nd Level
7675 Kendall Drive
Miami, FL 33156
RSVP:
305.577.1818
About Chef Michelle Bernstein
:
Since drawing the national spotlight in the mid 1990's, Chef Michelle Bernstein has remained one of the region's most well-respected and successful chefs/restaurateurs. A Miami native of Jewish and Latin descent, this passionate culinaire has dazzled diners and critics alike with her sublime cuisine and a personality as bright and vibrant as the Florida sun. "My food isn't heavy handed or unnecessarily complicated," says Bernstein, a James Beard Award winner (Best Chef South 2008) and author of Cuisine a Latina (Houghton Mifflin Harcourt 2008). "You don't need heavy handed technique and over the top presentations to make a dish work. It's about amazing ingredients, layered flavors and simplicity. My style of cooking is inspired by my own food memories and it's the simple, soulful cooking that stays that I remember from my travels. I cook the food I love and I think that love translates to the diners.
About Macy's:
Macy's
, the largest retail brand of Macy's, Inc., delivers fashion and affordable luxury to customers at more than 800 locations in 45 states, the District of Columbia, Puerto Rico and Guam. Macy's stores and macys.com offer distinctive assortments including the most desired family of exclusive and fashion brands for him, her and home. Macy's is known for such epic events as Macy's 4th of July Fireworks® and the Macy's Thanksgiving Day Parade®, as well as spectacular fashion shows, culinary events, flower shows and celebrity appearances. Building on a 150-year tradition, Macy's helps strengthen communities by supporting local and national charities that make a difference in the lives of our customers.
About Macy's Culinary Council:
Macy's Culinary Council
is a national culinary authority comprising some of the nation's leading culinary masters, including Rick Bayless, Michelle Bernstein, Cat Cora, Tom Douglas, Todd English, Marc Forgione, Johnny Iuzzini, Emeril Lagasse, Marcus Samuelsson, Tim Scott, Nancy Silverton, Ming Tsai, Wolfgang Puck and Takashi Yagihashi. Launched in 2003, MCC's team of distinguished chefs serves to inspire the way Macy's customers shop, cook and eat at home. The chefs are both ambassadors and instructors, providing expert culinary advice and leading cooking demonstrations at Macy's stores, with the aim of teaching customers how to cook and shop like a master chef.