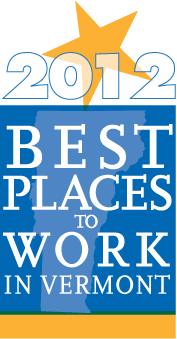 Burlington, VT – Cynthia Olson, Director of Human Resources for Merchants Bank, announced today that Merchants Bank is named one of the Best Places to Work in Vermont for 2012 by Vermont Business Magazine, for the third year. The award recognizes the best places of employment in the state, and is presented in partnership with the Society for Human Resource Management, the Vermont State Council, the Vermont Department of Labor and the Vermont Department of Economic Development and Best Companies Group. This award is presented in three, distinct categories, based on number of employees. Merchants Bank received the award in the Large Companies category, which consists of businesses with more than 149 employees.
Several factors are taken into consideration in determining the Best Places to Work award recipients. An online survey was sent to 250 Merchants employees, with the results counting for 75% of the overall score. Olson was given her own survey with questions pertaining to Merchants' training opportunities, how the bank motivates its employees, and what they do for fun and employee morale. This portion of the survey was weighted at 25%.
To be eligible for this award, companies must meet certain requirements, including having at least 15 employees, and being a for-profit or not-for-profit business or government entity. They must also have been in business for a minimum of 1 year.
Merchants Bank offers a solid benefits package, ongoing training opportunities, and an open-door policy to its employees. "If you want to talk to Mike Tuttle, the president, you walk into his office and talk to him," Olson said. "The environment here is more like that of a family. It's more than just coming to work every day for our employees. They feel appreciated."
Olson attributes Merchants' award to corporate culture, work environment, and communication. "Mike Tuttle meets with employees every year to make sure that everyone understands the goals for that year." Olson said.
The final rankings for each category will be announced on April 5, 2012.