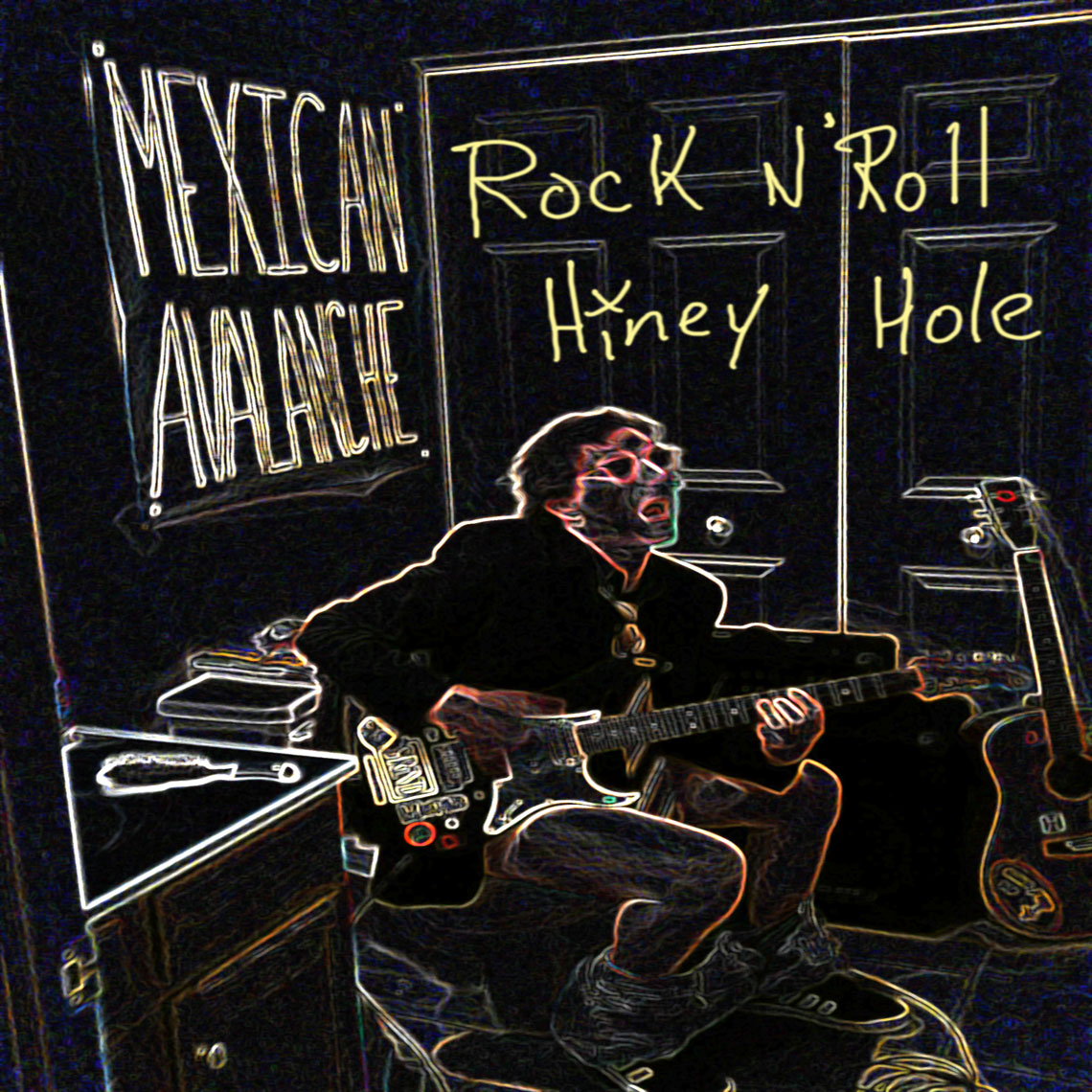 After months of writing, recording and creative madness, Mexican Avalanche launched Rock n' Roll Hiney Hole, the band's 1st studio album. The record takes a "mixed tape" approach with no single style or theme and is packed with 12 full-length songs. Rock n' Roll Hiney Hole cuts through the status-quo with raw energy, sick humor and styles ranging from rock to reggae to rap.
Mexican Avalanche is Atwell Wells. He is a one-man-band based in York Pa and featured on www.mexicanavalanche.com and www.reverbnation.com . Mexican Avalanche is produced and promoted by Amish Mafia Records.
In early 2011 Atwell started "just messing around with drum machine apps" on his iPhone and ended up writing a few songs, the few songs turned into a set list. This turned into the creation of Mexican Avalanche. Armed with only his iPhone and a guitar at his live performances; Atwell received great response from the crowds. After seeing how well people responded to this new idea and his music, Atwell decided to start recording Rock n' Roll Hiney Hole in November 2011.
Rock n' Roll Hiney Hole was recorded basically the same way as Atwell does his live shows with his iPhone, guitar, and various other instruments. The album is based in rock but and pulls from many different musical styles. From pop to punk, rap to rock, and industrial to indie; nothing is off limits. When Atwell started to record Rock n' Roll Hiney Hole he was going to call it "Mixed Tape". His idea was to have the same feeling and sound you get when making or listening to a mixed tape that you would give to friend. But as the recording process went along he realized that the title Rock n' Roll Hiney Hole embodied the underline sick sense of humor to the songs and the abrasive rock/punk nature of the album.
In Promotion of Rock n' Roll Hiney Hole, Mexican Avalanche will be announcing upcoming shows on www.mexicanavalanche.com
For more info or to schedule an interview contact:
atwell1977@comcast.net
Mexican Avalanche is:
Atwell Wells and his iPhone
Produced and promoted by:
Amish Mafia Records
www.amishmafiarecords.com
Download Rock 'n Roll Hiney Hole at:
http://www.reverbnation.com/mexicanavalanche
Video Press Release Available Here:
http://www.youtube.com/mexicanavalanche1
Rock n' Roll Hiney Hole Track Listing:
New School Shoes
The Wal-Mart Song
Trouble
My Piss Is Digital
Rock n' Roll Hiney Hole
I Wish I Was Katy Perry's Thong
Let Me Give You A Mexican Avalanche
They Call Me CornBread
My Favorite Funeral
Pizza Tits
Morning Wood
Gangsta Bitch!
Artist Notes:
1. New School Shoes – Do you remember that feeling of excitement when you got your new threads and new school shoes on and you're ready for the 1st day back to school? Well I do and that's what this song is about!
2. The Walmart Song – I hate going to Walmart! It's always crowded with crazy people who can't read the "no more than 20 items" sign at check out. But I constantly find myself going there, and I believe it's due to that fact that I'm addicted to buying cheap crap. So I felt it was time I wrote something about it.
3. Trouble – This song really has no deep meaning. When I wrote it I was listening to a lot of Bob Marley and Operation Ivy and I was on probation hence the title Trouble
4. My Piss Is Digital – I was watching The Chappell Show season 2 and it was the skit where Dave is on the stand for some high profile trails. The part where he talks about the R. Kelly Video got stuck in my mind and later that day I kept hearing him say "that piss was digital" over and over in my head. From that came the song My Piss Is Digital.
5. Rock n'Roll Hiney Hole – This track is of course the title track, but more than that it has a personal meaning to me; so personal that I cannot actually tell this songs true meaning. But I will say that I wrote the lyrics and recorded it during one of the worst weeks I've ever had in my life. I think if you listen close enough it's pretty clear what I'm trying to say.
6. I Wish I Was Katy Perry's Thong – Meant to be the type of track you would listen to cheer yourself up on a bad day. I mean I can't think of a much better place to be than between Katy Perry's but cheeks! Enough said...
7. Let Me Give You A Mexican Avalanche – This is the most straight forward rock song on the album and one of my favorites because of that. As far as the meaning of the song I think it's pretty self explanatory it's bout jizzing in a girls hair and kicking her down a set of stairs.
8. They Call Me Cornbread – Up late one night I came upon a movie called "cornbread earl and me", and I could not stop watching it. As I watched it I came across the sample I used at the beginning of this track.. So once again a sample got stuck in my head and gives birth to a song.
9. My Favorite Funeral – This song is about the death of a relationship between me and someone who used to be close and I was happy to see this relationship die. So life after said relationship became the funeral for this death and it's been my favorite by far.
10. Pizza Tits – I had written what I called a "country cure" song but I couldn't think of a fitting title for it. That was until a buddy of mine who lives in LA was in town. Now it had been about 2 years since I had seen him and I was in shock to see how big his man-titties had grown. So shocked that I decided to write a song about those beast!
11. Morning Wood – One morning I woke up and I had morning wood. It occurred to me that I did not know why this phenomenon happened. So I Googled morning wood and I discovered that the average male has 7 or more erections a night. This stuck me as a interesting subject for a song so I mixed in some real life stories with this theme and came up with this little ditty.
12. Gangsta Bitch! - This is the first Mexican Avalanche song I wrote and is somewhat based on true events. I was at a friend's house just kicking it and all of a sudden he's like "Do you want to see my guns?" I said yes. So he and his wife just start busting out their guns like it wasn't no thang. It just struck me as funny that both my friend and his wife were armed to the teeth. After that encounter I came home and wrote this song.