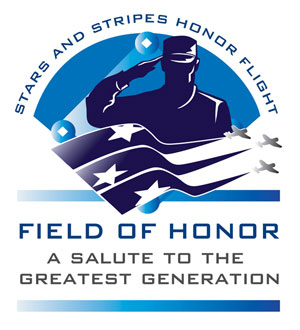 Milwaukee, Wis., May 16, 2012…..Event organizers of the
Milwaukee Air & Water Show
and the
Stars and Stripes Honor Flight
(SSHF) are partnering to bring the ultimate military experience to Milwaukee August 11 & 12, 2012.
As part of SSHF's "Field of Honor" event taking place on Saturday, August 11 at
Miller Park
and the Milwaukee Air & Water Show August 11 & 12, organizers have joined forces to honor veterans and military service men and women. As part of the "Field of Honor" event, the air show will have the
U.S. Navy Leap Frogs Parachute Demonstration Team
jump into Miller Park Stadium. There will also be a special flyover from the Lima Lima Flight Demonstration Team, the world's only original six aircraft civilian formation aerobatic team.
"Field of Honor" participants will also be able to enjoy:
A 2-for-1 ticket deal at Sunday's Air & Water Show performance. Individuals can bring their "Field of Honor" ticket stub to the Air Show Reserved Ticket Booth located on Lincoln Memorial Drive and receive a buy-one-get-one free reserved ticket for Sunday's air show. The reserved ticket area includes private open-air seating and prime viewing of the air show performers at Center-Point.
An air show pilot autograph booth located in the Miller Park parking lot. Pilots will be available to talk to adults, children and families about their jobs and also sign autographs.

"We are very excited to partner with Stars & Stripes Honor Flight for this action-packed military event weekend," said Paul Rogers, president of the Milwaukee Air & Water Show. "Our air show performers are thrilled to salute our veterans and be a part of this once-in-a-generation event."

"We are delighted to team-up with our friends from the Milwaukee Air and Water Show," said Joe Dean, chairman of SSHF. "This promises to be a weekend extravaganza! Now, people will be able to bring their entire family and closely interact with this nation's best -our veteran heroes - at Miller Park on Saturday, then join us for a close-up view of the spectacular lakefront Air and Water Show on Sunday."

"Field of Honor" Miller Park Event Saturday, August 11

WHAT: "Field of Honor: A Salute to the Greatest Generation"

WHEN: Saturday, August 11. Parking lot opens at 3:30 p.m.

WHERE: Miller Park baseball stadium in southwest Milwaukee.

COST: Tickets are $11 (plus service fees) and can be purchased online at www.starsandstripeshonorflight.org or www.brewers.com/fieldofhonor, or by calling (414) 902-4000. Parking is $10. No admission charge for kids younger than 2. Proceeds will help fund future SSHF flights.

INFO: Go to www.starsandstripeshonorflight.org/events.php, or call the event hotline at (262) 238-7741.

Event Highlights

3:30 p.m.: Parking lot opens for tailgating, with World War II re-enactors, live music and air show pilot autograph booth.

4:30 p.m.: Stadium opens, visitors can view the "Pillars of Honor" WWII memorial model and a "Best of Stars and Stripes Honor Flight" art show.

6:30 p.m.: Program begins with patriotic tribute to veterans, including the U.S. Navy Leap Frogs parachuting into Miller Park. World premiere of Stars and Stripes Honor Flight documentary film on high definition video board.

9 p.m.: Closing ceremony, with fireworks and flyover.

2012 Milwaukee Air and Water Show

The Milwaukee Air & Water Show presented by Marcus Hotels & Resorts will take place from Bradford Beach to McKinley Beach along Milwaukee's Lakefront August 11 & 12, 2012. Headliner performers for this year's show include the Black Diamonds, America's premier civilian jet demonstration team, F-22 Raptor, the world's only operational fifth-generation fighter aircraft, U.S. Navy Leap Frogs Parachute Demonstration Team, U.S. Marine MV-22 Osprey Tilt Rotor Demonstration Team, U.S. Navy F/A-18 Super Hornet Demonstration Team, U.S. Navy P-3 Orion, a U.S. Air Force B1B Bomber, U.S. Coast Guard HH-65C Rescue Helicopter and many other military aircraft. Other exciting acts include the Lima Lima Aerobatic Flight Demonstration Team, Matt Chapman, Bill Stein, Firebirds X-Treme, Rob Holland and Mike Wiskus.

Tickets for General Admission, Center Point Reserved, Flightline Club and other ticket packages are now on sale online at: www.milwaukeeairshow.com. Marcus Hotels & Resorts is the official hotel partner of the air show and hotel packages are now available at: http://www.mkepackages.com/air-water-show.


# # #