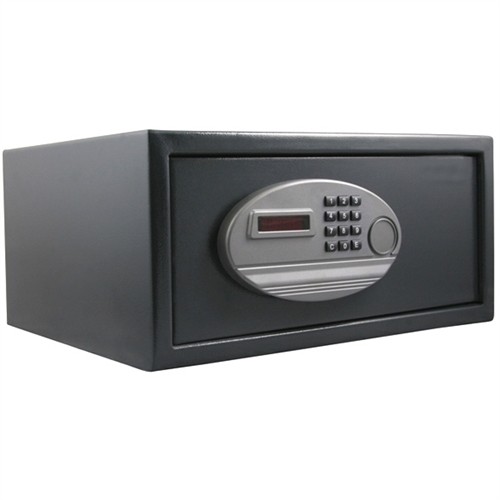 LockState is a manufacture and leader in innovating security solutions. Since 2004 we have been developing high end security solutions for your home and office. From safes and locks, to Internet compatible thermostats, our goal is to make your life simpler and easier. The
LockState LS-35EPL
is the perfect safe for hotels, students and laptop users. This strong steel safe has one master code and one EASY-CHANGE user code. The electronic motorized lock allows the user to simply punch in the access code and watch as the door opens automatically. This is the ideal safe for quick access and secure protection.
Quick Overview
*
LS-35EPL Large Hotel
/Laptop Safe
* Great for hotels, students, home or office | Large enough for most laptops
* Electronic motorized lock | 2 Emergency Override Keys (not needed to open safe)
* Bolting/Mounting: 4 floor & 4 wall mount holes | Lock Type:Electronic Motorized lock with LCD display
* Tamper Proofing:5 minute hold after 4 incorrect tries | User Codes:1 master code and 1 user code 3 to 8 digits
* Power Supply:4 AA batteries inserted on inside of safe |Changing Combination:Reset codes with keypad
Additional Information
UPC 892721002094
Manufactured In China
Manufacturer LockState
Manuf Part # LS35EPL
Model LS-35EPL
Weight 30.0000
Dimensions 7.87H X 16.93W X 13.78D
Expected Ship Date Next Business Day
Shipping Weight 30
Shipping Dimensions 19.75''L x 18''H x 11.5''W
Warranty Limited 1 Year Warranty against manufacturer defects
Lock Type Battery Operated Electronic Lock
Lockable Drawers N/A
Body Thickness 2mm
Door Thickness 2"
Bolt Thickness 5/8"
Number of Bolts 2 locking bolts 5/8"
NSA Approved N/A
Special Info N/A
Located in the hustle and bustle of New York City, Mono Machines LLC is an authorized reseller for LockState LS-35EPL Large Hotel/Laptop Safe. Through our unique contracts we are able to ship directly from the manufacturer warehouse, cutting costs and delivering the LOWEST PRICES around.
We strive to provide the best service at the lowest possible price. We have product specialists available for most products. Please call us with any questions or concerns that you may have. We are staffed with highly knowledgeable employees and look forward to meeting your needs.