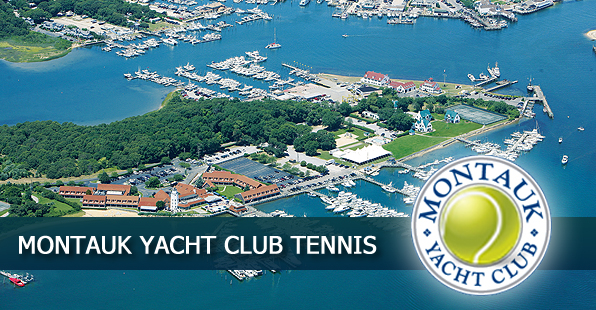 (Montauk, LI, NY . . . April 2012): The Montauk Yacht Club Resort & Marina (32 Star Island Road, Montauk, NY 11954 [631] 668-3100 or www.montaukyachtclub.com) is ready to get its game on with new tennis program partner, Annacone Tennis Management. There will be a grand opening reception on May 19, 2012 from 12pm to 2pm and will feature free clinics with the head and staff pros, followed by refreshments. As an opening special promotion, ATM will offer one free clinic pass for anyone who books a lesson or clinic before July 1, 2012 and 10% savings to all locals who have the Montauk Yacht Club anchor key chain until September 15, 2012.
Founded by Stephen Annacone, in association with Paul Annacone, ATM uniquely combines top level professional tennis experience and extensive expertise in tennis program management. ATM currently manages seven facilities across the East Coast and is quickly becoming a leader in the tennis management
Located on the pristine shorefront of the Atlantic Ocean, Montauk Yacht Club Resort & marina provides the ultimate tennis experience on four idyllic Har-Tru courts. Founded on the concept of providing the highest quality service, MYC Tennis offers a variety of Adult and Junior tennis programs for all ages and ability levels. Catering to resort guests and locals alike, ATM provides both instructional and match-play opportunities, including one of the best Game Matching programs in the Hamptons.
Complimentary memberships are provided to all Montauk Yacht Club guests during their stay. For Montauk residents and seasonal visitors, ATM offers membership with many valuable benefits including No Additional Court Fees, Discounts on Lessons, Clinics & Events, Access to FREE Weekly Clinics, Ability to Reserve Courts in Advance, Game Matching for Singles & Doubles.
The professional staff provided by Annacone Tennis Management includes current and former ATP Tour Professionals, as well as USPTA & USPTR certified professionals including resort head pro Kiril Tcherveniachki and staff pro Phillip Eilers.
For more information on the tennis programs at Montauk Yacht Club Resort & Marina, please visit http://www.myctennis.com or call (631) 668-7708. For hotel reservations, please visit http://www.montaukyachtclub.com or call (631) 668-3100.
# # #
ABOUT THE MONTAUK YACHT CLUB RESORT & MARINA:
The Montauk Yacht Club Resort & Marina is serenely situated on 35-acres of scenic waterfront property at the East End of Long Island, New York where it has been the preferred playground for a who's who of visitors since famed entrepreneur Carl
Fisher built the original clubhouse in 1929. After a multimillion dollar redesign and renovation in 2009, the world-class property features 107 guest rooms; 23 Villa Cottages; 232-slip full-service, mega-yacht Marina; fine dining and cocktails at the Gulf Coast Kitchen by Gabriele Corcos, Hurricane Alley, Barracuda Bar and Turtle Lounge; the full-service SPA MYC, SALON MYC and fitness center; a private beach and three swimming pools; Har-tru lighted tennis courts; easy access to fishing and water sports; and 10,000-feet of indoor meeting and event space plus the expansive Great Lawn that can accommodate large-scale tented events up to 1,000 people. Above all else, Montauk Yacht Club is a place you can…be yourself. For more information, visit www.MontaukYachtClub.com or call (631) 668-3100.