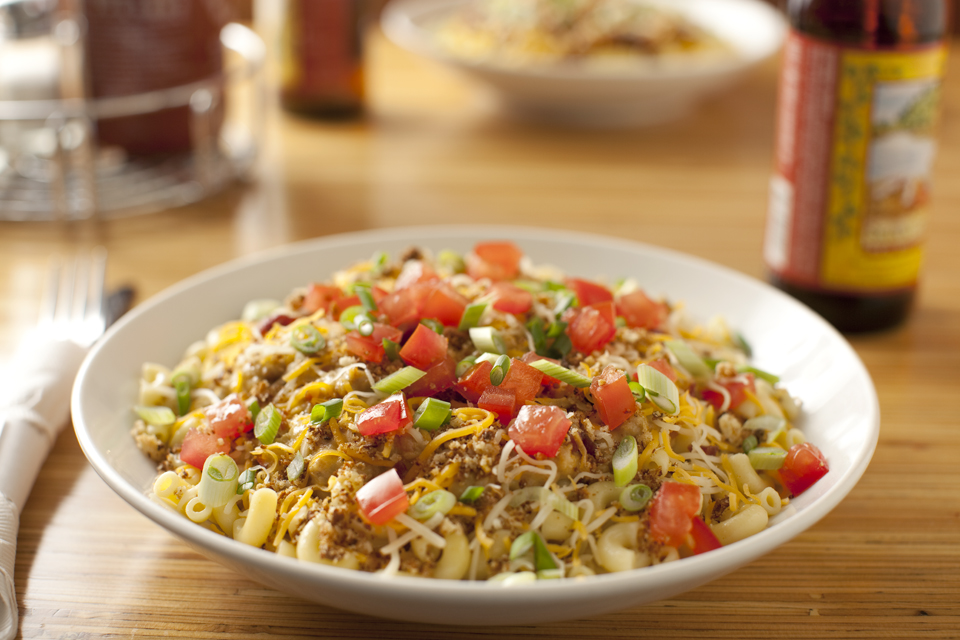 When the economy and thermometer go down, the craving for comfort food goes up. That's why the hottest cuisine trend right now is adding new twists to comfort food classics, like Macaroni & Cheese.

Noodles & Company, a 255-unit and growing, fast-casual concept, is now featuring three "grown up" Mac & Cheese dishes made with global flavors, high-end ingredients and even truffle oil-spiked sauce. So bust out of your flavor rut and try these new gourmet dishes that allow adults to feel like a kid again:

Truffle Mac with Baby Portabellas: Fine-dining restaurants have recently been featuring upscale versions of Mac & Cheese dishes with a variety of high-end ingredients. Noodles & Company's Truffle Mac with Baby Portabellas rivals what you'd enjoy at any fine-dining restaurant at one-third the price tag. The dish is made with Noodles' signature Wisconsin cheese sauce spiked with white truffle oil, sautéed baby portabella mushrooms, and topped off with shredded parmesan cheese house-made toasted breadcrumbs and parsley.

Bacon, Mac & Cheeseburger: This hearty dish is a deconstructed version of another classic American comfort food - the bacon cheeseburger. Think crumbled oven-roasted meatballs, crispy chopped bacon, diced Roma tomatoes and chopped green onions mixed into Noodles' famous Mac & Cheese and topped with house-made toasted breadcrumbs and cheddar-jack cheese.

Southwestern Chili Mac: Take a trip southwest and give your taste buds a little fiesta. It starts with Mac & Cheese smothered in spicy red chili, crumbled oven-roasted meatballs and topped with diced green onion and shredded cheddar-jack cheese. Olé!

Temped to try this at home? Here are some tips from Noodles & Company for transforming everyday macaroni and cheese into an even more tempting treat.

For a hearty twist, try adding ground beef and chopped bacon to your next bowl of macaroni
Trying to impress? Top off your bowl with sautéed shrimp, cooked crab meat and sprinkle with chopped parsley
Add in some jalapeños, sautéed onions, grilled green peppers and a dollop of sour cream to give your bowl a Southwestern flair
Getting kids to eat vegetables is often a challenge for parents. Try adding broccoli and carrots in to their next dish of mac and cheese

Think outside the casserole dish and follow the advice of top chefs. Take comfort in the unexpected.