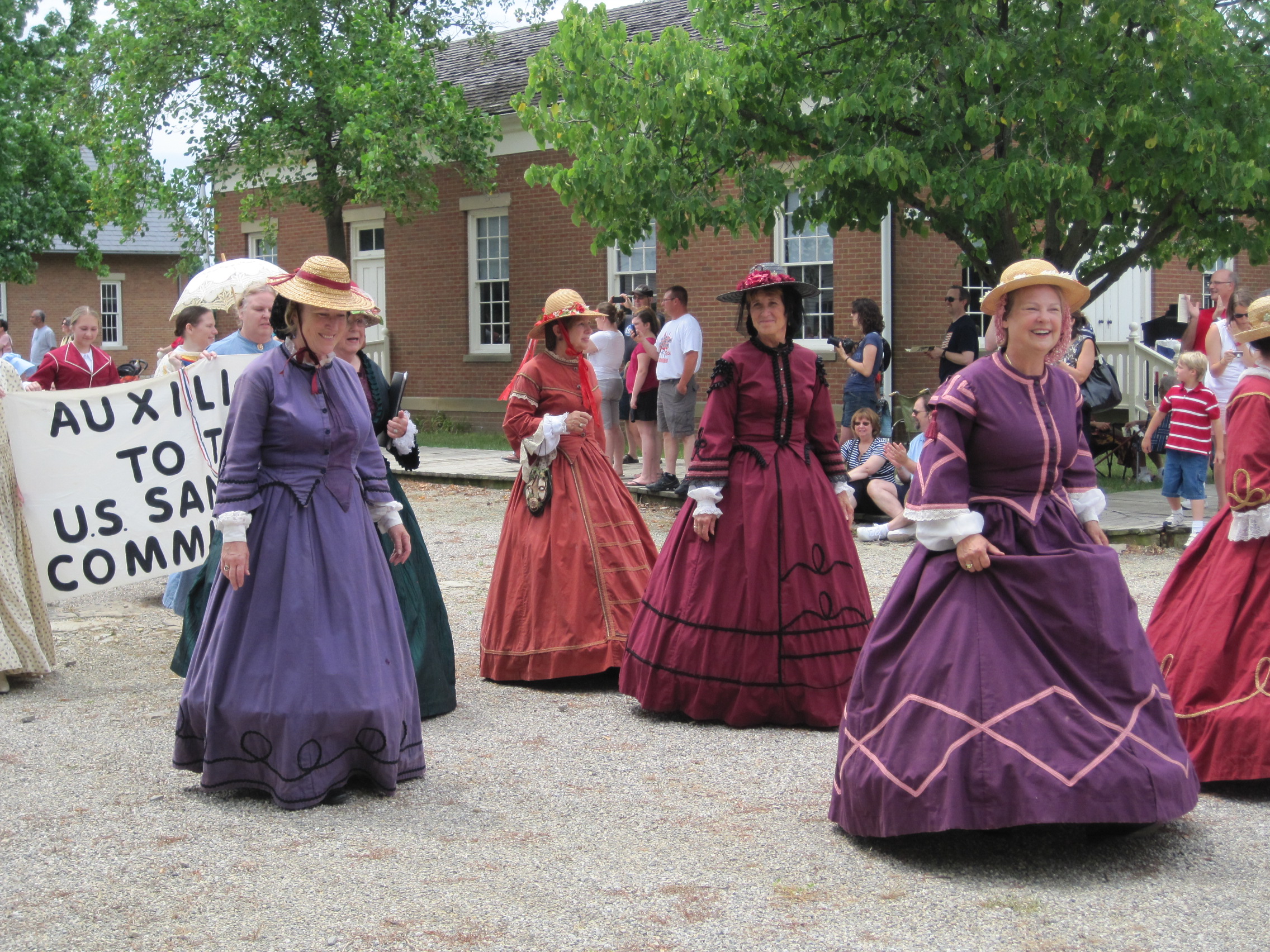 COLUMBUS—Celebrate Independence Day at the Ohio Historical Society's Ohio Village and experience a 19th-century Fourth of July holiday full of old-fashioned family fun and entertainment on Wednesday, July 4 from noon to 5 pm.

Enjoy old-fashioned family fun while celebrating the nation's independence at the Ohio Historical Society's Glorious Fourth celebration. The day begins with a Grand Procession through the streets of the Ohio Village with the mayor, Civil War soldiers, vintage base ball players, the Ohio Village Singers, and village townspeople. After the patriotic speeches that mark the conclusion of the Grand Procession, visitors can experience a variety of activities: an ice cream sampling (donated by Jeni's Splendid Ice Creams); a vintage base ball game with the Ohio Village Muffins; a concert by the Ohio Village Singers, a concert by the Dublin Cornet Band, a community dance, a pie-eating contest, puppet shows, storytelling, and horse and buggy rides. Vintage base ball collector, Tracy Martin's exquisite base ball collection, showcasing 150 years of base ball history, will also be on display, and Civil War reenactors will be enlisting soldiers and doing drills with visitors throughout the day.

"Our Glorious Fourth celebration transports our visitors to another time period to experience the holiday like it was celebrated in the 1800s," said Jane M. Mason, Director of Marketing and Communications for the Ohio Historical Society. "Ohio Village makes the perfect backdrop for this exciting day of festivities."

The General Store in the Village, featuring Ohio foods, candies and wines, as well as a wonderful collection of gifts will be open during the event for shopping.

Admission: $12/adult; $9/youth (6-12); $10/Ohio Historical Society adult member; $7/Ohio Historical Society youth member (6-12); and Free/child (age 5 and under). 800.686.6124. Guests should enter at the Ohio Village kiosk in the north parking lot.

ABOUT THE OHIO VILLAGE
The Ohio Village is open all summer long, Wednesday thru Saturday, 10 a.m. to 5 p.m., and Sunday, noon to 5 p.m., June 2 to September 2, 2012. Through a combination of costumed characters, cell phone tours, interpretive panels and the always popular play areas, families are free to roam through the Village to learn and experience on their own. The Ohio Village is also home to the Ohio Village Muffins vintage base ball team that plays regularly through the summer. A schedule is available at www.ohiohistory.org/muffins. Admission to Ohio Village is free with Ohio History Center museum admission, except for special events such as Glorious Fourth, special hours and pricing in effect.

ABOUT THE OHIO HISTORICAL SOCIETY AND THE OHIO HISTORY CENTER
Founded in 1885, the non-profit Ohio Historical Society (OHS) provides a wide array of statewide services and programs related to collecting, preserving, and interpreting Ohio's history, archeology, and natural history. The society has about 1.6 million items in its collections throughout its 58 sites and within its 250,000-square-feet Ohio History Center at 800 E 17th Ave. (Exit 111 off Highway I-71), Columbus, Ohio, 43211. The Center is home to a world class museum, the state archives, Echoes in Time Theater, Ohio Historic Preservation Office, and the administrative offices of the Society. The Society receives a portion of its funding from the state, but relies on admission fees, memberships, grants, donations and other forms of revenue to continue to serve Ohioans into the future.

The Ohio History Center museum is open Wed. through Sat., 10 am to 5 pm.; Sun., Noon to 5 pm. The Archives/Library is open Wed. through Sat., 10 am to 5 pm, (closed on Sunday). The Ohio Historic Preservation Office is open Mon. to Fri., 9 am to 5 pm. For general information about the Ohio Historical Society, call 614.297.2300 or 800.686.6124 or visit www.ohiohistory.org.

For specific information regarding the Society, contact Jane M. Mason, Director of Marketing and Communications, Ohio Historical Society: 614.297.2312.

FOR MORE INFORMATION, contact Sarah Irvin Clark Sarah@irvinpr.com,
614.296.4057 or Michele Mooney, Michele@irvinpr.com, 614.620.1507.

###
Schedule of Activities
Ice Cream Sampling
Freight Office & Pharmacy Noon-4:00 pm
Ice Cream has always been a big part of summer celebrations, including July 4th. Enjoy samples from local ice cream vendors including Jeni's Splendid Ice Creams.

Reels and Jigs
Village Green, 12:30, 2:30 and 4:00 pm
Dance away the afternoon learning reels and jigs that were popular during the mid 19th century. Rain location – American House Hotel.

Storytelling
Village Church, 12:30, 1:30, 2:30, 3:30, 4:30 pm
Hear stories of yesteryear as told by members of The Storytellers of Central Ohio.

Patriotic Procession
Begins in front of School House at 1 pm
The Mayor, the Ohio Village Muffins, and honored guests will kick off our Glorious Fourth celebration with a procession through the streets of Ohio Village, Listen for the school bell as a signal to gather on the boardwalk and join in the procession.

Independence Day Ceremony
Town Hall, 1:05 pm
The Order of the day begins with orations, toasts, and patriotic songs. Join in our celebration by singing along or volunteering to provide toasts and read poems.

Concert by the Dublin Cornet Band
Gazebo, 1:30 and 3:00 pm
Enjoy patriotic tunes as performed by the Dublin Cornet Band

Ohio Village Muffins Base Ball Game
Base Ball Field, 2:00 pm.
Watch an old-fashioned game of base ball, as the Muffins play a club match according to the 19th-century rules.

Ohio Village Singers Independence Day Concert
Town Hall, 2:00 pm
The Ohio Village Singers are pleased to present popular songs of the 1860s suitable for this glorious occasion.

Pie-eating Contest pm
Village Green, 2:30 pm
Visitors of all ages are invited to participate in this fun and messy event! Prizes will be awarded to winners. Sign up in the Village Market House.

Punch and Judy Puppet Show
Town Hall 3:30 pm
Enjoy a period Punch and Judy Puppet show, adapted from a mid-19th century script.
Character behavior may not be appropriate for younger audience members.

Throughout the Day:
School Lessons – School House
Union Spy Code – Newspaper office
Cooking demonstrations & hand cranked Ice Cream – Farm House
Patriotic Calling Card – Female Seminary
Paper Hats & Ribbons – Toy Shop
Ladies Aid Society – Doctors Home
Enlisting for the Union – Fireside room
Fiddle and Guitar Music – throughout village
Civil War soldiers – drills/camp
British observer (Living History) - Lodging House
Blacksmith demonstration – near farm house
Base ball exhibit showing 150 years of Baseball History from the collection of Tracy Martin - American House Hotel
Horse and Buggy rides for a nominal fee
Refreshments available for purchase

*All outdoor activities dependent upon weather. First Aid and Lost children services at the Village gatehouse.