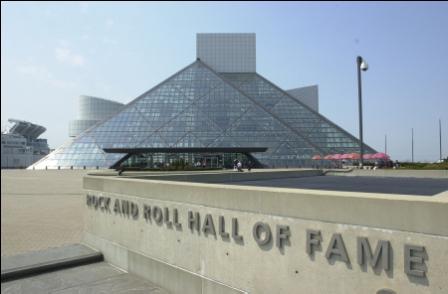 COLUMBUS, Ohio (March 29, 2012) – From Italian frescoes recovered from the ashes of Pompeii to a 50-year anniversary exhibition of art glass, and from Rock and Roll Hall of Fame Induction Week to World Choirs from more than 50 countries, Ohio will satisfy even the most veteran travelers' thirst for new experiences this summer.

"Ohio's tourism industry has been working hard to bring travelers new experiences, and we are now beginning to see the finished products along with a truly impressive slate of exhibits and international events," said State Tourism Director Amir Eylon. "Here in Ohio, we are within a day's drive of roughly 60 percent of the U.S. population, and our outstanding tourism opportunities are a great value, so we're well positioned to have another good tourism year in 2012."

Ohio truly has something for everyone this year. Families looking for a fun getaway will find a new aquarium in Cleveland; dinosaurs at Cedar Point; hands-on learning and fun with water at COSI; and a bigger, better outdoor waterpark at Kings Island. Couples and friends in search of the coolest arts and music experiences can explore Rembrandt, be amazed by the colorful creations of world-famous glass artists, listen to choirs from around the world or be among the first visitors to rediscover the Grateful Dead. For the fearless outdoor traveler, Ohio's ziplines have even more to offer with longer, faster, more adventurous lines, as well as mini-lines perfect for first-time zippers and children.

Following are just a few highlights of the new exhibits, attractions, events and travel opportunities that make Ohio "Too Much Fun For Just One Day!" For more information, check out DiscoverOhio.com, follow us on Twitter @DiscoverOhio, become a fan of the Ohio Office of Tourism on Facebook or join the conversation on our staff blog at DiscoveringOhio.com.

Rembrandt in America, Cleveland Museum of Art, Cleveland (through May 28)
This is the first major exhibition to examine Rembrandt's paintings and the evolving opinions of scholars regarding what constituted a Rembrandt autograph. The museum is undergoing a major update that will be complete by 2013, although some galleries are already reopening.

Greater Cleveland Aquarium, Cleveland (Now open)
The west bank of the Cuyahoga River is home to the new Greater Cleveland Aquarium, a 70,000-square-foot facility housing fish and marine life from around the world. More than 42 tanks have been integrated into a historic powerhouse building, as well as a sea-tube that allows visitors to experience life under the sea in a clear, 145 foot walk-through tunnel.

A Day in Pompeii, Cincinnati
Museum Center at Union Terminal, Cincinnati (Now open)
From March 2 - August 12, the Cincinnati Museum Center is home to an array of archeological treasures dating back to the eruption of Mt. Vesuvius in 79 A.D. "A Day in Pompeii" features room-sized frescos, gold coins, bronze and marble sculptures, hundreds of priceless artifacts and the largest collection of body casts ever on display - all frozen in time. The exhibit also includes an immersive video experience depicting a time-lapsed representation of Vesuvius' explosion. Cincinnati is one of just three American cities selected to host this amazing exhibit.

WATER, COSI, Columbus (Now open)
This exciting exhibition at COSI: Center of Science and Industry, is designed to engage all learning styles through hands-on and digital interactive elements, videos, wall panels, models, specimens and live animals. In addition to the fun interactive components, WATER will demonstrate how people around the world use water and how we all can help protect Earth's most precious resource.

New River Tour at Ozone Zipline Adventures, Oregonia (Open 7-days-a-week beginning March 31)
Ozone Zipline Adventures, the Midwest's largest zipline tour, adds a New River Tour this year: two new 1,500-foot ziplines will fly riders across the scenic Little Miami River at heights of more than 200 feet and land them on a platform at Fort Ancient. Ozone is an educational eco-adventure which allows hands-free riders to
choose from three tour options, take flight across more than two miles of cables
and traverse eight sky bridges. Also new for 2012 is Full Moon Night Zipping. This
nighttime adventure takes place on the weekend closest to the full moon every month.

Rock and Roll Hall of Fame Induction Week, Cleveland (April 5-14)
Cleveland rolls out the red carpet as the Rock and Roll Hall of Fame Induction Ceremony returns to Cleveland on April 14.The Rock Hall and Cleveland hold a weeklong series of events that showcase this internationally followed event. Activities include two free public concerts, a gospel tribute concert, lecture series, introduction of the new Grateful Dead museum exhibit, the unveiling of the newly redesigned museum exhibit space and the opening of the new Rock and Roll Hall of Fame Library & Archives. The star-studded events, which were last held in the city in 2009, drew tens of thousands of visitors and generated more than $13.3 million in economic impact.

The Radical Camera, Columbus Museum of Art, Columbus (Opens April 19)
"The Radical Camera" exhibition explores the fascinating blend of aesthetics and
social activism at the heart of the Photo League, 1936-1951. Artists in the Photo
League were known for capturing sharply revealing, compelling moments from everyday life, and their focus centered on New York City and its vibrant streets. The exhibition of nearly 150 vintage photographs resulted from the collaboration between the Columbus Museum of Art and The Jewish Museum in New York City.

Dinosaurs Alive!, Cedar Point, Sandusky (Opens May 12)
New this summer at Cedar Point is "Dinosaurs Alive!"on Adventure Island -- the wooded island that sits on the lagoons in the middle of the park. Intrepid travelers will be invited to interact with 48 life-size animatronic dinosaurs that will roar and
move providing an educational yet spine-tingling adventure. Visitors can even try
their hands at the controls of three interactive consoles allowing guests to guide
the dinosaurs' movements. Admission to "Dinosaurs Alive!" is $5 per person.

Soak City Waterpark, Kings Island, Mason (Opens May 26)
Kings Island will double the size of its existing waterpark with a $10 million investment when Soak City Waterpark (free with park admission) opens in 2012. The waterpark will feature a massive new 39,000-square-foot Wave Pool and Action River along with a new entrance, more secluded shade-covered areas and cabanas that feature televisions and fans, a new professional quality sand volleyball court and additional lounging areas.

Color Ignited: Glass 1962-2012, Toledo Museum of Art, Toledo (June 13 - Sept. 9)
The Toledo Museum of Art will celebrate the 50th Anniversary of the American Studio Glass Movement with a major exhibit and also will host the 2012 Glass Art Society Conference. "Color Ignited: Glass 1962-2012" will be the inaugural exhibition of the new Frederic and Mary Wolfe Gallery of Contemporary Art. The international exhibit features nearly 100 objects from public and private collections by pivotal Toledo Workshop participants and major artists with a focus on color.

2012 World Choir Games,Cincinnati (July 4 - 14)
Cincinnati - and America - will host the World Choir Games for the first time this year. Coined by many as the Olympics of choral music, the World Choir Games aim to peacefully unify nations through song. Cincinnati will host more than 400 choirs from more than 50 nations and 200,000 spectators for the largest choral competition in the world.

Valley Zipline Tours, Lancaster (Opens Summer 2012)
Valley Zipline Tours, the Hocking Hills region's newest canopy tour adventures open in April 2012. The main Zip Line Course features seventeen zip lines that traverse the tree canopy and the valley, including dual racing zips. The mini Zip Course consists of four small zips built in the trees and perfect for beginners and children.

Cleveland Museum of Contemporary Art, Cleveland (New facility opens fall 2012)
Cleveland's Museum of Contemporary Art is celebrating its move from Carnegie Avenue to Euclid Avenue's University Circle with an 8501 to 11400 (On Moving) exhibit from January 20 to March 31, 2012. The new facility will open to the public this fall.