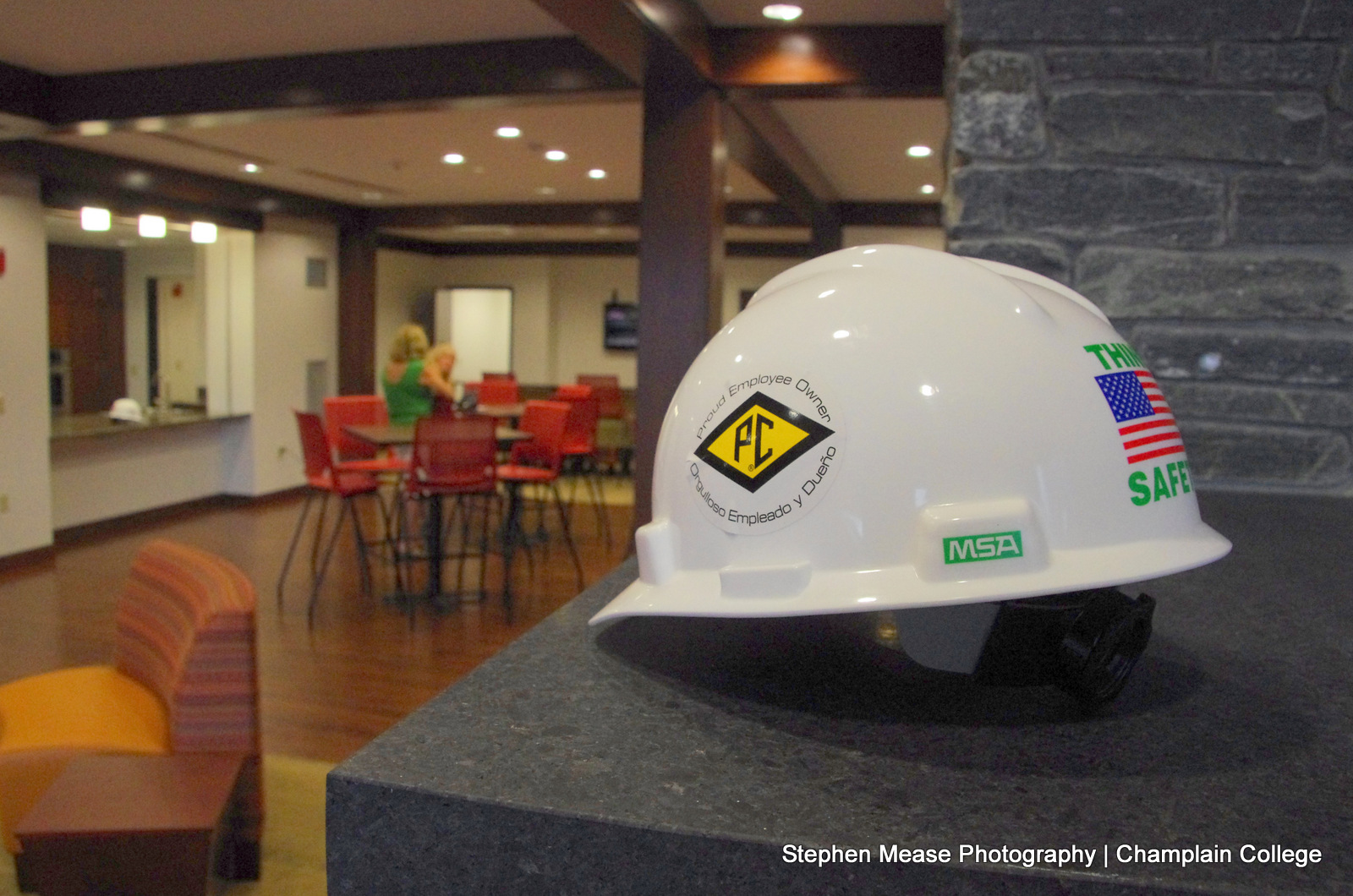 When visiting Champlain College's Juniper Hall in Burlington, Vermont, it doesn't feel like the typical dorm room experience. Loaded with many of the amenities of home, Juniper Hall was built to make students feel comfortable in a home-like environment.

PC Construction, a leading contractor for educational facilities across the Northeast, recently completed construction of Champlain's Juniper Hall. The $7.7 million, 29,200 square foot, 95-bed residential hall is located in the center of the hillside campus. Exterior features include brick, stone and flat-seam metal panels, a slate-shingled roof and stone walls with granite accents.

But the real story is on the inside.

Nestled in the four-story residence are features including a stone entrance and fireplace, wood floors, student lounges and a large gathering space, a ski-tuning room, laundry facilities, a full kitchen, television viewing area, and large windows featuring stunning views of Lake Champlain.

According to the National Retail Federation, college students spend an average of more than $900 to decorate their dorm rooms, or $50 billion a year nationally. The interior spaces in Juniper Hall provide a worthwhile setting for students to add their home-like touches.

"Architecturally, we wanted to fit in with the patterns of the neighborhood," said John Caulo, vice president of campus planning at Champlain College. "We wanted to build a place for our students to enable them to really focus on their studies in a more home-like atmosphere."

Because Champlain College is situated in the middle of the "Hill Section" neighborhood in Burlington, both the College and PC Construction were very aware of the importance of working closely with local residents and students to minimize disruption. Champlain College and PC Construction provided regular construction updates, both in the form of newsletters and an online community news series called "What's Happening Behind the Fence?"

As completion of the dormitory neared, students, staff and local residents were invited to a "dorm shenanigan" test to make sure that the facility was 100 percent ready.

"From the stone fireplace to water fountains to Wi-Fi connections to the elevators, the dorm was thoroughly tested and vetted," said Mike Leonard, project manager for PC Construction. "We were thrilled to receive an A+ for our work on the building!"

At Champlain College, environmental stewardship and sustainability are also critically important.

Recognized by the Princeton Review as one of 322 Green Colleges, Champlain College's Juniper Hall is on track for LEED Gold certification from the U.S. Green Building Council. In a Princeton Review survey of more than 7,400 college applicants, 68 percent said that a college's commitment to the environment would have an impact on their decision to apply to or attend the school. Specific criteria included having a healthy and sustainable quality-of-life on campus, how well the school prepares students for employment and citizenship in a world defined by environmental challenges, and the school's overall commitment to sustainability issues.

"Based on our experiences with our students plus what we see beyond the campus, we feel strongly that creating a comfortable and sustainable environment is critical to our students' success," said Caulo.

Champlain College and PC Construction are scheduled to break ground on two other residential halls in the spring of 2013.

# # #

About Champlain College
Since 1878, Champlain College has provided career-focused education to students from its hilltop campus in Burlington, Vt. Champlain's distinctive educational approach embodies the notion that true learning only occurs when information and experience come together to create knowledge. Champlain offers traditional undergraduate and online undergraduate courses, along with online certificate and degree programs and eight master's degree programs. Champlain offers study abroad programs at its campuses in Montreal, Quebec and Dublin, Ireland. Champlain College will be included in the Princeton Review's "best colleges" guidebook, "The Best 377 Colleges: 2013 Edition." Champlain was named a "Top-Up-and-Coming School" by U.S. News & World Report's "America's Best Colleges" and was ranked in the top tier of 2013 Regional Colleges in the North. For more information, visit www.champlain.edu.

About PC Construction
PC Construction offers general contracting, construction management and design-build services to private and public companies of all sizes. The company manages projects up and down the East Coast and in the southeastern United States from its corporate headquarters in South Burlington, Vermont and regional offices in Maine and North Carolina. A construction industry leader and innovator for more than 50 years, PC Construction (formerly Pizzagalli Construction) is guided to success by its more than 800 dedicated employee-owners.