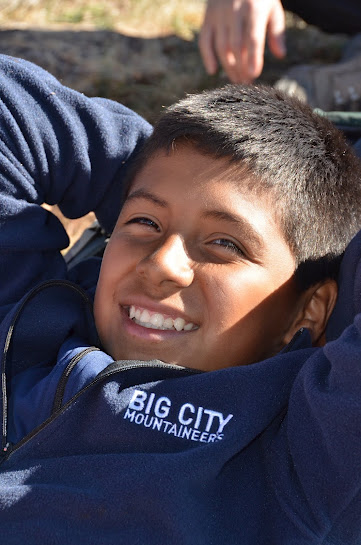 (Lawrence, Mass.) - Polartec, LLC, the developer, manufacturer and marketer of Polartec® performance fabrics, is proud to support non-profit partner Big City Mountaineers (BCM) with a $10,000 donation and 1,200 custom BCM zip-neck tops made from Polartec® Classic 100 fleece.
The $10,000 will help fund BCM's programs, which are designed to transform the lives of under-resourced urban youth through wilderness mentoring expeditions that instill critical life skills. The 1,200 custom BCM Polartec tops will help keep each youth and volunteer warm and comfortable on every BCM trip this summer.
"Youth participation in outdoor activity is very important to us, and by supporting an organization like BCM we are able to provide thousands of kids with the opportunity to get outside in meaningful ways," says Allon Cohne, Polartec's global director of marketing. "We designed the fleeces to be a useful piece of clothing for the kids - something they can hang onto and return to the outdoors with."
"Polartec demonstrates tremendous leadership, community stewardship and commitment to getting youth outdoors in supporting under-served youth through BCM's wilderness mentoring experiences," says Lisa Mattis, BCM executive director. "We love putting Polartec gear on our kids this summer, allowing kids who have never gone beyond the confines of the neighborhood to experience the great outdoors safely and comfortably. All our thanks to the entire team at Polartec."
photo credit: Matthew Davidson
About Big City Mountaineers
Big City Mountaineers (BCM), which serves youth in eight cities across the country, was founded in 1989 to instill critical life skills in underserved urban youth through transformative wilderness mentoring expeditions. BCM's model is to partner with a vibrant network of youth-based agencies that work with under-resourced, racially diverse young people who often have no experience outside of their neighborhoods. BCM expeditions provide under-resourced youth with the tools and positive reinforcement needed to overcome obstacles and strive for a better future. BCM leverages the challenges inherent in wilderness adventure with a one:one mentoring model and time-tested curriculum designed to teach and empower youth. For more information, please visit
BigCityMountaineers.org
.
About Polartec, LLC
Polartec, LLC is the developer, manufacturer, and marketer of Polartec® performance fabrics. Polartec® products range from lightweight wicking base layers, to insulation layers, to extreme weather protection and are utilized by the best clothing brands in the world. For more information, visit
Polartec.com
.