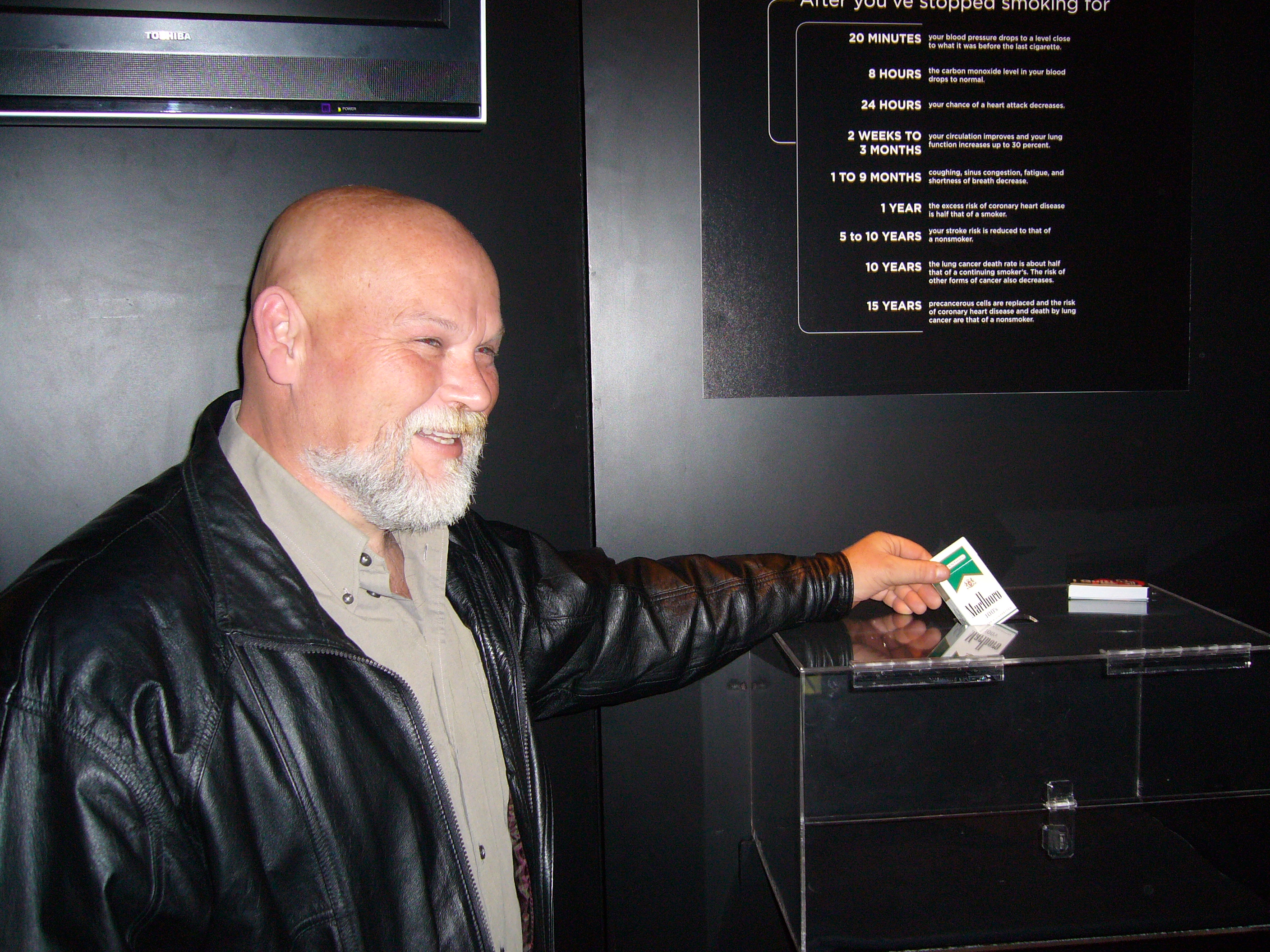 Salem, Oregon resident Brad Taylor surrenders his last pack of cigarettes at the "I Quit" unveiling at Gunther von Hagens' BODY WORLDS & The Brain

Salem, Oregon resident Brad Taylor surrenders his last pack of cigarettes at the "I Quit" unveiling at Gunther von Hagens' BODY WORLDS & The Brain
A big step toward better health is now only a few steps away from a dramatic display at the Gunther von Hagens' BODY WORLDS & The Brain exhibit at OMSI: a case containing tar-filled, blackened smoker's lungs in a side-by-side comparison with healthy lungs. This striking contrast has moved many BODY WORLDS visitors to resolve to quit smoking on the spot.
The "I Quit" smoking cessation program became a permanent part of the BODY WORLDS exhibition at the Oregon Museum of Science and Industry on November 17th: the date of the 36th Annual Great American Smokeout, a program sponsored by the American Cancer Society. The display features an inspirational multimedia program that includes the dramatic public service announcement by the late actor Yul Brynner before his death from cancer in 1985. Pledge cards for visitors intending to give up smoking, a repository where visitors can leave their last packs of cigarettes, and information about smoking are part of the installation. American Cancer Society volunteers were also on hand at the brief ceremony to help with smoking cessation counseling and talk to quitters one-on-one.
"I Quit" was conceived by BODY WORLDS in 2006 after exhibition cleaning crews kept finding unfinished packs of cigarettes on the glass display case containing the smoker's lung. "Each rejected pack marked a victory by one person against nicotine addiction," said Dr. Angelina Whalley, a physician and creative and conceptual designer of the BODY WORLDS exhibitions. "Many visitors to the exhibition reported that they had tried everything but only stopped after seeing the smoker's lung," said Whalley.
Independent surveys conducted at BODY WORLDS exhibits have revealed that 68 percent of visitors resolved to pay more attention to their physical health after seeing the exhibit. At one venue where a follow-up survey was conducted, results showed that 10 percent of visitors stated that they had smoked less and consumed less alcohol since their visit to the exhibition.
"Approximately 30,000 Oregonians die each year; over 22 percent of these deaths are linked to tobacco," said OMSI president Nancy Stueber, who unveiled the addition to the exhibition. "Slightly over half a million Oregon adults currently smoke cigarettes; 69 percent of those would like to quit."
"BODY WORLDS visitors will be faced with the reality of the dangers of smoking and the effect that this habit has on their health and well being," stated Stueber. "It is our hope that OMSI's participation in the "I Quit" program will provide a free, comprehensive cessation resource for them to pursue."
The first smoker to surrender his last pack of cigarettes during the "I Quit" unveiling was Salem resident Brad Taylor.
"It's a vile, wretched, disgusting habit; one that I carried too long," said Taylor. "I wish I had a dollar for every time I tried to quit."
Taylor was applauded by the crowd at OMSI when Stueber invited him to be the first to put his last pack of cigarettes in the box. Taylor thanked the American Cancer Society and displayed his certificate of accomplishment. "We're making this as official as possible so I can't back out," he joked.
Stueber thanked Taylor as "an inspiration to everybody else who is at a point of wanting to quit," and asked him about his experience of being a smoker for 30 years.
"Yes, since I was 19," confirmed Taylor. "Like every smoker I hated the habit. It was costly. It stunk. It made my clothes smell. But I was addicted."
"We had kids and I told myself I was going to quit before they were born. Then I told myself I was going to quit before they went to college. Then they went to college and my grandson was born and I decided to quit before he realized I was a smoker. He's six months old, and today is my daughter's 20th birthday. Now is the right time."
Dr. Jeff Gold, M.D., a lung specialist from Oregon Health & Science University (OHSU) who was present at the unveiling, held the specimen of the smoker's lungs aloft for the crowd. "As you can see, they're black," he said. "When you inhale the smoke from a cigarette, 4500 different chemicals enter your lungs. Smoke contains carcinogens; compounds that mutate the DNA in your lungs."
"In the United States, 40,000 people a year die due to secondhand smoke," Gold continued. "And the kids are the ones that get this the worst. Kids who are in households where parents are smokers are twice as likely to end up in the hospital with pneumonia, or die of the flu."
"More data has come out about nicotine in cigarette smoke; it permanently alters the development of the growing of the lung in babies in utero. Once they're born the kid is going to have impaired function potentially for the rest of their lives because of that exposure."
"On top of it all, it's a lot of money," Gold concluded. "In the United States, about 200 billion dollars are related to smoking in terms of health costs, death, and days lost from work. That's half of the Medi-care budget."
Dave Rogers from the American Cancer Society concurred. "That was a very realistic picture Dr. Gold shared," he stated. "It's why we want to encourage not just smokers—any tobacco user—to use today, November 17, the 36th Great American Smoke Out, to quit."
"Tobacco use is the most preventable cause of disease. And yet, more than 46 million Americans continue to smoke," said Rogers. "We know it can be addictive, and it's not easy to quit. But we also have the tools and resources to stop, today. It can be done. We just have to make that choice."
Taylor started smoking while working as a gate guard in Pearl Harbor. "In the guard shack there was one of those huge industrial naval ashtrays," he recalled. "If you'd turn it upside down and it would make a great roof. It was always stuffed with cigarettes, a giant mound, slightly larger than the Alps. I hated smokers but all the guards smoked; the guard shack just stunk," he said. "I had the graveyard shift and I would light the cigarette butts in the ashtray; the smoke would irritate my eyes and keep me awake.
Then I was buying a pack to light to keep me awake. And then I was smoking them."
As the years passed, Taylor continued to buy cigarettes one pack at time. "Always in my mind, I kept wanting it to be my last pack," he said.
"I never hugged the kids—that was so sad," he said. "It is one of my biggest regrets. I smelled like smoke and was self conscious about it, so I never wanted to hold my kids." ("With the grandkids, that's not going to be the case," said his wife Susan.)
Taylor feels confident that he will be a non-smoker for good, and will use American Cancer Society tips and available resources. "Like the display says in the BODY WORLDS exhibit, in the old days quitting was looked on not as a physical addiction, but as a matter of will power. If you couldn't quit you were weak-willed, a lesser human."
Taylor says he was committed to quitting before he saw the lungs specimens in the exhibit, but agrees that they helped confirm his decision to quit. "It's a stark comparison, obviously," he said. "Literally—it's there in black and white."
The "I Quit!" program will continue at Gunther von Hagens' BODY WORLDS & The Brain at OMSI through the run of the exhibit. Open daily from 9:30 a.m. to 5:30 p.m. and open late on Friday & Saturday (to 9 p.m.). OMSI is located at 1945 SE Water Avenue, Portland, Oregon 97214. Tickets are $25.00 for adults, $20.00 for students & seniors, and $17.00 for children. Admission to OMSI's regular exhibits included. Advance purchase recommended. Get tickets now at OMSI's website: www.omsi.edu
About Gunther von Hagens' BODY WORLDS & The Brain
Making its Pacific-Northwest debut is an all-new version of the BODY WORLDS exhibition and features information on brain development and function; brain disease and disorders; and brain performance and improvement. Among the real human body specimens are full-body specimens in life-like, dramatic poses; healthy and unhealthy organs; and body slices—all preserved through a remarkable process called Plastination. Additional highlights include an exploration of how the brain develops through time-lapsed MRI's of the brain from childhood through adolescence; how a brain with Alzheimer's looks physically – and a copy of a letter issued to the American public by Ronald Reagan, revealing his Alzheimer's diagnosis; a deep dissection of the nervous system, a 16 ft. plastinated giraffe, and more.
About OMSI
Founded in 1944, the Oregon Museum of Science and Industry is one of the nation's top ten science museums, a world-class tourist attraction and an educational resource for the kid in each of us. OMSI is located at 1945 SE Water Avenue, Portland, Oregon 97214. For general information, call 503.797.4000 or visit www.omsi.edu.
About the American Cancer Society
The American Cancer Society combines an unyielding passion with nearly a century of experience to save lives and end suffering from cancer. We save lives by helping people stay well by preventing cancer or detecting it early; by helping people get well by being there for them during and after a cancer diagnosis; by finding cures through investment in groundbreaking discovery; and by fighting back by rallying lawmakers to pass laws to defeat cancer and by rallying communities worldwide to join the fight. As the nation's largest non-governmental investor in cancer research, contributing about $3.4 billion, we turn what we know about cancer into what we do. As a result, more than 11 million people in America who have had cancer and countless more who have avoided it will be celebrating birthdays this year. To learn more about us or to get help, call us anytime, day or night, at 1-800-227-2345 or visit cancer.org.