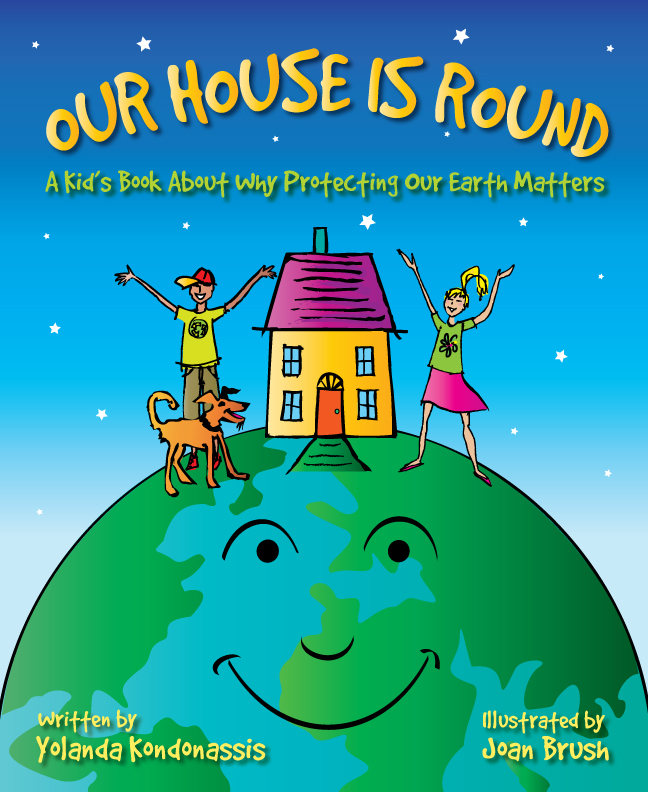 Reduce. Reuse. Recyle. Kids may know what these words mean, but do they understand why they're important? Our House Is Round: A Kid's Book About Why Protecting the Earth Matters, a new environmental picture book, answers the question by explaining pollution, climate change, energy conservation, and natural resources in engaging, child-friendly ways. It's written by Yolanda Kondonassis, the internationally acclaimed, Grammy-nominated harpist, and founder and director of Earth at Heart, a non-profit organization devoted to increasing earth awareness through the arts.
Kondonassis has recorded 17 albums and donated a portion of the proceeds from several of them to environmental organizations. She became even more passionate about earth conservation after she became a parent. She was inspired to write Our House is Round because she couldn't find a book that explained to her 7-year-old daughter why caring for the environment is important, and how our actions can create change. "True motivation always stems from understanding," she says, "and kids are fully able to grasp many of the larger issues surrounding the challenges we face in the quest to preserve our planet."
Our House is Round, for readers ages 5-9, opens with the metaphor that the earth is like a "round house" that we all inhabit and must care for. With a friendly, conversational style and bright, colorful illustrations, the book explains where pollution comes from and how it causes climate change; the importance of energy conservation and recycling; and why we need to protect natural resources. Readers are given a "Messy Planet Action Plan" and an "Earth-Smart Dictionary" that defines important environmental terms in an age-appropriate way. Learn more at www.ourhouseisroundonline.com.
"Our House Is Round is the perfect children's introduction to environmental issues," says Fred Krupp, President, Environmental Defense Fund. "The smartly narrated text and beautiful illustrations illuminate the 'whys' behind earth conservation in an engaging manner that both teaches and inspires. A must for every school and family library."
The publication of Our House is Round marks the launch of Better World Kids, a new imprint of Sky Pony Press devoted to values-oriented books by socially conscious authors. Ms. Kondonassis will be donating a significant number of copies of Our House is Round to public libraries across America, via the Chapters Relations Office of the American Library Association.
Also this April, Grammy nominated harpist Yolanda Kondonassis delivers her 16th recording, Solo Harp, the Best of Yolanda Kondonassis on Azica (ACD 71273). A collection of music representing a wide sampling of her favorite works and interpretations, the disc includes pieces by Bach, Gershwin, Hasselmans, Pierné, Saint-Saëns, Salzedo and Satie. With program notes authored by Kondonassis who shares her own reflections and experiences as they relate to the music, this is a must have collection for every music lover's library.
Yolanda Kondonassis, www.yolandaharp.com, is celebrated as one of the world's premiere solo harpists and is widely regarded as today's most recorded classical harpist, and has sold more than 100,000 albums worldwide. She made her debut at age 18 with the New York Philharmonic and Zubin Mehta; has appeared as soloist with major orchestras throughout the world; and is considered a pioneer in the world of harp striving to make her instrument more accessible to audiences and to push the boundaries of what audiences expect from the harp. She is on the faculties of Oberlin College and The Cleveland Institute of Music and has been featured on CNN, PBS, and NPR's "All Things Considered." Kondonassis lives in Cleveland, Ohio.
Joan Brush is a fashion designer and illustrator. An avid rower, she makes her home near the water in Providence, Rhode Island.
###
Our House Is Round: A Kid's Book About Why Protecting the Earth Matters
Written by Yolanda Kondonassis • Illustrated by Joan Brush
Published by Better World Kids Books/Sky Pony Press
April 2012 • Ages 5-9 • 48 pages • $16.95 • ISBN: 978-1-61608-588-9
Solo Harp - The Best of Yolanda Kondonassis
Azica - ACD 71273
April 2012