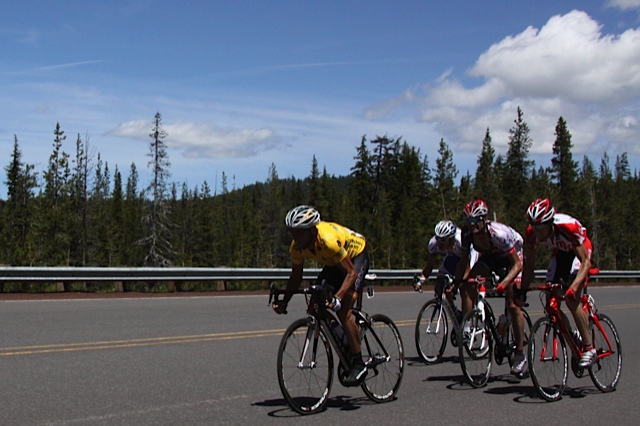 PARK CITY, Utah - After six days of racing at the
2011 Bend Memorial Clinic Cascade Cycling Classic
(July 19-24), the
RealCyclist.com Professional Cycling Team
captured five podium spots and one yellow jersey. Captain Francisco "Paco" Mancebo, scored his fifth General Classification (G.C.) title of the year with the overall win in Bend, Ore.
After the opening Prologue, Stage One provided the strenuous 74-mile McKenzie Pass Road Race. Attacking the stage, RealCyclist.com Team rider Cesar Grajales and Mancebo finished first and second, respectively, putting Grajales into the yellow race leader's jersey. With Grajales' stage win, the Team would not relinquish yellow for the remainder of the race.
"If any stage suited the Team perfectly, it was surely this one," said Directeur Sportif Gord Fraser. "Our plan was to be active and not let a dangerous move establish itself and also integrate Cesar Grajales or Josh Berry into a break - since most others would be expecting us to control for Paco."
In Stage Two, Mancebo took the win in the 14-mile individual time trial. The win bumped Mancebo into first in the G.C. and teammate Grajales to second overall. During the 84-mile Stage Three Cascade Lakes Road Race, Grajales and Mancebo were well supported by teammates Berry, Mike Midlarsky, Evan Hyde, Oscar Clark, Ian Burnett and Thomas Rabou. Grajales took first in the stage - nabbing his second stage win of the event - while Mancebo finished third.
Mancebo retained yellow through the final two stages, a downtown criterium and a circuit race, winning his fourth G.C. title of the year. Earlier this season, Mancebo won overall G.C. titles at Redlands Bicycle Classic, Sea Otter Classic, SRAM Tour of the Gila and Tour de Beauce.
Next up, the RealCyclist.com Pro Cycling Team heads to the prestigious
Larry H. Miller Tour of Utah
from Aug. 9-14. The race is touted as "America's Toughest Stage Race." The Team roster will consist of: Mancebo (ESP), Rabou (NED), Grajales (COL), Burnett (USA), Berry (USA), Clark (USA), Hyde (USA) and Tommy Nankervis (AUS).
For more about the RealCyclist.com Pro Cycling Team, please visit:
http://proteam.realcyclist.com/