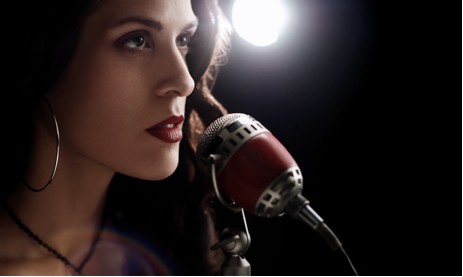 When artists stand up for a cause they believe in, Rock the Cause counts that as a win – we love seeing musicians use their unique position in the local and national spotlight for good. Artists advocating for the work of nonprofit organizations is just one way that we believe rock and roll can change the world. Local hip-hop artist, writer, speaker, Doomtree member, and established but rising star Dessa is no exception to this concept. Amidst a busy summer tour schedule, Dessa recently announced a partnership with Minneapolis artisan cosmetic house The Elixery to create and release a custom shade of lipstick, the proceeds of which benefit CARE.
"CARE is my absolute favorite charity. I really love what they do," Dessa said in a phone interview. She came upon the Atlanta, Georgia-based organization when she sought out a vetted, secular charity that had high marks for putting donations toward the actual work of the organization rather than mostly going towards administrative costs. Her respect for the organization goes back a while.
One aspect in particular of CARE's poverty-fighting mission speaks to Dessa – their global education programs for girls. In the press release for the lipstick launch, Dessa addresses her experience researching the theories of Martha Nussbaum, a philosopher, author, and Professor of Law and Ethics at the University of Chicago.
"I learned about the surprising consequences of educating girls, consequences which compound and refract through entire societies. Educating women often changes marital age and birthrates. … Ten years after having studied the philosophy of this stuff, I couldn't be more excited to actually make a real-world contribution. I'm extraordinarily proud to be supporting CARE's programs to educate girls around the world."
Dessa will be celebrating the launch of The Elixery's "Dessa" lipstick, a beautiful, deep shade of red designed by award-winning makeup artist Crist Ballas, on September 15th at Icehouse in Minneapolis. The night will include music by Aby Wolf and Ashley Gold backed by Dessa's live ensemble Dustin Kiel, Sean McPherson, and Joey Van Phillips. 89.3 The Current's Barb Abney will emcee the event, which also includes prizes, giveaways, and other entertainment.
Another cause that Dessa has worked with is Southside Family Nurturing Center, a nonprofit organization that offers services to children and families in the heart of the Phillips neighborhood. The organization approached her about working together.
"I'm always careful about whom I choose to work with, that the organization matches my values and what I believe. They [Southside Family Nurturing Center] work with no judgment and deal with very intense struggles like child abuse," Dessa said.
An important part of Rock the Cause's mission to get people involved in philanthropy is to help organizations strengthen their volunteer base by introducing music fans to their cause, thus providing new volunteers. Dessa, who said she didn't have as many opportunities to volunteer in the past as she would have liked, was struck by President Obama's call to the nation to volunteer. So what inspires her to get involved with charities and philanthropic causes?
"Sometimes, I guess I'm partially motivated by guilt. I have so much that is unearned. I'd hate to pat myself on the back for achievements that I have that I've reached with help," she said. For Dessa, the hardships of others who are down on their luck and are in need elicit that desire to do something about it.
In terms of music's role in being a catalyst for action, Dessa feels that musicians and others in the industry are in a unique position to advocate for a cause, but it can be a turn-off when someone uses that platform to be preachy.
"I think music can be a powerful motivator. I'm inspired by those that can speak with wisdom and an informed voice about a cause," she said. That responsibility is evident in her careful choice of causes to work with and the message she sends through her music, writing, and speaking.
"It's important to be responsible in that role. It can be powerful and badass when someone is willing to take a stand."
To learn more about CARE, visit
http://www.care.org/
To learn more about Dessa's partnership with The Elixery and her custom shade of lipstick, visit
http://www.elixery.com/dessa/
To learn more about the Southside Family Nurturing Center, visit
http://www.ssfnc.org/
To listen to Dessa's music, visit
http://www.doomtree.net/dessa/
-By Jessica Odegard, Publicity and Communications Manager, Rock the Cause