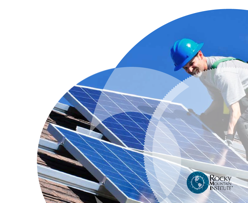 Snowmass, CO—Rocky Mountain Institute today released a report detailing implications for electric utilities of declining costs and increased deployment of distributed energy resources such as solar panels for homes, which have spread rapidly in California.

"Net Energy Metering, Zero Net Energy, and the Distributed Energy Resource Future: Adapting For The 21st Century" finds that California's electricity rate designs and regulated business models are poorly suited to create a system that integrates high levels of distributed renewable resources and Zero Net Energy buildings—and is fair to all customers.

Based on collaboration with Pacific Gas and Electric Company to identify solutions that ensure a healthy and sustainable future electricity network, the report explores implications for regulation, as well as for customers, utilities, solar companies and other stakeholders.

In the project, RMI convened a roundtable of outside experts along with PG&E representatives to explore and analyze options for future business and customer relationships compatible with a system characterized by high levels of energy efficiency and distributed resources—a future described in Reinventing Fire, RMI's vision and blueprint for a 2050 U.S. economy powered by efficiency and renewables.

"PG&E is excited to work with Rocky Mountain Institute to begin a dialogue on how to make today's evolving electricity system more sustainable," said Steve Kline, PG&E's vice president of corporate environmental and federal affairs and the company's chief sustainability officer. "This work will help put vital information into the hands of customers and policymakers alike, so they can better understand the relationship between distributed generation and California's electric grid."

The report specifically creates a framework for categorizing and comparing options that can serve as the basis for future analysis. Critical steps include the need to find common ground among utilities, regulators, building designers, customers and technology providers to determine how to:
Create signals and incentives for customers to better integrate their renewable resources into the system for broad benefit
Build rate structures and utility business models that encourage adoption of clean, distributed resources but are also fair to all customers
Build trust among stakeholders with competing interests
In addition, the report found that policies created to stimulate the growth of the solar industry in its early stages will need to be modified as the industry matures, new technologies emerge, and impacts on the utility system increase.
"This effort sets the framework for a discussion of longer-term approaches that meet the needs of electricity stakeholders: electric utility customers, solar owners, and electricity service providers," said Virginia Lacy, senior consultant with RMI's electricity practice. "We view it as a step forward in RMI's key strategic focus in the electricity system—accelerating innovation to make a transition to a more renewable, efficient, distributed, customer-centric electricity system."
California's electricity system stands at the forefront of changes that are transforming the electricity industry. Slow or declining demand due to efficiency programs, increased variable renewable generation, increased customer generation and energy management, and environmental priorities are all altering revenue streams, sources of value, and operational requirements for electric utilities.
"Without coordination among stakeholders in tackling some of these challenging issues, the transformation will be neither fast nor smooth, resulting in economic inefficiencies, misaligned incentives, and wasted energy," said James Newcomb, program director with RMI's electricity practice. "Over the coming months, RMI's electricity practice will be partnering with sector practitioners to incubate a new approach to innovation and experimentation in the electric industry."
The full report is available for download at http://www.rmi.org/rmi_pge_adapting_utility_business_models
***
About Rocky Mountain Institute
Rocky Mountain Institute is an independent, entrepreneurial, nonprofit think-and-do tank. RMI emphasizes integrative design, advanced technologies, and mindful markets in fulfilling its mission to drive the efficient and restorative use of resources. RMI's strategic focus is to map and drive the U.S. transition from fossil fuels to efficiency and renewables by 2050. Visit www.rmi.org for more information.
About Reinventing Fire
Reinventing Fire is RMI's vision and blueprint for running a 158%-bigger U.S. economy in 2050 needing no oil, no coal, no nuclear energy and one-third less natural gas. In the electricity sector, technological advancements lay the foundation for a vision of a renewable and distributed customer-centric electricity system that is efficient, renewable, distributed, and affordable. Visit www.reinventingfire.com for more information