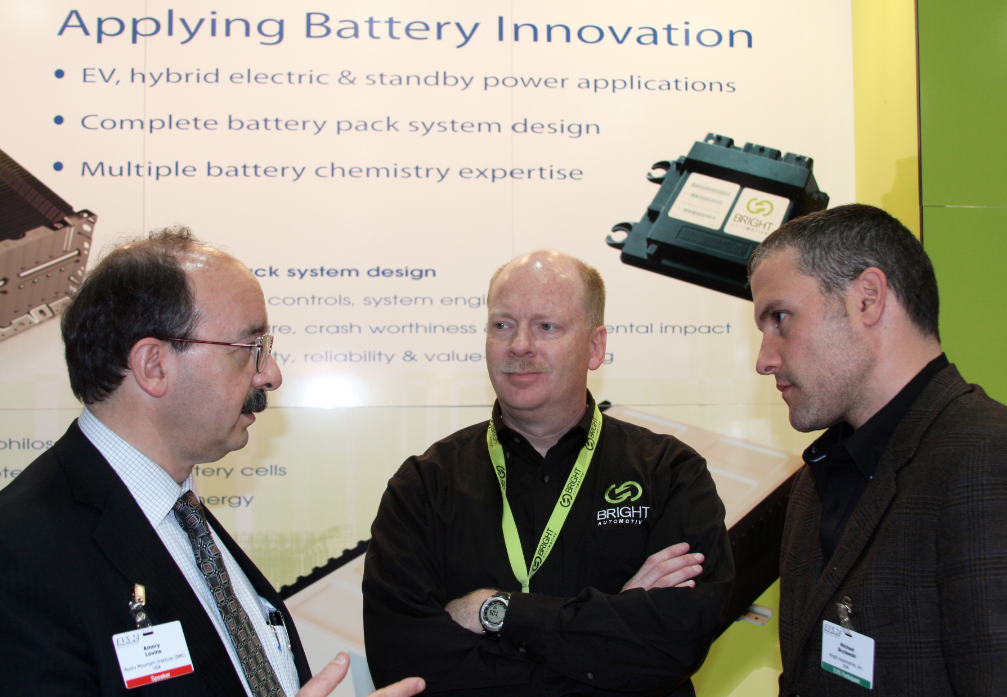 February 29, 2012 – Snowmass, Colo. – Rocky Mountain Institute is saddened by the news that Bright Automotive is closing its doors after four years. However, the institute is confident that the principles embodied in the company will remain a force in the market.
RMI's cofounder, Chairman, and Chief Scientist Amory B. Lovins, an automotive innovator and a member of the National Petroleum Council, said: "Bright Automotive had the best team of any of the automotive startups. Its leaders had brought more advanced-technology vehicles to market than the rest of the startups combined. Bright showed how taking a ton of weight and lots of drag out of the vehicle could make a plug-in hybrid economically attractive with no subsidy, because it'd need so few batteries. Fortunately, such integrative design is now starting to spread to major automakers. Their focused innovation can help get America completely off oil, save trillions of dollars, and enhance national security."
Bright Automotive was spun off from RMI in 2008 with the goal of building on the work of a consortium of organizations to create an innovative auto company that helped address challenges of competiveness, pollution, and diminishing oil supplies.
The company's automotive entrepreneurs, including some of the most experienced hybrid-electric vehicle and battery-pack engineers in the industry—many of whom had a deep history with RMI—created in less than 12 months what most automotive companies take years to achieve: A wholly different kind of automobile.
In August 2009, Bright launched the IDEA, a light-duty fleet vehicle with 5-cubic-meter capacity and 3,200-pound curb weight—38% less than its competitors—even though it used mainly aluminum and very little carbon fiber. It would save 18¢ per mile and 1,500 gallons of fuel per year versus its 15-mpg competitors, delivering more than 30 miles of all-electric range, 430 miles of total range, and 35 mpg in standard hybrid mode. It would get about 100 mpg-equivalent on a 50-mile-a-day urban route, or over 140 mpg on the LA92 test cycle, or 119 on the CAFE test cycle, or 50 if driven 150 miles a day.
Using a whole-systems approach to maximize vehicle fitness, the Bright IDEA—based on the core concepts of RMI's Hypercar®—showed how combining lightweight materials, aerodynamic design, and electric drive architecture into one design could foster greater efficiency gains at lower cost than pursuing any of the design objectives individually.
This disruptive business model is the reason that—in spite of launching just months before the economic downturn, and waiting over 39 months for a DOE loan guarantee—Bright in August 2010 attracted $5 million from General Motors' venture capital arm, which was formed to help GM innovate after it emerged from bankruptcy.
Bright's technological breakthroughs were intended to shift the transportation sector toward efficient and economical solutions as soon as possible. That is why the company offered advanced battery packs, PHEV and EV vehicle conversions, hybrid system development consulting, and alternative powertrain modeling simulations in addition to the IDEA.
Bright's innovative program—eSolutions—launched in October 2009 in an effort to accelerate worldwide electrification and overall platform efficiency. The company was awarded a $1.4 million contract from the U.S. Army to demonstrate the parallel hybrid technology for military non-combat use. Bright also worked with the Army to demonstrate the ability of plug-in hybrid vehicles to deliver power to the grid.
"The Bright IDEA's market segment was only 7% of U.S. light-duty vehicle sales, but used about 20% of their fuel, because fleet vehicles are driven so much. Its proven design could have really moved the needle on national oil dependence, carbon emissions, and competitiveness," Lovins said. "Fortunately, Bright's integrative design approach created a business case too compelling for others to overlook. I believe historians will ultimately record that Bright's brave effort helped lay the foundation for more established automakers to help lead America off oil, much as our new study Reinventing Fire, described in the current Foreign Affairs, found feasible and profitable."
***
About Rocky Mountain Institute
Rocky Mountain Institute (RMI) is an independent, entrepreneurial, nonprofit think-and-do tank. RMI emphasizes integrative design, advanced technologies, and mindful markets in fulfilling its mission to drive the efficient and restorative use of resources. RMI's strategic focus is to map and drive the U.S. transition from fossil fuels to efficiency and renewables by 2050.