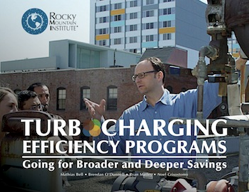 Snowmass, Colo.—Utilities can dramatically increase the effectiveness of efficiency programs by adopting a range of improved business practices, Rocky Mountain Institute (RMI) found in a report released today, Turbocharging Efficiency Programs: Going for Broader and Deeper Savings.
Momentum for utility efficiency has never been greater. In an effort to reduce costs for utilities and their customers, policymakers and regulators have required many utilities to achieve more efficiency savings than ever, and the amount utilities spend on efficiency is increasing rapidly.

To meet or exceed efficiency targets, there are two ways utilities can succeed. They can turbocharge their efficiency programs by going for both broader and deeper savings. Adopting better business practices will allow utilities to a) acquire more participants, and b) help each participant save more energy.
"Selling efficiency is very different than selling electricity. While some programs have had a good response, efficiency programs have underperformed given the benefits of efficiency and its low cost as a resource," said RMI Electricity Consultant Mathias Bell.
Utilities leading in energy savings have pioneered improved business practices that have led to participation rates close to 90% compared with average program participation rates closer to 35%.
"All utilities that are interested in achieving higher levels of energy savings can look to these examples and adopt similar models," said RMI Electricity Analyst Brendan O'Donnell.
Key recommendations include:
Marketing: Utilities can focus the messaging around program offerings, sell the non-energy benefits of efficiency, and employ tactics that improve customer loyalty and growth.
Sales: Tactics in common in other sales-driven industries can increase the conversion rates from prospective participants to actual participants.
Cost Cutting: Strategies such as incorporating new online tools, streamlining energy audits and making better use of real-time data can slash unnecessary costs and increase the productivity of existing programs.
Collaboration: Utilities working more closely with third-party partners, non-utility organizations and regulators to bundle efficiency efforts can reach more aggressive targets.
Turbocharging Efficiency Programs provides a collection of case studies that highlight currently operating utility efficiency programs that provide models for the broader and deeper approaches presented.
Efficiency is central to Reinventing Fire, RMI's vision and blueprint for running a 158%-bigger U.S. economy in 2050 needing no oil, no coal, no nuclear energy and one-third less natural gas. Today, strong forces are aligning to drive transformative change in the electricity sector, creating a "perfect storm" of opportunity to invest in the new energy era. Reinventing Fire provides strategies for utilities and other industry stakeholders to capitalize on this transformation to an efficient, renewable and distributed system.
Read the full report at http://rmi.org/turbochargingenergyefficiency
***

About Rocky Mountain Institute
Rocky Mountain Institute (RMI) is an independent, entrepreneurial, nonprofit think-and-do tank. RMI emphasizes integrative design, advanced technologies, and mindful markets in fulfilling its mission to drive the efficient and restorative use of resources. RMI's strategic focus is to map and drive the U.S. transition from fossil fuels to efficiency and renewables by 2050.