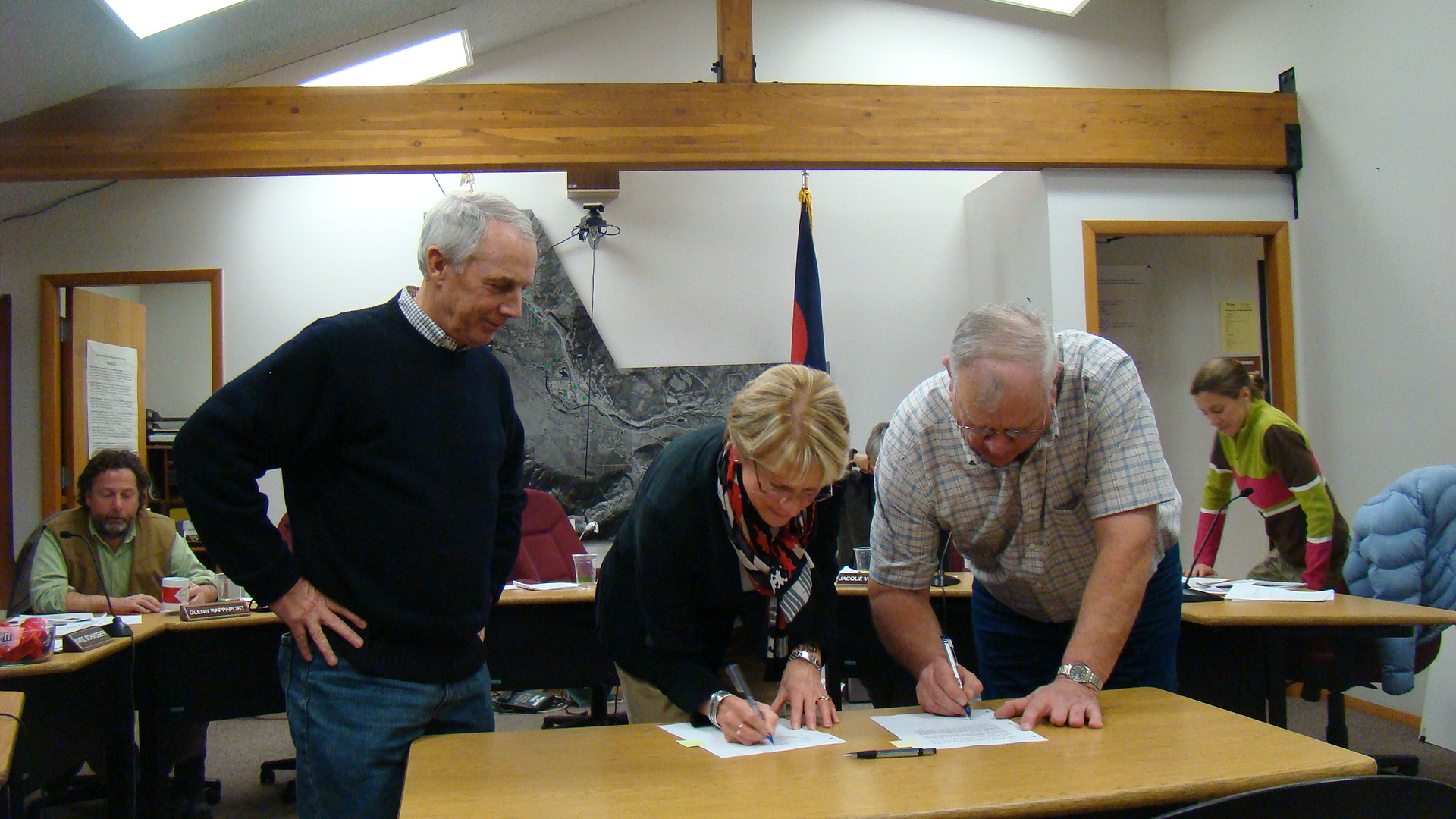 Basalt, Colo. - Last night, Marty Pickett, Executive Director of Rocky Mountain Institute (RMI), and the Mayor of Basalt, on behalf of the Basalt Town Council, signed an option contract for RMI to purchase a .55 acre downtown land parcel that could serve as a site for its new office facility.

The council voted unanimously during last night's public meeting to approve an option contract for RMI to purchase the Levenson parcel, which adjoins the site sold to the Roaring Fork Conservancy in 2005.

"This is a great day for RMI. We are excited that Basalt offers a great deal of visibility and vitality for our organization," said Marty Picket, RMI Executive Director. "It is a pleasure to work with Basalt Town Manager Bill Kane and the Town Council to create a shared vision of the downtown property."

Based on the terms of the contract, RMI has a three-year option to close on the purchase of the property. During this option period, RMI may pursue whatever due diligence and land-use planning it desires, including seeking approval for development of a new office building in accordance with the Basalt Municipal Code. The option can be renewed if both parties agree and the contract grants the Town of Basalt a right of first refusal in the event RMI purchases the property and ever wishes to sell.

The Town of Basalt cited implementation of town goals such as supporting environmental efforts and creating vitality in the downtown area while maintaining connections to Old Pond Park as primary reasons for its approval.

Founded in 1982 in Old Snowmass, Colo., Rocky Mountain Institute is currently located on the Windstar Land Conservancy. Although the potential move would require RMI to leave its current location on the conservancy, that property's conservation easement ensures perpetual preservation.

In addition to the RMI location in Old Snowmass where approximately 25 people work, the organization has an office in Boulder with 60 employees.

Details of the contract are a matter or public record, and can be found at www.basalt.net/council.htm.

***

Rocky Mountain Institute
Founded in 1982, Rocky Mountain Institute (RMI) is an independent nonprofit organization whose mission is to drive the efficient and restorative use of resources. RMI's work supports a vision of a world thriving, verdant, and secure, for all, for ever. Its strategic focus is to map and drive the business-led transition from fossil fuels to efficiency and renewables. For more information, visit www.rmi.org.