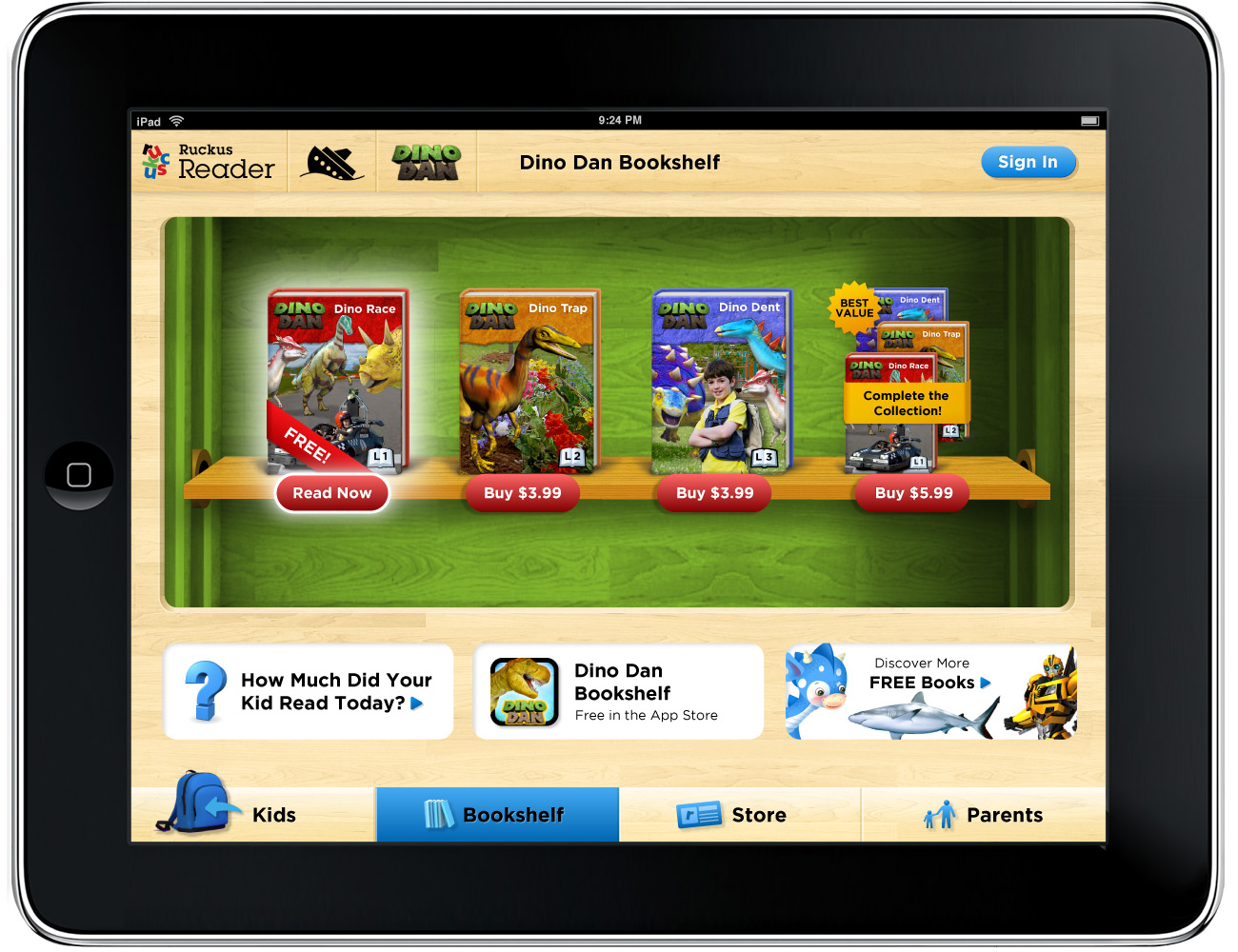 WILTON, CT:
Ruckus Media Group
is pleased to announce the worldwide English language release of three digital interactive storybooks –
iReaders
– based on the popular DINO DAN television series through the iTunes App store for Apple's iPad. The beloved show, created by Sinking Ship Entertainment, is seen in over 100 countries and teaches kids about dinosaurs and how to use scientific methods to identify and solve problems in their everyday lives. Designed for children ages 4-8, the three new mobile applications give children the opportunity to learn facts about their favorite dinosaurs while empowering parents with a digital report card providing direct, actionable feedback on their child's reading.
DINO DAN combines live action with 3D animated dinosaurs and follows the adventures of dinosaur enthusiast Dan Henderson and his friends as they uncover clues about the secrets of dinosaurs.
Powered by the
Ruckus Reader
, the DINO DAN iReaders are designed to match age-appropriate standards determined by the Common Core State Standards and reinforce national educational standards for preschool through second grade. As children enjoy content from one of the biggest names in entertainment, parents receive weekly Reader Meter reports that assess their child's in-app reading skills, such as phonics and word recognition, print and phonological awareness, fluency, alphabetic knowledge, sequencing and story comprehension in real time.
The DINO DAN Ruckus iReaders provide the right book at the right time and feature three different reading levels:
Perfect for emergent readers (Level 1, ages 4-6), "Dino Race" is an engaging story featuring Dan's encounters with a Triceratops, Edmontosaurus and Stygimoloch as he wonders which dino is the fastest and hatches a plan to have the dino race him around the track.
Beginning readers (Level 2, ages 5-6) will fall right into "Dino Trap" where Dan spots a Compsognathus digging up his mom's flowers. He builds a trap to try and catch the mischievous "Compy" and encounters a mighty T. Rex along the way.
For independent readers (Level 3, ages 6–8), there's "Dino Dent", where Dan notices a large dent in the school bus and wonders which of his dino pals made the mark. Dan must determine if it was the Stegosaurus, Stygimoloch or the Euoplocephalus who made the mark and why they dented the bus.
Each iReader includes video and integrated, age-appropriate learning activities and games within the context of the story to further the plot. Story-driven activities such as a word hunt, "what's wrong with this picture", "catch a falling object" activities, and mazes that help kids learn word recognition and reading comprehension.
DINO DAN airs daily in the U.S. on Nick Jr. and was the most watched debut on the network with over 753,000 kid viewers. In addition, DINO DAN was the #1 episode download for Amazon.com for kids/family programming and has over 3 million YouTube.com viewers.
Families can download the free Ruckus iReader Dino Dan bookshelf from the iTunes App Store. To learn more about Ruckus Reader, please visit www.RuckusReader.com.