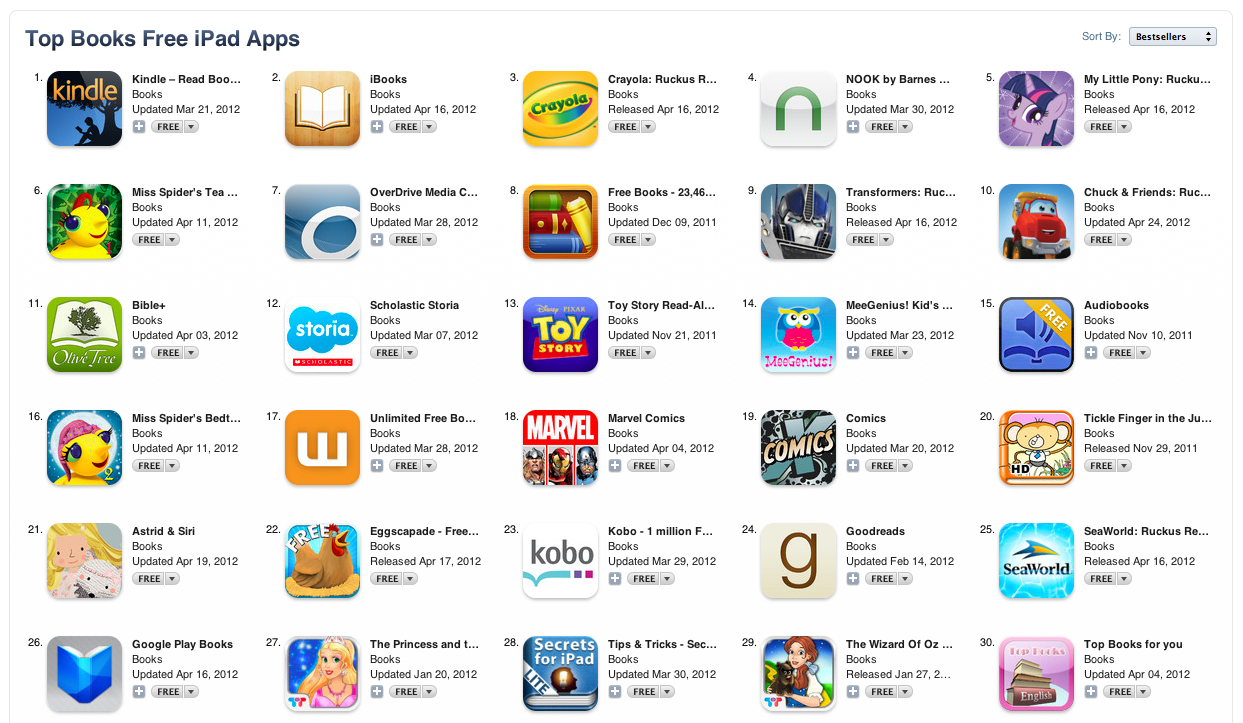 Ruckus Media Group is proud to announce that its most recent digital interactive storybooks—iReaders—for Apple's iPad—CRAYOLA: RUCKUS READER, MY LITTLE PONY: RUCKUS READER, TRANSFORMERS: RUCKUS READER, CHUCK & FRIENDS: RUCKUS READER and SEAWORLD: RUCKUS READER—have taken the #3, #5, #9, #10 and #25 positions in the Apple iTunes App Store (Books category, free iPad apps). In addition, CRAYOLA: RUCKUS READER ranks #25 on the overall iTunes Top Free iPad App category, forging ahead of the popular Temple Run and Angry Birds HD apps.
Released on April 16, 2012, these latest mobile applications, based on Crayola, Hasbro and SeaWorld popular brands and characters, climbed to the top spots just days after release and have maintained popularity with iPad users. Designed for children ages 4–8, these new mobile applications give fans the opportunity to interact with their favorite characters and brands at home or on the go and, at the same time, empower parents with a digital report card providing direct, actionable feedback on their child's reading.
Powered by the Ruckus Reader, iReaders are designed to match age-appropriate standards determined by the Common Core State Standards and reinforce national educational standards for preschool through second grade. As children enjoy content from the biggest names in entertainment, parents receive weekly Reader Meter reports that assess their child's in-app reading skills, such as phonics and word recognition, print and phonological awareness, fluency, alphabetic knowledge, sequencing and story comprehension in real time. Ruckus iReaders provide the right book at the right time and feature three different reading levels: L1 for emergent readers (ages 4–6); L2 for beginning readers (ages 5–6); and L3 for independent readers (ages 6–8).
In addition, each app features integrated, age-appropriate learning activities and games within the context of each story to further the plot. Story-driven activities such as word builders, letter and word hunts, hidden pictures, mazes, find-the-difference games and make-your-own-sticker or diary pages help teach phonics, letter and word recognition, rhyming, syllables, reading comprehension and more.
Families can download the free Ruckus iReader bookshelves from the iTunes App Store. To learn more about the Ruckus Reader, please visit www.RuckusReader.com.