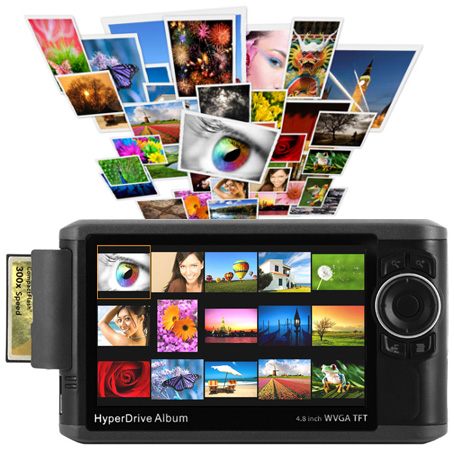 SUNNYVALE, California USA - Sanho Corporation (PMA 2010 Booth 1314), the maker of the award winning
HyperMac
batteries, HyperDrive range of storage devices, introduces
HyperDrive Album
, a portable photo backup device designed with the viewing of high resolution photos in mind, for professional and casual digital photographers alike. With a whooping 640GB storage capacity, it is capable of downloading 2GB per minute with full data verification. It is also the only storage device in the market that can decode and display true RAW images from any camera on its 4.8" high resolution widescreen VGA (800 x 480 pixels), 16 million colors LCD screen. New data management, security and advance image viewing features round up what is arguably the most advanced portable photo storage on the market.
Designed for digital photographers on the move who require huge storage space or redundancy backup for their photos and the ability to view them anytime but do not wish to carry a laptop computer, the HyperDrive Album offers a very fast, reliable, yet compact and affordable solution. Travel Photographer of the Year, Lorne Resnick have this to say, "Reliability is naturally vital. I found the HyperDrives in use to be flawless. I shot more than 5,000 images and downloaded all of them without a hitch. The actual speed of the drives was by far the most impressive. The difference it makes in the quality of your travel cannot be discounted."
With lower dollar per GB costs than even the most affordable memory cards, HyperDrive Album presents an attractive alternative to buying additional memory cards to meet the massive storage demands of high definition RAW image and video files.
While similar devices exist, HyperDrive Album is undoubtedly the most well featured and specified storage device. Michael Reichmann of The Luminous Landscape said, "I have surveyed just about all of the devices currently available and spoke with quite a few photographers who own different ones, and to my mind the HyperDrive is the current king of the hill."
The HyperDrive Album sports a brilliant high resolution widescreen VGA (800 x 480 pixels) LCD screen capable of a wide color gamut of 16 million colors to display every photo with amazing clarity and color accuracy. It is currently the only photo storage device in the world that can display true RAW images from virtually any digital camera, even medium format digital backs. It is capable of UDMA 40MB/s transfer speed, backing up 2GB in 1 minute with full data verification. Incremental Backup allows the download of only new data on the card or USB device, skipping previously saved data. The faster speed coupled with a new higher capacity rechargeable lithium ion battery now allows up to 200GB of backups per battery charge.
Data integrity and security is of utmost importance in the HyperDrive Album. Real-time CRC copy verification ensures data integrity of the backup without increasing the download time. S.M.A.R.T. monitors the hard drive status and look out for potential problems. Built-in data recovery tools recover formatted, deleted, lost or corrupted files from the memory card. Password protection at startup prevents unauthorized access to the contents.
Previously the domain of computers and specialized software, HyperDrive Album now has the ability to perform advanced file management and speed benchmarks on memory cards and hard drives.
HyperDrive Album is the latest model from a line of successful HyperDrive products that have won consecutive Photoforum Product of the Year awards in 2007 and 2008 as well as prestigious international awards from the Consumer Electronic Show (CES) and Photo Marketing Association (PMA).
Features and Benefits
Fast UDMA 40MB/s download speed - backup & verify 2GB memory card in 1 minute


Huge 640GB high capacity SATA hard drive with built-in multiple partition format support. User upgradeable hard drive.


Long lasting rechargeable lithium-ion battery performance - up to 200GB of downloads per battery charge. Rechargeable via AC adapter, USB and 12V car charger.


Brilliant 4.8" high resolution widescreen VGA (800 x 480 pixels) LCD with a wide color gamut supporting 16 million colors.


Support for all types of photo/RAW image formats. Fast real RAW image decoder displays photos up to pixel level with the ability to use actual camera CCD/CMOS sensor data to find dead pixels.


Photo display tools like gamma and color temperature correction


R/G/B/L histogram, slideshow, EXIF information display.


Real time CRC data verification during the backup process with zero overhead on copy speed and time.


S.M.A.R.T. (Self-Monitoring, Analysis and Reporting Technology) monitors internal hard drive for potential problems


Memory card data recovery tools


Supports incremental backup - backup only new data on memory card, skipping data that was copied previously


High-speed USB 2.0 interface with fast (32MB/s) connectivity to computer


Advanced file manager with copy/cut/paste/delete, create new folder and sort file directory by name/date/type.


Hard drive and memory card speed benchmark tools


CF/SD slots with full speed support for CompfactFlash UDMA 300X and Secure Digital (SDHC) Class 10.


Tiny and compact at just 6" x 3.5" x 1.2" (153 x 88 x 30 mm) and weighing only 14.1 ounce (400g)
Price and Availability
The HyperDrive Album is available now at the following manufacturer's suggested retail price (0GB:$299, 160GB:$349, 250GB:$399, 320GB:$449, 500GB:$549, 640GB:$599). It is available at all fine photo retail stores and
http://www.hyperdrive.com/album
Press Quality Images
For more information and press quality images, please visit
http://www.hyperdrive.com/album