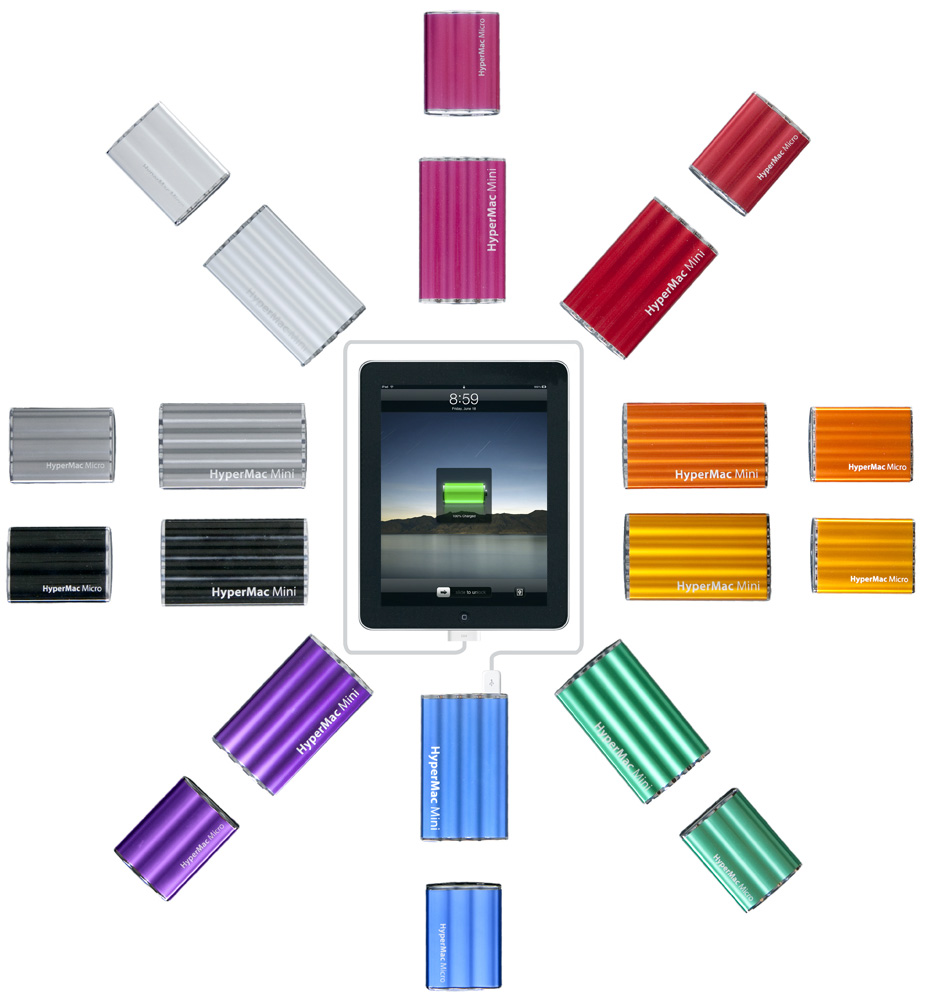 SUNNYVALE, California - Sanho Corporation, the minds behind the HyperMac external MacBook batteries, has taken a step further towards iPad compatibility by upgrading the pocket-sized HyperMac USB battery line to 10W USB that the larger HyperMac MacBook batteries are sporting. Available in 2 different capacities (3600/7200mAh) and 10 vibrant colors, users will be spoilt for choice when choosing the right battery pack to match their iPad and the new iPhone 4.
Both models are exquisitely encased in aluminum and available in any of Apple's nine iPod nano colors (black, silver, pink, red, orange, yellow, green, blue, purple) plus a darker (iPad) black color.
The 3600mAh
HyperMac Micro
is able to extend the iPad battery life by up to five hours or fully charge an iPhone up to three times, while the 7200mAh
HyperMac Mini
can extend the iPad battery by up to another ten hours or fully charge an iPhone up to six times. Both can output up to 10W (5V, 2.1A max) power through a USB port and the user can charge any iPad, iPhone or USB-powered device with the provided USB charging cables. The HyperMac batteries themselves are rechargeable via standard (5V, 500mAh) or high powered 10W (5V, 2.1A max) USB.
Unlike most iPhone battery packs or iPhone cases cum battery in the market, HyperMac batteries works with virtually all iPhone cases, does not add bulk or affects the antenna of the iPhone.
Like its big brother, the HyperMac Micro/Mini batteries uses the same "Grade A" high-end lithium ion cells that are supplied to the U.S. military, providing unsurpassed reliability, safety and longevity. It is rechargeable up to 1,000 times and comes with a ONE-year warranty - comparing to industry standards of only 300 recharges and 3 months warranty. All HyperMac batteries also support pass through charging so the user can charge both battery and device at the same time.
The HyperMac Micro and HyperMac Mini are now available at HyperMac.com for $89.95 and $119.95 respectively. As a launch promotion, there is currently a $20 discount on all HyperMac Micro/Mini batteries.
Specifications
Capacity: 3600mAh (Micro), 7200mAh (Mini)
Battery Chemistry: Lithium Ion
iPad Battery Life: Up to 5 hours (Micro), 10 hours (Mini)?
Dimensions/Weight
Micro: 3.9 x 2.7 x 0.6" (99 x 69 x 16mm) / 4.7oz (134g)
Mini: 5.4 x 3.1 x 0.55" (137 x 79 x 14mm) / 8.4oz (237g)
Input Power: 5V/500mAh (via mini USB port), 5V/2.1A max (via DC port)
Output Power: Max 10W (5V/2.1A)
For more product information and specifications, please visit:
www.HyperMac.com
HyperMac is a trademark of Sanho Corporation
Apple, iPhone, iPod, iPod nano, MacBook are registered trademarks and iPad is a trademark of Apple Inc.