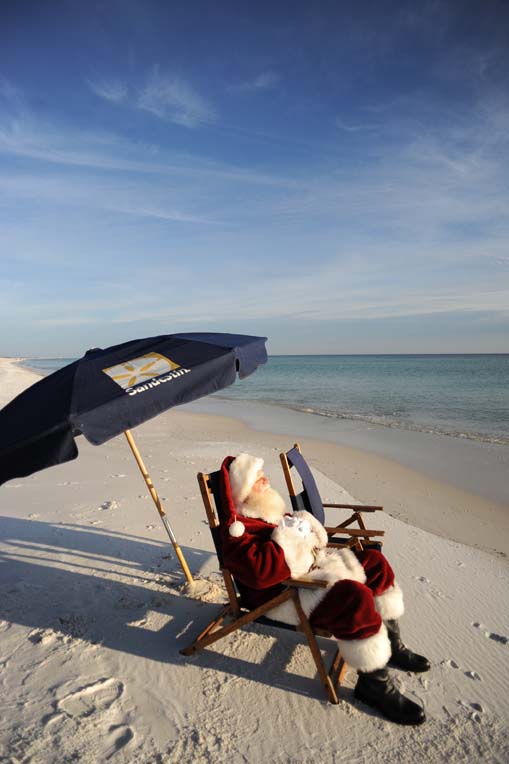 What's the best new hotel amenity for the holidays? We invite you to experience for it yourself with a "Skype with Santa," Sandestin Golf & Beach Resort's unique program to give children access to the big man himself. Learn about the latest holiday happenings, packages and more during a brief informational interview with Sandestin's Santa and Director of Communications Laurie Hobbs.
Dates:
On Wednesday, November 9th and 16th, Santa will be prepared to take a break from
holiday preparations in his workshop to discuss. Additional days and times are available upon request.
Times:
Between 10-12pm or 2-5 pm EST.
How to Skype with Santa:
You will need a Skype account (you do not need a video camera). Once you have
booked a time, we will provide you with a confirmation that will include appointment and
contact information.
More about SKYPE with Santa program:
Kids this year can leave their pens and paper at home because communicating with Santa is being taken to the 21st century at Sandestin Golf and Beach Resort! Parents who are visiting during the holidays can arrange a personal SKYPE session with Santa for their children. Santa will call in from his workshop to talk about their upcoming trip to Sandestin and to gather their Christmas wish lists over the computer! Families can arrange to SKYPE from 4 to 5 p.m. every Monday, Wednesday and Friday from Nov. 2 through Dec. 9. (This can be arranged by simply calling Santa at SKYPE location name SandestinResort).
Additional promotions for families include Sandestin's Santa Tuck-in, where parents can arrange for their children can get a personal visit from Santa (he will come to their room, read a bedtime story and give the child a present). The resort also hosts additional winter family fun activities such as ice skating, light shows, movies and concerts.
Please contact:
Melissa Webb
Pineapple Public Relations
mwebb@pineapple-pr.com
404-237-3761