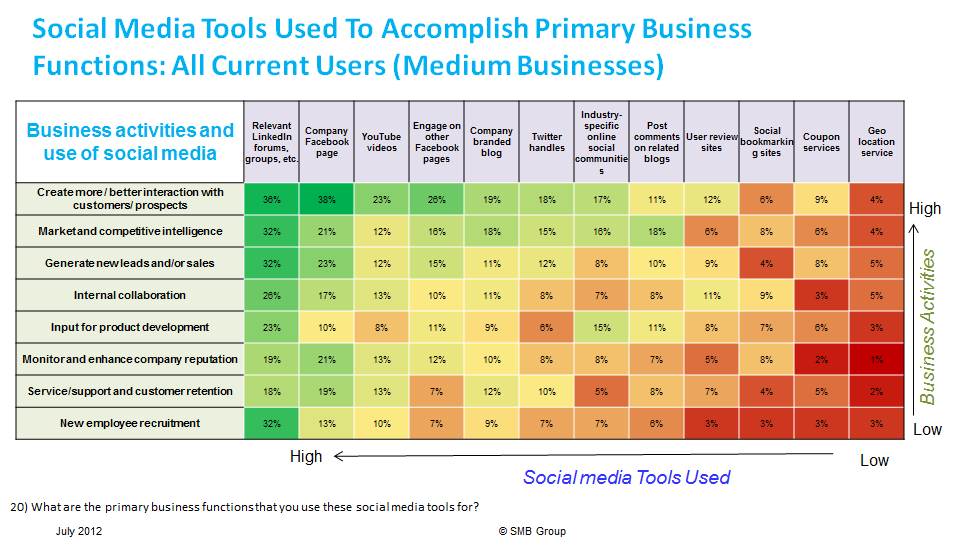 FOR IMMEDIATE RELEASE
Press Contact:
Cathy Caplener
Be Cause PR
(310) 428-7476
cathy@becausepr.com
Double-digit Increase in SMB Social Media Adoption--But SMBs
Need Help To Get More Value
July-31, 2012, Northborough, MA --- The
SMB Group's
latest report,
2012 Small and Medium Social Business Study
, developed in partnership with CRM Essentials, assesses how and why small and medium businesses (SMB) are using social media in their businesses today. The study also provides trending analysis based on comparison with SMB Group's 2011 Small and Medium Social Business Study.
The 2012 study reveals that overall use of social media is up from 44% to 53% among small businesses (1-99 employees) and up from 52% to 63% among medium businesses (100-999 employees) year-over-year. In addition, in 2012, 35% of SMBs using social media indicate that they have replaced and/or displaced other tools with social media. The tools that SMBs are most likely to have replaced with social media include direct mail, newspapers/business trade journals/magazines, yellow pages, and email marketing.
However, despite this double-digit rise in adoption, the gap is widening between SMBs that are using social media in an informal, ad hoc manner and those taking a more planned, strategic approach. "The needle for SMBs using social media as part of a planned, corporate strategy has barely moved at all," according to Sanjeev Aggarwal, SMB Group Founder and Partner. "More SMBs are using social media, but they lack the solutions, expertise and guidance to integrate them with other business processes and use them more effectively in their businesses."
This has significant implications, as study results also show that SMBs that use social media strategically are more satisfied with the results than ad hoc users, who are more skeptical about the value of social media. Furthermore, SMBs that use social media as part of a planned corporate approach are 1.5 to 2 times more likely to anticipate revenue growth than ad hoc users. "SMBs need education, guidance and solutions that take time, labor and confusion out of building a structured social media process," continues Aggarwal.
Other select findings from the study include:
• The top reasons that drive SMBs to adopt social media continue to center on sales and marketing goals. Only a small percentage are using social media for non-sales and marketing functions, such as human resources, customer service and product development.
• The top challenges SMBs cite to using social media more strategically are lack of time; inability to measure value, difficulty integrating social media with other business activates; and lack of budget.
• While SMB adoption of social media has been on the rise over the past year, median spending for both small and medium companies has remained the same as in 2011.
• SMB social media adoption varies most by industry and by age of decision-maker, and less by company size or primary type of customer that the business sells to.
These results highlight just a few of the detailed findings in the
SMB Group
2012 Small and Medium Social Business Study
. Fielded in June 2012, the study provides a comprehensive view of SMB social media adoption and plans, including:
• Perceptions and attitudes about social business.
• Key drivers and inhibitors for adopting social business solutions.
• Business activities and functions that SMBs use/plan to use social media for.
• Social media channel penetration, frequency of use, and satisfaction.
• How SMBs measure social media results.
• Integration requirements for linking social business with existing business applications.
• Who is involved in making social business decisions?
• Top sources for information and advice on social media.
• Social media budgets.
• Segmentation by company size, industry, primary type of customer SMBs sell to (e.g. B2B, B2C, etc.), age of decision-maker, etc.
• Year-over-year trending analysis.
For more information and pricing
, please visit the SMB Group web site at http://www.smb-gr.com, send and email to
information@smb-gr.com
or contact us at (508) 410-3562.
About the SMB Group
. The SMB Group focuses exclusively on researching and analyzing the highly fragmented "SMB market" – which is comprised of many smaller, more discrete markets. We take a custom approach to working with clients, assessing where you are in the market today, and the steps you need to take to get where you want to be tomorrow. Our collaborative ad pragmatic, actionable research approach provides you with insights and recommendations you need to capitalize on shifting market requirements and trends, and create successful go-to-market outcomes. Our primary focus areas include: business solutions; digital marketing solutions; social media, collaboration and productivity applications; cloud computing, software-as-a-service (SaaS) and managed services.