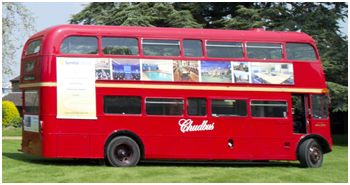 After a very successful first stop, the Sundial Venues Chudbus headed out once again towards Spalding to visit Infotel and Findmeaconference.com late last week. This time the sun really did shine for the "Summer of Love" Tour, and with the bus parked up outside the countryside offices, it really was the perfect spot to take advantage of the sunshine.
The Chudbus provided an environment for Sundial to showcase their three country house meeting venues; Highgate House in Northamptonshire, Woodside in Warwickshire and Surrey conference hotel, Barnett Hill. The Sundial Group Executive Chef was on hand to offer the Hotel Booking Agents a real taste of Sundial hospitality and just as would happen in all of the Sundial Venues, he prepared all the food using only the finest ingredients, locally sourced where possible and free range eggs.
An array of delicately prepared salads were set up outside the bus, mouthwatering combinations including Mixed Green Beans, Asparagus, Peas & Baby Spinach with Garlic Olive Oil & Red Amaranth, Chargrilled Broccoli with Chilli & Garlic and Butterbean Hummus, Roasted Red Pepper, Hazelnuts & Lemon with Parsley Salsa. The Booking Agents were able to see freshly marinated chicken being prepared by Chef.
It was great to see so many of the team from Infotel and Findmeaconference out that day not only benefiting from a delicious lunch but also enjoying listening to Tim Chudley, Managing Director of Sundial Group talking about the history of the company and Mia Butler, Chudbus Tour Guide giving an overview of the standards, facilities and customer service available at all three of the UK conference hotels and meeting venues owned and managed by the Group.
After the visit Georgina Holyoak, Director in Training of Infotel Solutions Ltd said: "The team at Infotel Solutions loved having the Chudbus here for a second year in a row. In addition to the valuable information on the fantastic Sundial Venues, the showcase also provided a taste of the amazing catering that is on offer to our clients." She continues, "Expectations were high after last year's paella and the healthy salads did not disappoint. A great range of healthy and nutritious food that tasted fantastic! "
To learn more about the Chudbus and the Summer of Love Tour, please visit http://chudbus.sundialgroup.com and follow our hashtag on twitter: #Chudbus.
Sundial Venues are part of Sundial Group, the perfect partner for event planners. The family run group, Sundial, owns and operates three Country House UK conference hotels which are highly regarded as expert UK meeting venues. For further information about Sundial Venues, special offers and how to book a bedroom or make an event enquiry please visit
http://www.sundialgroup.com
.