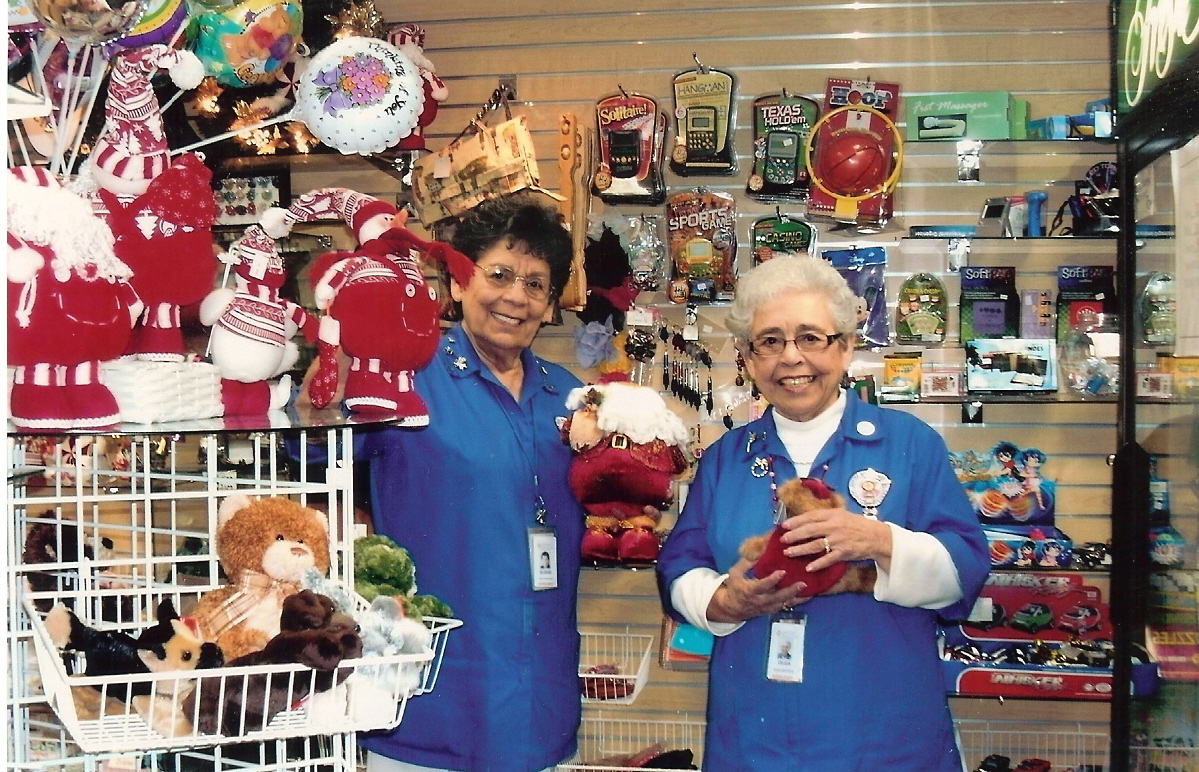 (Antioch, Calif.)--Every day volunteers from the Sutter Delta Auxiliary Staff selflessly don their blue vests, white pants and huge hearts full of compassion to make the hospital stays of patients and visitors a little brighter.
Together, 61 volunteer staff donated $11,694 for the 2011 year, and, since 2008, have collectively spent 123,656 volunteer hours supporting sick patients, hospital staff and visitors.
Auxiliary President Rosemary Dean is proud of her volunteers.
"I am impressed with our volunteer staff, and their selfless hours and years of giving to others. Some of our volunteers have been here for 30 to 40 years," says Dean. "At any given time you may find one of us pushing a patient in a wheelchair, bringing supplies to different floors or greeting guests in the hospital's front lobby."
In 2008, the Auxiliary started using the online service Volgistics to help track volunteer hours and translate them into their rightful monetary value.
"According to the website independent-sector-dot-org, our time is valued at $22.79 an hour," adds Dean. "So for 2011, our volunteers have provided a monetary value of $333,998.73. Calculating our hours since 2008, our volunteers have provided a total of $2,901,394.90 to patients of east Contra Costa County."
Dean says she is pleased with the program's growth and the unique opportunity it creates by bringing a wide span of generations to work together.
"This program allows for young adults to interact and work with senior volunteers," says Dean. "Our volunteers range from 18 to 94 years of age. Anyone who is seeking rewarding volunteer opportunities should look to their local hospital," adds Dean.
Fundraising Efforts Buy Much Needed Equipment for Local Community
Besides donating time, the Auxiliary also contributes thousands of dollars towards the purchase of needed equipment for Sutter Delta Medical Center through various fundraisers.
"Most of our staff live in this community and feel strongly about ensuring that Sutter Delta has the most technically advanced equipment to offer our community," says Dean. "Last year, the Auxiliary purchased a pass-through warmer and cooler for the cafeteria at a cost of $13,107.65. In 2009, we completed a three-year commitment by donating $185,000 to pay for the stereotactic breast biopsy machine.
Giving the Gift of Mobile Heart Monitoring This Holiday Season
During the Auxiliary's annual Christmas Tea, scheduled for Thursday, Dec. 15, members will present a $50,000 check from their recent fundraising efforts to help the hospital with a telemetry upgrade costing over $400,000.
"These are high-tech devices that will monitor a patient throughout a portion of their hospital stay, even if they have to visit different departments for lab or X-ray tests," says Dean. "It is another reason to celebrate this holiday season. We know we are making a difference for our neighbors."
Volunteer Gift Shop Is Another Gift That Continues to Give
Volunteers also run the hospital's Gift Shop and proceeds go directly toward the Auxiliary's annual fundraising efforts. The shop is stocked with trendy jewelry, purses, flowers, candy and seasonal items, such as holiday ornaments.
"So far this year, the Gift Shop raised $21,000 for the hospital," says Dean. "We carry specialty items, like See's Candy, so we welcome our community members to come in and support our Gift Shop."
Annual Crab Feed Brings in Money and Lots of Fun
The Auxiliary has already planned their annual Crab Feed scheduled for Saturday, Feb. 25. Last year, more than 200 people purchased tickets and enjoyed a night of fun and crab. The event raised $7,000.
"The Crab Feed helps us kick-off our annual fund raising efforts," says Dean. "It is a very fun night with lots of tasty crab to eat."
CEO Thanks Volunteers for Selfless Giving
"Our volunteers and Auxiliary staff give selflessly every day," says CEO Gary Rapaport. "Their contributions play an important role in how our hospital runs. Whether it is helping visitors find patient rooms, stocking the Gift Shop with flowers to brighten the days of visitors' loved ones, or helping patients with wheelchairs, volunteers are very important to our staff. Their fundraising efforts make a big difference in advancing the hospital's mission and vision for a healthier community. On behalf of the hospital team, we thank them for all they do for each of us!"
Visit our social media press release to see photos, links and much more about our Volunteer and Auxiliary Program.
About Sutter Delta Medical Center
Sutter Delta Medical Center is located in Antioch, Calif. and has been serving east Contra Costa County's communities since 1967. It has more than 900 employees and more than 300 physicians on staff. Sutter Delta's services include 24-hour emergency care, a family birthing/women's health center and advanced cardiovascular care. Sutter Delta Medical Center is a proud member of the Sutter Health network of doctors, not-for-profit hospitals and other health care service providers.
About Sutter Delta Medical Center Auxiliary and Volunteers
Since 1964, the nearly 100 men and women of the Auxiliary have given thousands of hours each year performing crucial functions around the hospital, from assisting patients and visitors at the information desk and performing various clerical tasks, to holding fundraisers to purchase needed equipment for the hospital. The Auxiliary membership is open to anyone in the community who would like to volunteer their time.
Contact: Angela Juarez-Lombardi at 925-303-6104 or Lombaa2@sutterhealth.org if you would like to learn more or interview our volunteers.

###