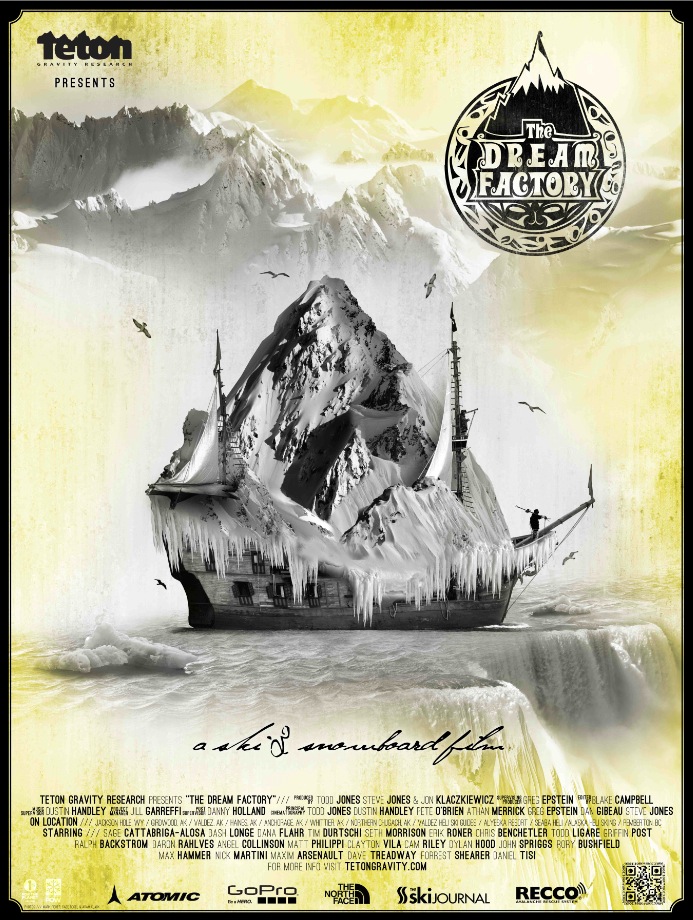 (Teton Village, Wyo.) - The award-winning producers from multimedia action sports brand Teton Gravity Research (TGR) announce the San Francisco, CA premiere of
The Dream Factory
, which depicts the history and modern progression of freeriding in Alaska.
Join TGR athletes Sage Cattabriga-Alosa, Dash Longe, and Daron Rahlves on Oct. 30 for 6:30 and 9:30 pm shows at the Palace of Fine Arts. All attendees will receive a complimentary mid-week (non-holiday) lift ticket to Squaw/Alpine Meadows
and
Mt. Bachelor, and have chances to win product from sponsors The North Face, Atomic, GoPro, and local partner LiftTickets.com. $18 advance tickets are available for purchase here. $8 early show tickets will be available at the door for kids ages 12 and under.
Full tour schedule.
For the past 16 years, Teton Gravity Research (TGR) has made the pilgrimage to America's last frontier, Alaska:
The Dream Factory
. Throughout history, Alaska has been a place of dreams. From the early gold rush days, to the rise of commercial fishing, to the explosion of the ski and snowboard freeride movement, people have left everything to follow their dreams and journey to this foreign, mystical land. Like the frontiersmen before them, the pioneers of the freeride movement like Doug Coombs, Eric Pehota, and Trevor Petersen made the dream of skiing in Alaska a reality.
Follow TGR's modern day athletes on this cinematic voyage through Alaska's awe-inspiring expanse, rich history, and colorful characters. Watch as the TGR crew ventures from AK training grounds Jackson Hole, WY and Pemberton, BC, and delves deep into the Alaskan way of life during last year's record snowfall in AK, skiing terrain most of us only dream about.
Starring:
Sage Cattabriga-Alosa, Dash Longe, Dana Flahr, Tim Durtschi, Seth Morrison, Erik Roner, Chris Benchetler, Todd Ligare, Griffin Post, Ralph Backstrom, Daron Rahlves, Angel Collinson, Matt Philippi, Clayton Vila, Cam Riley, Dylan Hood, John Spriggs, Rory Bushfield, Max Hammer, Nick Martini, Dave Treadway, Maxim Arsenault, Forrest Shearer, Daniel Tisi
On Location:
Jackson Hole, WY / Valdez, AK / Haines, AK / Anchorage, AK / Whittier, AK / Northern Chugach, AK / Valdez Heli Ski Guides / Alyeska Resort / SEABA Heli / Alaska Heli Skiing / Girdwood, AK / Pemberton, BC
"
The Dream Factory
is the most elaborate TGR film to date," says Todd Jones, TGR co-founder. "We shot over 50 interviews and uncovered the true history of skiing and snowboarding in Alaska. The story will take viewers through Alaska's history as a state, its skiing history, and showcase the modern progression of skiing and snowboarding - from steep spines and big mountain terrain, to urban and all-around progressive freestyle."
Order on DVD/Blu-ray
. iTunes release coming soon.
Art, photos, and video for media use
.
About Teton Gravity Research
One of the world's leading action sports brands, TGR has produced 30 award-winning feature-length films, numerous television series, and national television commercial spots. Known for its cutting edge media and lifestyle product, TGR works with the top athletes in their respective disciplines, capturing, celebrating, and bringing to life the passion and enthusiasm associated with action sports. TGR is a proud member of 1% For The Planet and strongly believes in protecting the environment in which the team works and plays. For more information on TGR, please visit
tetongravity.com
, one of the leading online destinations and communities in the action sports industry.