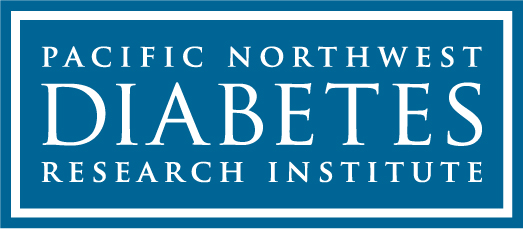 Pacific Northwest Diabetes Research Institute
(PNDRI) announced today that David Galas, Ph.D., and Joe Nadeau, Ph.D., have joined the Institute as Principal Scientists. Galas and Nadeau are well known for their pioneering work in genetics, and Galas is widely recognized for his leading role in the Department of Energy's Human Genome Project. Both began work at the Institute on Sept. 4, 2012.
"We are delighted to announce the addition of David and Joe to our team of talented investigators," said John Wecker, Ph.D., president and CEO of PNDRI. "Their expertise in genetics, genomics, bioinformatics and life sciences will further expand the complementary research programs at the Institute, and help lead to discoveries that translate into improved health for the 246 million people currently living with diabetes globally, and the many more who are at risk."
Wecker was named president and CEO of PNDRI in April 2012, and is currently leading the development of the Institute's long-term strategic plan. The appointment of Galas and Nadeau as Principal Scientists reaffirms PNDRI's commitment to cultivating the highest caliber scientific thinking to advance efforts to prevent, treat, and one day cure diabetes.
"Joe and I are extremely excited to be a part of the PNDRI team," said Galas. "We believe our research into the underlying genetic and epigenetic mechanisms of disease provides opportunities for collaboration with the current faculty, as well as external partners committed to addressing the challenge of diseases such as diabetes."
"The cutting-edge scientific tools and insightful approaches that Drs. Galas and Nadeau bring will provide important breadth to PNDRI's efforts to better predict, prevent and treat diabetes, "said Dr. William Hagopian, PNDRI's Scientific Director. "Their science is a perfect complement to our expertise and understanding of the immunological and metabolic challenges of diabetes."
Galas and Nadeau come to PNDRI from the Institute for Systems Biology where they both led groups researching genetics, genomics, bioinformatics and life sciences.
Galas previously served as director for health and environmental research at the U.S. Department of Energy's Office of Science, where he headed the DOE's Human Genome Project from 1990 to 1993. Galas was also professor of molecular biology for twelve years at the University of Southern California, and directed the molecular biology section of the Biological Science Department.
Prior to his time at the Institute for Systems Biology, Nadeau was a founding member of the International Mammalian Genome Society and a founding editor of Mammalian Genome and of Systems Biology and Medicine. He was founder and director of the Mouse Genome Informatics Project and founder of the Mouse Gene Expression Database Project. Nadeau received the prestigious National Institute of Health Director's Pioneer Award in 2010.
About the Pacific Northwest Diabetes Research Institute
PNDRI is an independent non-profit biomedical and clinical research center dedicated to eliminating diabetes and its complications. Founded in Seattle in 1956 by Dr. William Hutchinson, Sr., who also founded the Fred Hutchinson Cancer Research Center, PNDRI is advancing basic and clinical knowledge to help predict, prevent, treat and cure diabetes in all its forms. The I¬¬¬nstitute's team of 85 physicians, scientists and technical staff strive to realize scientific discoveries to improve the health of people currently living with diabetes and those who are at risk. The U.S. Centers for Disease Control and Prevention projects one in three children born after the year 2000 will develop diabetes at some point in their lifetime. For more information about PNDRI, visit
www.pndri.org
.